Milwaukee Brewers outfielder Nyjer Morgan may juggle many personalities in front of the camera and on the field, but he always returns home to his adopted cat, Slick Willie. Milwaukee's fan favorite poses with his number one fan in an ad for PETA, encouraging everyone to "adopt, don't buy" companion animals.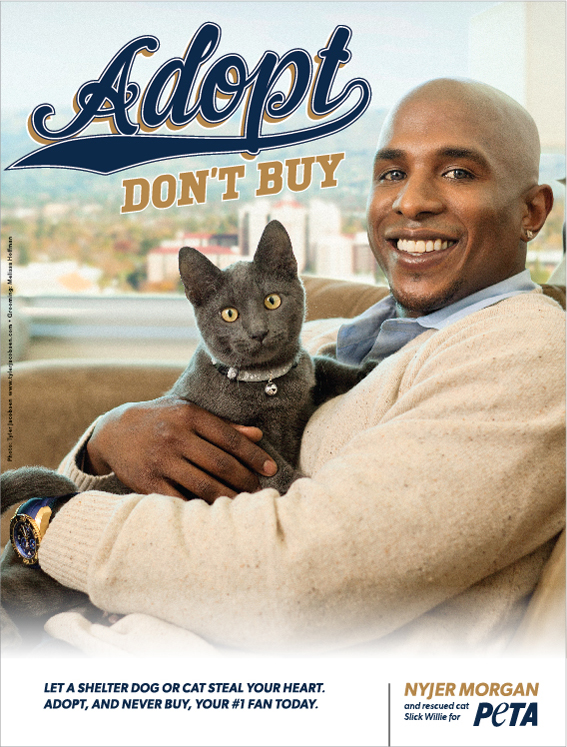 Before Slick Willie stole T-Plush's heart, he waited in a shelter, in desperate need of a loving home. If it weren't for Nyjer, Slick Willie could have been one of the 3 to 4 million lost, abandoned, or unwanted dogs and cats who are euthanized every year for lack of good homes. When Nyjer adopted Slick Willie, he not only changed his own life (even bringing out a softer side, he admits!) but also saved a life.
See Nyjer and Slick Willie at home, and find out how an "alpha male" like Tony Plush became a "cat man":
Nyjer explains that animal adoption "fight[s] animal abuse." He ensured that Slick Willie would never join the approximately 35 million homeless cats who currently fight for their lives. For them, every day is deadly battle against cars, cruel people, untreated diseases or wounds, and other threats. Countless homeless kittens continue to be born and face this fate—one female cat and her descendants can produce 370,000 kittens in just seven years! Help save cats from suffering on the streets: adopt and spay or neuter your animal companions!
Slick Willie has made many adorable appearances in T-Plush's famously entertaining tweets. Join Nyjer and spread the word about animal adoption! Follow @peta on Twitter and then tweet and tell us why you love Nyjer's ad or your own rescued best friend. Don't forget to include #AdoptDontBuy, and your tweet will be featured below!
//