Partner With PETA U.S.
We believe in the power of partnerships and collaborations—with global corporations and startup businesses alike—and we have a rich history of working with compassionate companies.
People for the Ethical Treatment of Animals (PETA) U.S. is the largest animal rights organization in the world,  and PETA entities have more than 9 million members and supporters globally.
As a PETA Business Friend, your brand can connect with our audience. In return for a one-time donation, PETA U.S. will provide year-round marketing benefits.
We're proud that our corporate partners (PETA Business Friends) continue to make sound long-term investments to help sensitive animals. By working together, companies can help pave the way to a brighter future for them.
---
All PETA Business Friends receive the following:
Listings on PETA Websites
PETA Mall: PETA makes cruelty-free and vegan shopping fun, stylish, and easy.
PETA coupon page: Coupons are available from big-name brands as well as new discoveries.
PETA Business Friends: Companies that support PETA are listed here.
PETA Prime is a community of caring people who share their knowledge and experience to help animals. Consideration is available for placement in PETA Prime blog posts, including "compassionate CEO" profiles, company or product spotlights, and guest-written articles.
Relevant articles and resources may be posted on PETA.org.
E-Mail Promotions
PETA's shopping guide e-news—a monthly shopping and style guide with approximately 600,000 subscribers (PETA Business Friends are featured within.)
PETA Prime E-News—a weekly recap of PETA Prime content with more than 16,000 subscribers (PETA Business Friends are featured in the "Trending at PETA Mall" section.)
PETA holiday shopping guide e-news—a holiday edition of the PETA shopping guide e-news sent to approximately 600,000 people
There are four PETA Business Friends membership packages: Silver, Gold, Platinum, and Diamond. All PETA Business Friends receive the benefits listed above as well as those offered within the chosen membership package.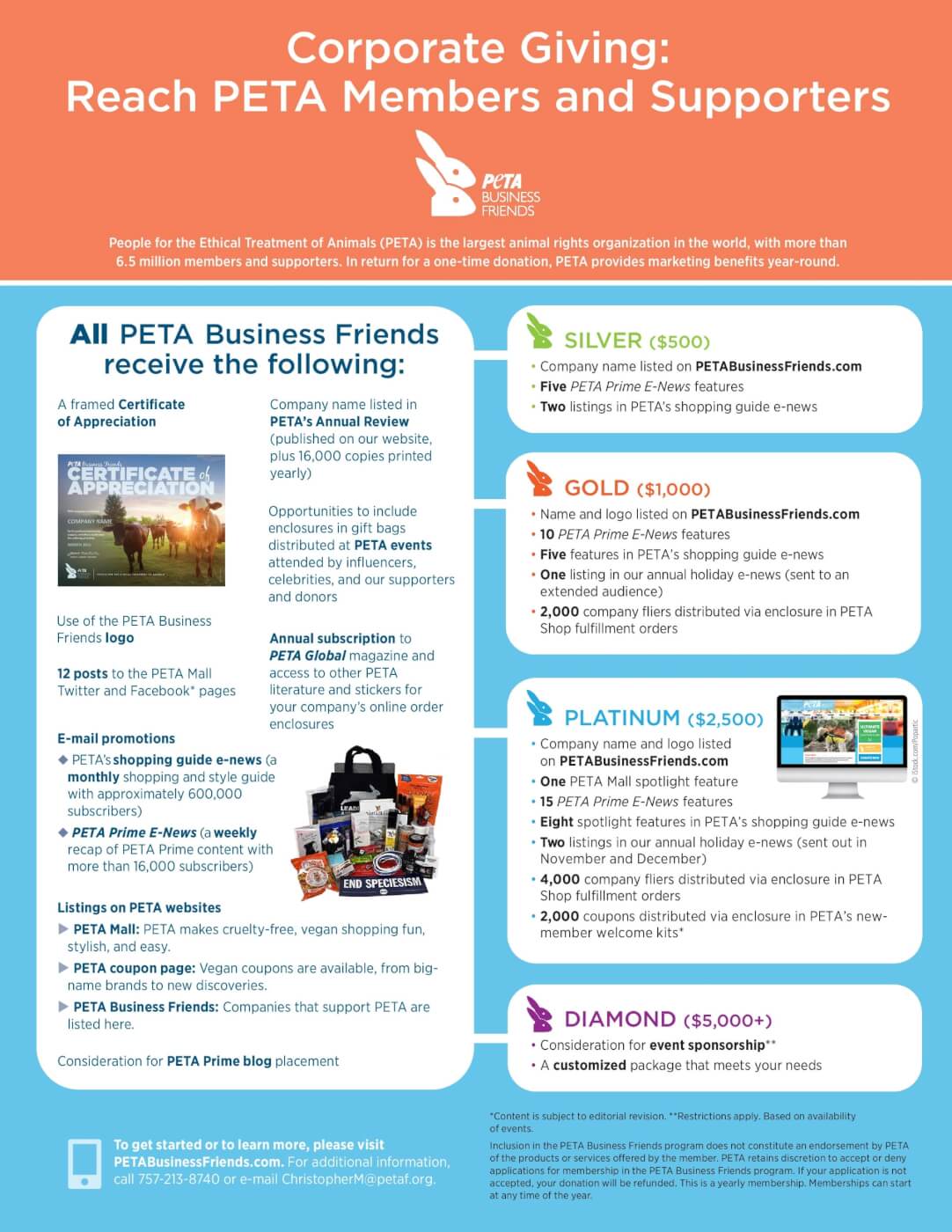 ---
Silver ($500)
Gold ($1,000)—our most popular package!
Platinum ($2,500)
Company name and logo listed on PETABusinessFriends.com
Placement on the homepage of the PETA Mall website
15 PETA Prime E-News features
Eight spotlight features in PETA's shopping guide e-news
Two listings in PETA's holiday shopping guide e-news
4,000 company fliers or coupons distributed with PETA Shop fulfillment orders (when people make purchases from our online merchandise store)
2,000 coupons distributed via enclosure in PETA's new-member welcome kits*
Diamond ($5,000)
Consideration for event sponsorship**
A customized package that meets your needs
For additional information, call 757-213-8740 or e-mail [email protected] and a PETA representative will quickly respond to you.
*Content is subject to editorial revision.
**Restrictions apply. Based on availability of events.
Inclusion in the PETA Business Friends program does not constitute an endorsement by PETA of the products or services offered by the member.