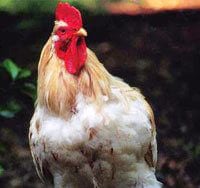 There are many ways that you can strengthen PETA's groundbreaking efforts for animals beyond making an immediate gift.
Donate Stock
Whether your portfolio performance is above market averages or your portfolio value has decreased, donating stock to PETA is a wise investment in stopping animal abuse. You can help save animals (and taxes), better protect your investment portfolio, and turn a stock market loss into a win by donating stock to PETA.
Support PETA Shareholder Resolutions
PETA pioneered the shareholder resolution tactic to create change at the corporate level and is the most active animal organization filing resolutions. We work with people who donate to PETA shares of stock in a company that abuses animals, allowing PETA to submit the shareholder resolution and work directly with the company. Or if you want to keep your stock, you can submit the shareholder resolution on PETA's behalf. If you would like to help, please contact us with the names of companies for which you have owned at least $2,000 worth of stock for at least 12 months.
Provide PETA With a Matching-Challenge Gift
Want to inspire others to donate to PETA? Providing PETA with a generous matching-challenge gift is a perfect way to do just that! We have several opportunities throughout the year to motivate others, such as fundraising events for regional members, new membership drives, and direct-mail campaigns that reach many of PETA's more than 5 million members and supporters with an opportunity to double their gift.
Join PETA Business Friends
Our unique PETA Business Friends (PBF) program is a partnership for compassionate companies willing to assist in PETA's groundbreaking work to stop animal abuse and suffering. Becoming a PBF member will give your company targeted access to the thousands of compassionate consumers who visit PETA's website each day.
Participate in Workplace Giving
Did you know that, on average, one in 10 companies matches employee donations? If you are a federal employee or a state government employee, participate in a United Way giving campaign, or are an employee of a company that conducts its own employee workplace-giving fund drive, you may be able to double or even triple the impact of your gift. Visit PETA.org/MatchingGifts to find out if your employer has a matching-gift program.
Support the Investigation & Rescue Fund
The Investigations & Rescue Fund is a monthly giving program that makes it possible for PETA to respond quickly to calls about animals in trouble and provides PETA with the resources to make our groundbreaking investigations and rescue work possible.
Donate Your Vehicle
Help animals by donating your car, truck, boat, motorcycle, Jet Ski, airplane, or motor home to PETA. Our vehicle donation program follows a simple process that will save you precious time since you won't have to sell your vehicle yourself, and the proceeds from the sale will directly benefit our work to expose and stop cruelty to animals. PETA can accept vehicles in any condition from anywhere in the United States.
Donate your Property
Donations of jewelry, artwork, real estate, and other forms of property are welcome ways for you to support PETA's lifesaving work for animals. For many PETA members, this form of giving makes sense, as they can generally receive an income tax deduction for their gift at the time that it's transferred to us. In addition, if property has appreciated in value during the time that it has been owned, you can save on the capital gains taxes that you would owe if you sold the property.