BREAKING: In response to the World Health Organization's (WHO) partial call to action—suspending the sale of live mammals at food markets—PETA is nominating PETA Asia Director Jason Baker for the agency's executive board.
With expert Baker on board, perhaps we'd get sensible and timely decisions about safety.
PETA, PETA Asia, and other PETA entities have done the research, and we know that preventing future zoonotic diseases cannot be achieved by feebly halting the sale of only live mammals at food markets. Did avian flu teach the world nothing? It's not just mammals, and it's not just food markets—sales of birds, reptiles, and fish; fur and exotic-skins farms; and roadside zoos all risk the possibility—no, make that the probability—of spawning the next pandemic.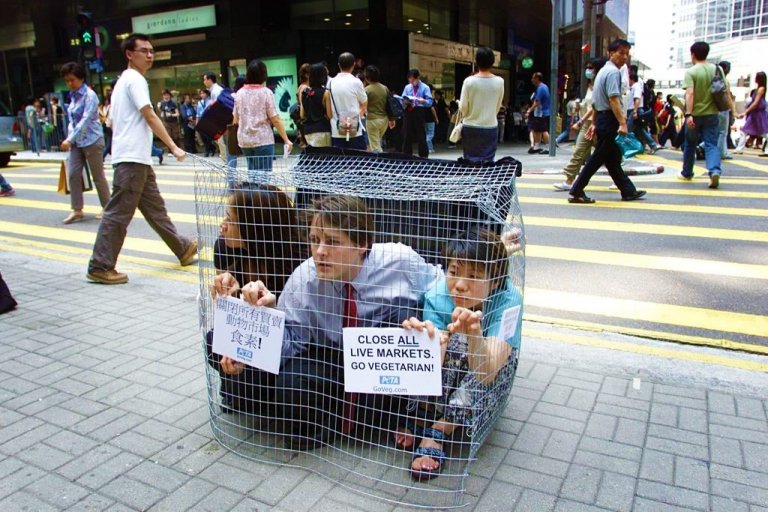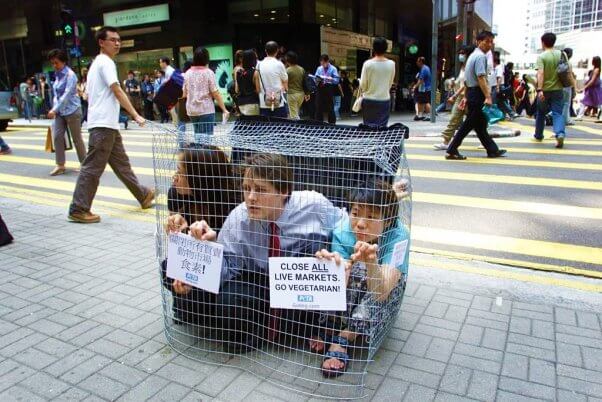 Photo by MIKE CLARKE/AFP via Getty Images
So long as live-animal markets are open and operating, animals suffer and no one is safe.
On March 25, 2020, PETA President Ingrid Newkirk sent an urgent letter to WHO Director-General Tedros Adhanom Ghebreyesus:
We're writing to you urgently because, while the trajectory of the COVID-19 pandemic remains unpredictable, one thing is certain: Live-animal meat markets will continue to put the planet's human population at enormous risk. On behalf of PETA and more than our 6.5 million members and supporters worldwide, we respectfully ask that you call for the immediate and permanent closure of these markets, in which dangerous viruses and other pathogens flourish.
Now, more than a year later and following nearly 3 million COVID-19 deaths worldwide, WHO is finally doing something about live-animal markets, like the one in which the novel coronavirus is believed to have originated. But here's where the agency stopped too short: It's only urging countries to suspend sales of "live caught wild animals of mammalian species for food or breeding purposes and close sections of food markets selling live caught wild animals of mammalian species as an emergency measure unless demonstrable effective regulations and adequate risk assessment are in place." But just as Newkirk said back in May, "for the sake of every other species sold and slaughtered in them—and for the survival of the human species itself"—all live-animal markets must be shut down.  
Prior to WHO's lackluster call to action, PETA had also launched an action alert, which more than 162,000 people signed, urging the agency to shut down live-animal markets worldwide; set up a "'blood'-soaked 'live market'" outside WHO's headquarters in Washington, D.C., urging the agency in person to close all live-animal markets permanently; and, with help from Slaughter Free NYC, exposed the disgusting conditions at poorly regulated stateside live-animal markets, like those in New York City. Across the pond, PETA U.K. held its own protest outside WHO's Copenhagen office, echoing our call for a total live-animal market ban. And PETA Asia conducted investigations into live-animal markets in Cambodia, China, Indonesia, the Philippines, Thailand, and Vietnam as well as follow-up investigations in Thailand and Indonesia months after the pandemic began, which verified that the bloody, filthy markets were still operating as usual, despite a mounting COVID-19 death toll. Throughout the investigations, PETA Asia observed that non-wild and non-mammalian animals were being trafficked, and they still posed a threat for the spread of disease—plus, these animals themselves are threatened by disease (consider, for example, the 1.3 million chickens Sweden announced it would "cull," or slaughter, after it reportedly became the epicenter of a bird flu outbreak in Europe just a few short months ago).
Don't wait for WHO or anyone else to protect you or the animals we should be living in harmony with. You can take action right now to help prevent the next global pandemic: Ditch meat, eggs, and dairy—go vegan. And help others you know do the same. Feed them vegan food and they'll never go back to those truly dirty dietary habits.