As we've mentioned recently, PETA is working overtime—literally—to restrict or outlaw the chaining of dogs in the cities that make up its Hampton Roads home turf in Virginia. One of those cities that still hasn't passed an anti-chaining ordinance is Newport News—and that has to change.
Chaining Hurts
Here's why: Just weeks after PETA discussed the possible adoption of a tethering ban with representatives from the city of Newport News—who declined to take up any chaining regulations at this time—a PETA fieldworker looking for animals in need in Newport News found this dog, Weezy, chained in someone's backyard: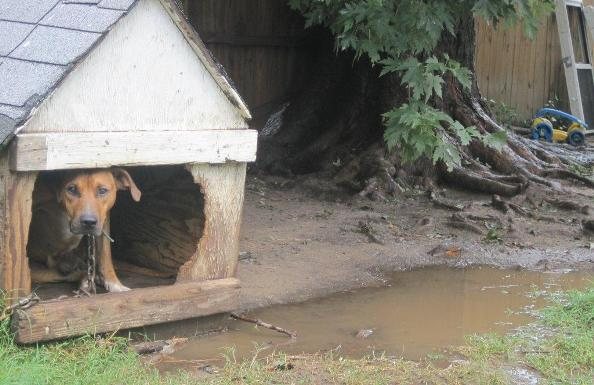 Dogs aren't objects that can be dumped outside, chained, and forgotten about—they're sensitive, social beings who require good care and consideration. Like those of many lonely and vulnerable chained dogs whose owners can't be bothered to spare more than minimal attention or care, Weezy's collar was so tight that it had become embedded in his neck, resulting in a deep, painful, and infected wound.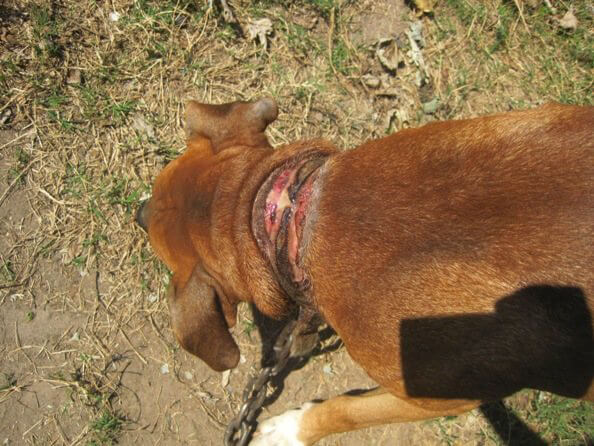 Weezy was seized by law-enforcement authorities and treated by a veterinarian, and the cruel man responsible for Weezy's suffering has been charged with cruelty to animals. But there is a way to prevent other dogs from experiencing this same type of pain: by passing a restriction or an all-out ban on chaining. PETA's out in front on this issue because its cruelty caseworkers have witnessed time and again how dogs suffer at the end of chains. Chained dogs are psychologically and physically neglected. They often suffer from exposure, dehydration, starvation, untreated injuries, maddening flea and tick infestations, flystrike, heartworm disease, and more. It's not uncommon for chained dogs to hang to death after becoming entangled in their tether or to accidentally hang themselves on objects around them. Chaining also puts the public at risk since chained dogs often unleash their frustration on other people, including children.
What You Can Do
Please join PETA in politely urging the Newport News mayor and City Council members to join neighboring Norfolk, Virginia Beach, Hampton, Portsmouth, and Smithfield in passing an anti-tethering ordinance before another animal suffers like Weezy. And if your community lacks a chaining ban, please encourage local authorities to take up legislation immediately.