While every Morrissey show is darkly entertaining, every Ringling show, with its behind-the-scenes elephant beatings, is just plain dark. So when Moz played Boston right as Ringling was rolling into town, he gave his bandmates PETA's "Ringling Beats Animals" tees to wear and gave Ringling the big middle drumstick: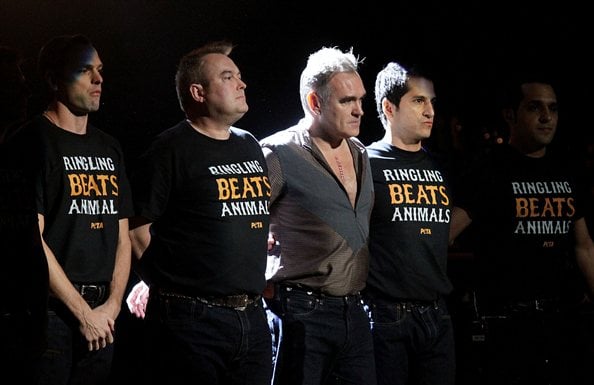 © FilmMagic
Morrissey knows that true great shows don't involve beating crippled elephants with sharp metal-tipped bullhooks to force them to act out confusing tricks. PETA just released a new video showing a Ringling trainer striking an elephant, who is already showing signs of arthritis, because she wasn't performing exactly as she was told to.
Moz and his band choose to perform—elephants don't. Tell Ringling that until it stops beating elephants, it can beat it, with your own "Ringling Beats Animals" tee.