PETA is known for causing a stir on Twitter if it means sticking up for animals. In just the last few months, our viral tweets about animal-friendly expressions and Steve Irwin's legacy of tormenting wildlife have led millions to challenge their long-held speciesist beliefs and made countless people consider—some perhaps for the first time—that animals have a right to live free from human harassment and exploitation. That's why when we saw @choicebison and @freebison of the BISON movement's startling depiction of a grown man "breastfeeding" from a cow, we knew that we had to share it with our followers. The cartoon is disturbing, just like the dairy industry, and it's certainly got people paying attention.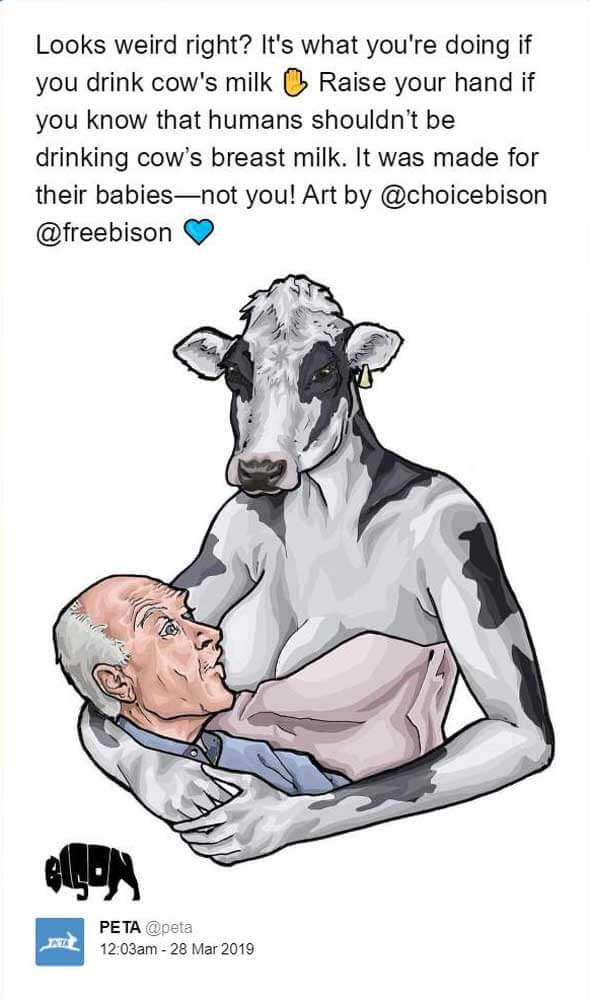 On social media, PETA uses evocative, emotional messaging, as we have mere seconds to stand out from the feed and grab people's attention. We see every interaction on social media as an opportunity to reach people, including those who may never have considered whether it's unnatural to forcibly impregnate mother cows and steal the milk meant for their babies or for humans to drink milk as adults (something that no other species does).
Super cool #vegan #thebisonmovement musicians and artists at my #FtLauderdale talk last night. pic.twitter.com/bNVP73iQrB

— Ingrid Newkirk (@IngridNewkirk) March 25, 2018
In addition to the eye-opening breastfeeding image seen in PETA's viral tweet, freebison's Instagram page is full of cartoons that highlight the often disturbing ways in which humans interact—and are intertwined—with other species. Check out some of our favorites:
https://www.instagram.com/p/BoX9HkTnoYN/
https://www.instagram.com/p/Bs4PEn1lvpw/
https://www.instagram.com/p/BnhsTSZgMyh/
https://www.instagram.com/p/BreJR7xlppo/
Feeling Mooved? Go Vegan Today!
Cartoons aren't just for kids—but breast milk is! If this viral cartoon tweet got you thinking twice about dairy, we're here to help you kick that dirty habit. Check out these great 100 percent plant-based milks, then order your free vegan starter kit now.