Sometimes, all you need is a friend.
Two rescued chimpanzees found exactly that in each other. In fact, they're holding onto their friendship and refusing to let go.
A recent video posted by the Save the Chimps sanctuary in Florida shows Terry and Jeannie, two rescued chimpanzees, holding each other's hands, never breaking contact—even when one of them flips over and repositions:
Mondays are better with a friend.Terry recently met Jeannie and they didn't want to let go of each other's hand. How sweet is this? #STCMovieMonday #MovieMonday #TerryTheChimp #JeannieTheChimpTerry was rescued from a small zoo and Jeannie spent over three decades in a biomedical research lab. Get to know Terry by visiting: http://www.savethechimps.org/meet-the-chimps/#/Terry

Posted by Save the Chimps, Inc. on Monday, March 7, 2016
The sanctuary wrote on its Facebook page that the two recently met and became fast friends. It's no surprise that they could find comfort in one another—their pasts are equally as troubling.
Terry spent years of his life with someone who trained chimpanzees for the Ice Capades, although he never performed himself. In 1995, he and another chimpanzee named Simon were moved to the Las Vegas Zoo, but Terry didn't have his companion for long, as Simon died shortly after the move. For 18 years, Terry was held in solitary confinement at the decrepit Las Vegas Zoo, a notoriously substandard facility that confined 150 animals on just three acres. However, in 2013, when all the zoo staff mysteriously quit, he finally had a chance, and PETA saw an opportunity to help him.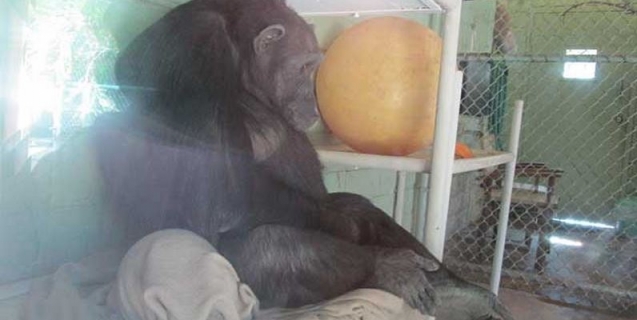 We contacted the North American Primate Sanctuary Alliance to express our support for sending Terry to a sanctuary instead of another roadside zoo. That required funds, and that's where our hero Sam Simon and another wonderful PETA President's Circle patron stepped in. Thanks to their generous support, PETA could contribute to Terry's transfer to Save the Chimps, where he has lived ever since.
But despite Save the Chimps' sprawling acreage and outstanding care, Terry didn't adjust right away. The more than 250 chimpanzees at Save the Chimps live on 12 separate islands in large "family" groups. According to the sanctuary's site, Terry didn't get along with all the members of the family in which he was initially placed. This prompted the sanctuary to move him to another group—Jeannie's.
Jeannie—lovingly called "Jeannie Mama" by some—was rescued from a notorious laboratory in 2002, after 20 years spent there, according to Save the Chimps. During her time there, she was used for breeding and gave birth to at least four babies and had two miscarriages. Even though the bond between chimpanzee mothers and babies is similar to the one that humans share with their children, Jeannie's babies were taken away from her at birth. Despite never having raised her own babies, at Save the Chimps, she is free to "mother" and care for the other rescued chimpanzees, a role that was denied to her for so many years.
She and Terry may share painful pasts, but now they seem to have all the love they need. Sometimes, they demonstrate even more affection than just by holding hands:
And now they can be together for the rest of their days.
What You Can Do
Although Terry and Jeannie were rescued, so many other chimpanzees need our help. Click here to learn about how you can help chimpanzees kept in solitary confinement.