Elephants didn't have to perform in Norfolk, Virginia (PETA's hometown), and Winchester, Virginia, after we contacted venues and officials to let them know that the Garden Bros. Circus has a long history of putting animals and the public at risk.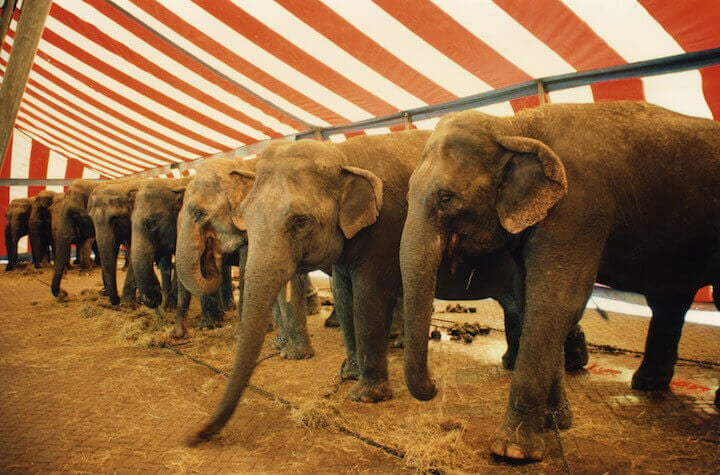 Garden Bros. Circus (aka "Piccadilly Circus") hires its animal acts from notorious abusers, including Carson & Barnes Circus, whose trainers have been caught on tape beating elephants, and Hugo Liebel, who continues to haul the ailing elephant Nosey around the country. Both have deplorable records of flouting federal animal-welfare law.
Both also have histories of incidents in which both animals and people have been injured. A couple of years ago, Carson & Barnes elephants Isa and Viola broke away from their handlers and ran into a parking lot, damaging vehicles and injuring themselves in the process. In another incident, Viola became frightened and took off, injuring herself when she fell into a ravine. Just last month, video footage from a Garden Bros. performance shows a startled Isa nearly sideswiping a woman and child walking nearby. Nosey once threw a handler to the ground with her tusk, sending him to the hospital with a head injury.
"At this time, the City Attorney … has advised the Garden Bros Circus that the elephants would not be allowed to perform or be displayed."

—City of Norfolk
A little respite from performing painful and demeaning tricks is always welcome for these elephants. But we all must keep the pressure on until these shows are just a distant memory.
What You Can Do
Never attend a circus that forces animals to perform. Check out these fun and fabulous cruelty-free shows.