As many as 26 horses died in 2019 and 2020 while racing or training at Churchill Downs.
Churchill Downs Incorporated (CDI) is attempting to dodge one of PETA's bare-minimum requests to save horses' lives—even though it owns what in 2019 was called "one of the deadliest racetracks in America." As a shareholder, PETA submitted a resolution to the company simply asking that it report on the feasibility of making the lifesaving switch to a high-quality synthetic surface. CDI's response to this reasonable and necessary request that would help horses? Butt out. This is just our "ordinary business," and shareholders have no say.
What's "ordinary," though, about the death of horses on a dirt track when a safer surface is available? Nothing. That's why PETA is appealing to the U.S. Securities and Exchange Commission to reject CDI's attempt to quash our resolution. Replacing outdated dirt tracks with a modern synthetic surface is a necessary step that has been shown to protect horses, who are already pushed past their limits in an industry rife with drug abuse, injuries, and corruption.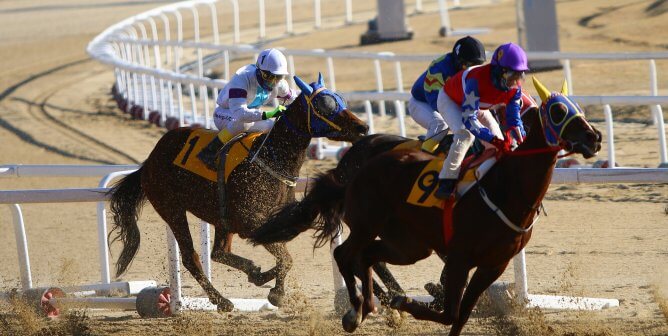 The research shows that fewer horses die on synthetic tracks than on dirt tracks. Based on studies from the Jockey Club's Equine Injury Database, during 2009 and 2010, as many as 2,000 horses could have been spared if they had been running on a synthetic track. At a time when tracks are under scrutiny for hundreds of violent deaths a year and the popularity of racing is at an all-time low, the survival of horses and CDI are inextricably linked.
CDI has an ethical and fiscal responsibility to do everything in its power to prevent fatal injuries and to ensure the highest standards of safety. It has already taken some important first steps, as when it installed a Tapeta synthetic surface at Turfway Park, another track that it owns. And at the request of PETA, it also cracked down on illegal shock devices and is working with state officials to phase out Lasix (a dangerous performance-enhancing drug) and make other improvements. However, there's still much more to be done, and statistics show that investing in safer track surfaces would decrease the rate of fatalities at its tracks. As the owner of the track that hosts the most famous horse race in the world, the Kentucky Derby, CDI has a unique opportunity to be a leader.
While all the safety measures in the world could never make exploiting animals ethical, track owners have an obligation to do all they can to ensure that surfaces are safe. A simple report is an easy place to start. Please take action now to help horses used for racing.