Thirteen years ago this week, Congress amended the federal Animal Welfare Act (AWA) to include birds. That means that the U.S. Department of Agriculture (USDA) must protect birds who are used for exhibit and who are bought and sold in the wholesale pet trade. (The exception is for those unfortunate birds subjected to experiments.) The USDA must ensure that birds get fundamental care: adequate veterinary care, shelter, food, and water.
Yet the agency has yet to cite anyone neglecting birds in 13 years, even though many birds are obviously suffering and some have even died as a result of apparent AWA violations. PETA has filed a lawsuit over the USDA's lack of action to protect birds, and its appeal will be heard on Thursday.
In each of the following cases, PETA filed complaints with the USDA, but the agency failed to take any meaningful regulatory enforcement action:
A witness came forward to report that an ostrich was being trampled to death by two other birds while they were being held in a "race stall" before a chariot race at this year's Chandler Chamber Ostrich Festival in Chandler, Arizona. The witness reported seeing a bloody ostrich convulsing on the ground before the bird died and workers covered the animal up with a plastic tarp.
Last year, a visitor to The Mobile Zoo in Wilmer, Alabama, photographed a bird with a severely swollen and inflamed eye. A veterinarian reviewed the pictures and concluded that the bird appeared to be suffering from a bacterial infection.
PETA Foundation's Captive Animal Law Enforcement division received a report that several birds at Zooville USA in Plant City, Florida, were suffering from various ailments, including swollen eyes, extensive feather loss (which can be a sign of distress and poor health), and bloody and apparently self-inflicted wounds.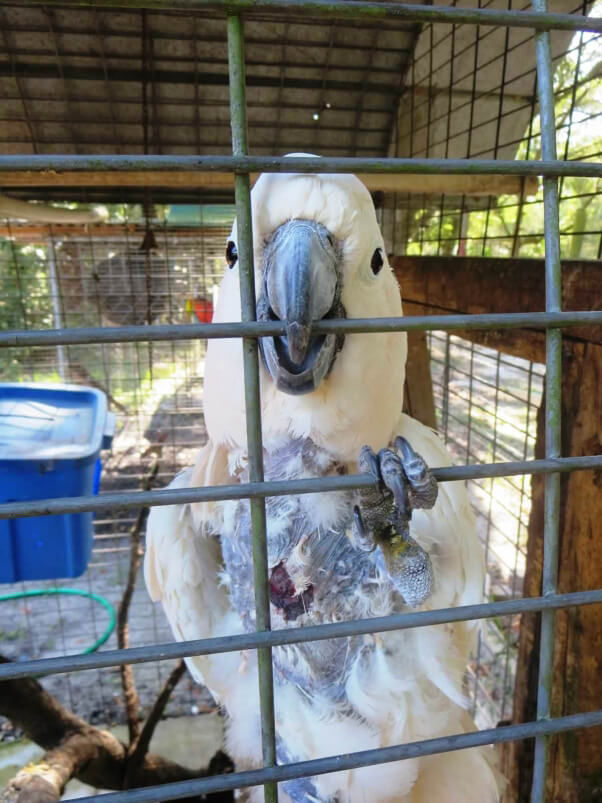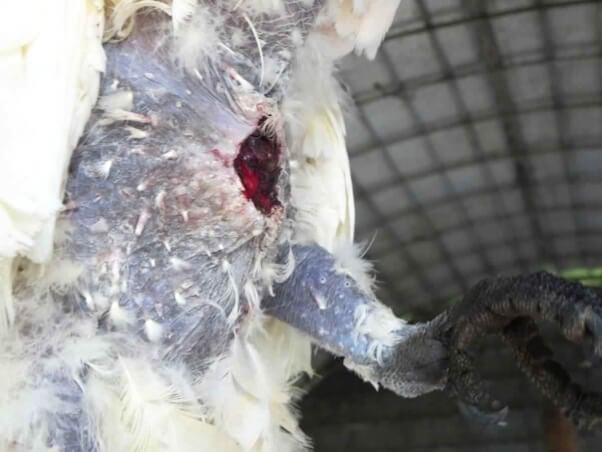 Photographs posted on the Facebook pages of Oklahoma's Garold Wayne Interactive Zoological Park and its operator, Joe Schreibvogel, showed two blue-and-yellow macaws and a Goffin's cockatoo lying dead inside filthy cages. The condition of the cages—they contained soiled newspapers covered with excrement but no trace of food or water—and the birds suggests that the animals were likely suffering from neglect, trauma, stress, starvation, and dehydration before they died.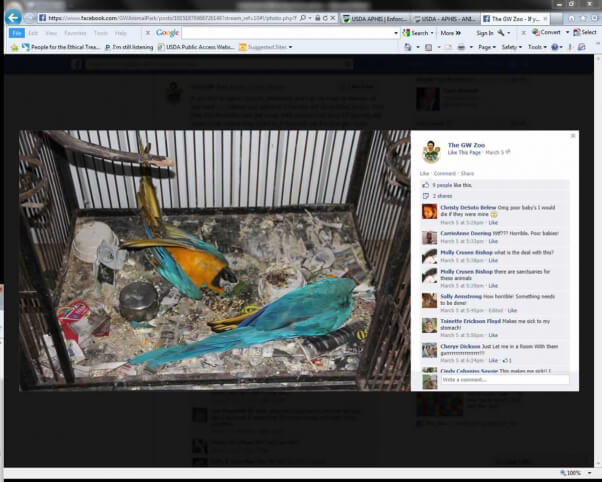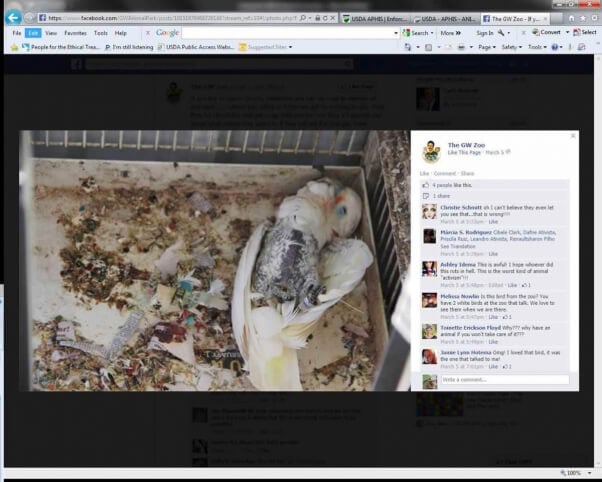 A visitor to Lazy 5 Ranch, a drive-through roadside zoo in North Carolina, documented two cranes with large, bloody wounds and severe irritation on their left wings.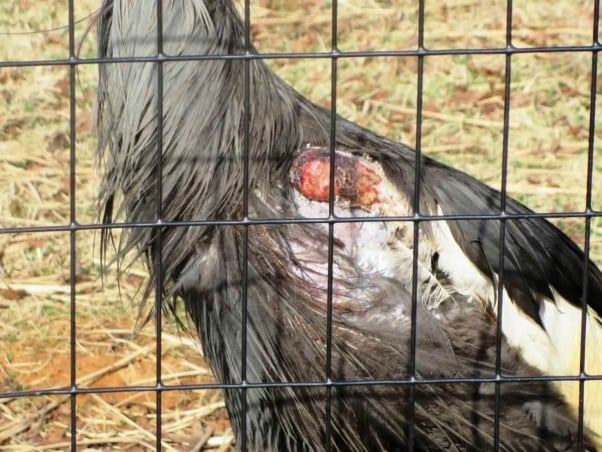 Several birds were suffering from severe feather loss and skin infections at Linvilla Orchards in Media, Pennsylvania, likely the result of self-mutilation caused by extreme boredom and stress. Dead birds weren't removed from pens, leaving their bodies to decompose among live animals.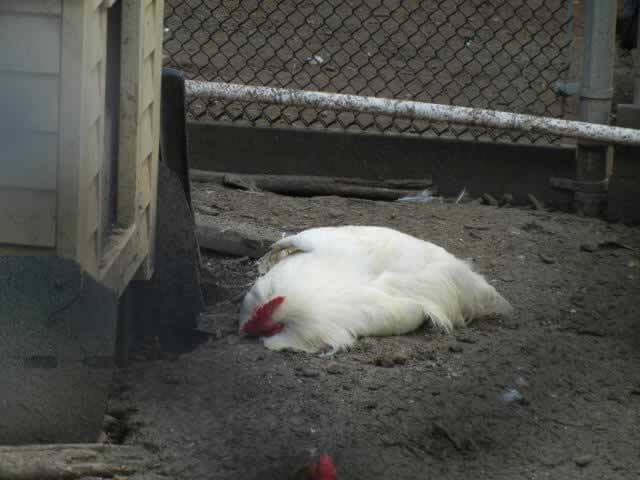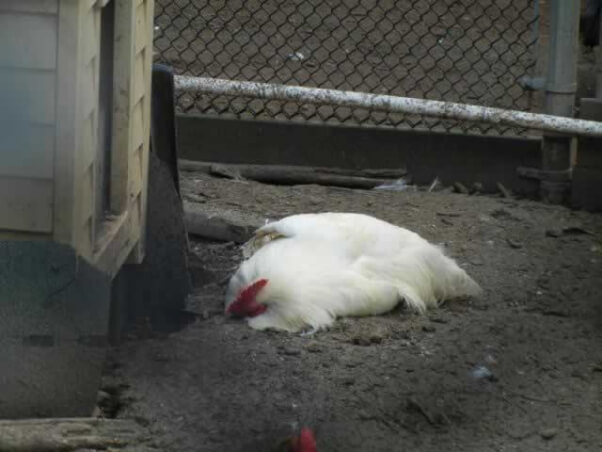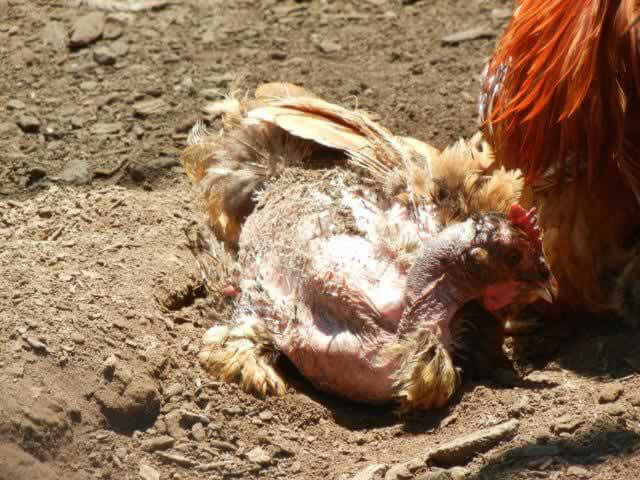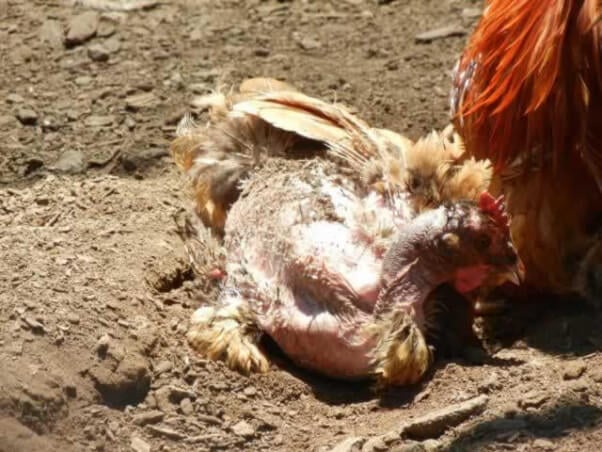 A visitor to SeaWorld San Antonio saw a bird, identified as a black-bellied whistling duck, whose bill appeared to have been broken or torn off.
A parakeet on display at the Reston Zoo in Vienna, Virginia, was reportedly stepped on and killed by a patron. The zoo director reportedly told an animal control officer that this was the second time that year that a bird had been killed by a zoo patron.
Documentation from visitors shows that for at least a month, macaws on display at Catoctin Wildlife Preserve & Zoo in Thurmont, Maryland, had severe feather loss, likely as a result of stress-induced self-mutilation.
According to a whistleblower, exhibitor Zack Garden told workers with the Piccadilly Circus (which now goes by the name Garden Bros. Circus) to place an emu in a trailer with larger animals for a 300-mile trip. The emu drowned in the larger animals' water trough.
PETA received photos of a bird suffering from an apparently untreated and extremely painful bacterial infection at the East Maui Animal Refuge in Haiku, Hawaii, and of other birds suffering from apparently untreated broken wings.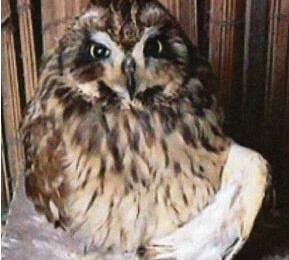 Stray dogs were able to get into Mississippi's Jackson Zoo, killing five flamingos and injuring two others. In a previous incident, stray dogs killed 16 flamingos, two ducks, and a trumpeter swan at the facility.
What You Can Do
Ask your members of Congress to urge the USDA to apply the Animal Welfare Act to birds now!