The 2019 FIFA Women's World Cup Final has concluded, and our very own U.S. Women's National Team (USWNT) is taking home the FIFA Women's World Cup trophy. Alex Morgan, Christen Press, Kelley O'Hara, and the rest of the team faced off against Netherlands on July 7 in Lyon, France, and walked away with a 2–0 victory.
The US beats the Netherlands 2-0 to win the Women's World Cup. The American team has won the tournament four of the eight times it's been played. https://t.co/dRDIpbhMrb pic.twitter.com/BDcAvSlEQv

— CNN Breaking News (@cnnbrk) July 7, 2019
So we know the USWNT players kick butt on the field, but have you ever wondered what they're like when they're not busy winning international soccer tournaments? It turns out that a number of them score big off the field, too. Find out why these three animal advocates are our 2019 USWNT favorites:
Alex Morgan
Alex Morgan (number 13) is so much more than just an Orlando Pride forward and a USWNT player. She's also been featured on the cover of Time magazine and is an Olympic gold medalist, a movie star, and an author—as well as an advocate for animal adoption, a proud vegan, and PETA's most beautiful female vegan celebrity of 2019.
"Animals should always be a part of the family and be taken care of just as any child would be," Morgan told us last year.
The soccer star and responsible dog guardian believes that no matter the species, family is family, and she isn't shy about spreading that message. Morgan often shares glimpses into her life with her adopted pup, Blue, with her nearly 6 million Instagram followers, as in these pics: protecting Blue's feet from hot pavement, celebrating Blue's birthday, and snuggling with a sleeping Blue on the couch. She even told Reuters recently that caring for her pup has had an impact on what she eats, too:
"I even adopted a vegan diet, because it didn't feel fair to have a dog I adore, and yet eat meat all the time," Morgan said.
Morgan may be known as a star athlete within the soccer community, but we know and love her for her big heart.
Christen Press
Christen Press (number 23) may be a striker for the Utah Royals FC, a World Cup champion, a former Olympian, an ESPN The Magazine's "The Body Issue" model, and a USWNT player, but we're fans because of her animal advocacy. Just a few years ago, we went behind the scenes with Press and her rescued pup, Morena, to talk about the importance of adopting animals.
Morena was rescued from a recycling center in Oakland, California. Press said that she's had a very big, very positive impact on her life. "You know, who rescues who?" she commented.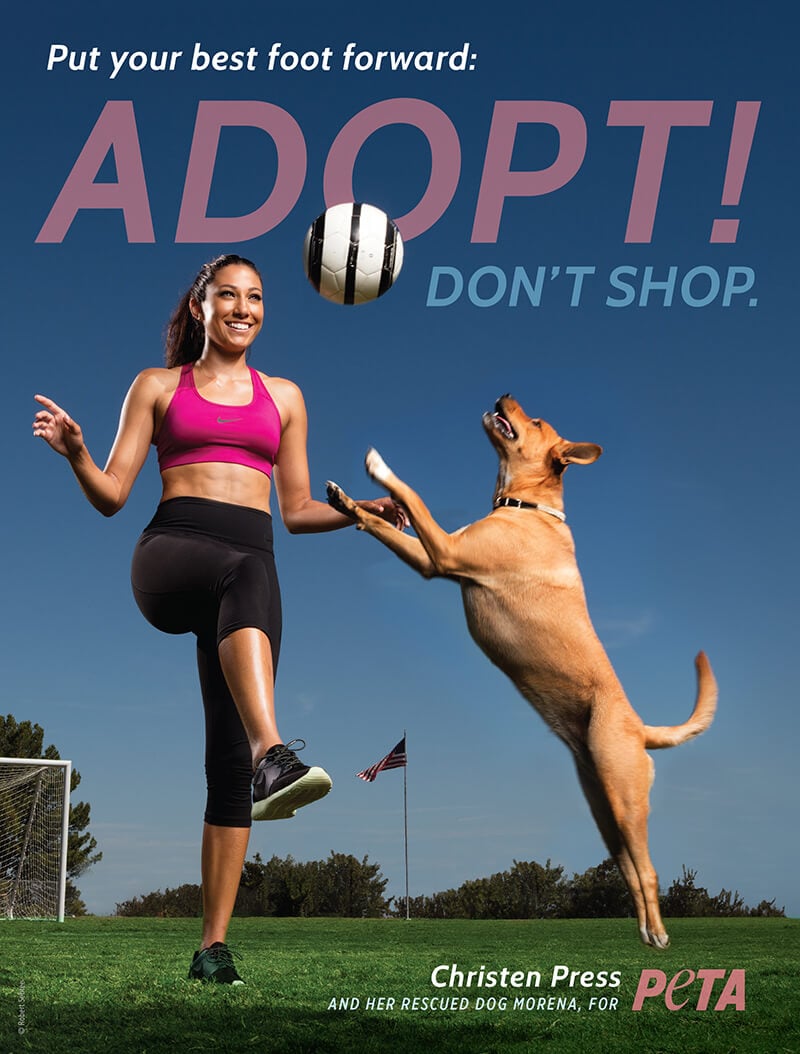 Press knows that having a dog changes everything and that adopting is the way to go. By starring in a PETA ad with Morena, she helped to combat the companion-animal overpopulation crisis. So if you're thinking of adding a furry friend to your family, take Press' advice …
… and adopt, don't shop!
Kelley O'Hara
When she's not winning trophies and scoring goals, Utah Royals FC defender and USWNT player Kelley O'Hara (number 5) is busy fostering dogs. O'Hara and four of her former Sky Blue FC teammates recently fostered Brooklyn.
"[Brooklyn] is the sweetest, silliest, cuddliest, fun loving pup. She loves walks, playing fetch, cuddles on the couch," O'Hara wrote on Instagram. While caring for the pup, she made sure to show her the good life:
*****
She may be retired, but we couldn't resist giving former USWNT player and three-time Olympic gold medalist Heather Mitts an honorary mention.
In 2011, Mitts and her USWNT teammates became the FIFA Women's World Cup runners-up. But we think it's her compassion for animals that makes her legendary. Whether she's speaking up for cows in the dairy industry, condemning Canada Goose, or promoting a vegan lifestyle, she proves over and over that she's a teammate to animals, too.
Celebrate the 2019 FIFA Women's World Cup: Take a Page From These All-Stars' Books
These women are badass—there's no doubt about it—and following in their kind footsteps is simple. Click below to help make the world a better place for all its inhabitants: