Do you eat chickens' carcasses? If so, have you ever considered what a chicken endures before being used for the food that ends up on your plate? Curtis Jarvis, a former Tyson chicken farmer, is making sure that everyone knows the truth about the lives of birds used for food.
"Breeder" chickens are typically confined to filthy sheds on farms without access to sunlight, fresh air, or anything else that they would enjoy in nature. Jarvis, who for four years owned one such farm in Arkansas that contracted with Tyson, recently contacted PETA to sound the alarm about the company's horrific mistreatment of birds. Workers allegedly crammed transport cage compartments that were meant to hold 20 chickens with up to 40 of them, routinely causing birds to suffocate during transport. Jarvis said that at other times, as few as five chickens were loaded into the cages, which meant that they weren't insulated against the extreme weather that they were exposed to, causing some to freeze to death on their way to his farm.
Some young chickens being transported from pullet farms (which keep hens who have not yet begun laying eggs) to Jarvis' sheds allegedly fell out of the dilapidated cages, and Tyson employees would follow the trucks to his farm, picking up dozens of dead birds along the way. Jarvis told us that he repeatedly complained, but Tyson managers rebuffed his concerns. Disgusted, he tried for two years to sell the farm and finally succeeded in March 2020.
Following his disclosures, we received photographs that we're told were captured at another Tyson Foods breeder farm in Arkansas. They seem to corroborate Jarvis' report, depicting a chicken truck with its cage doors open …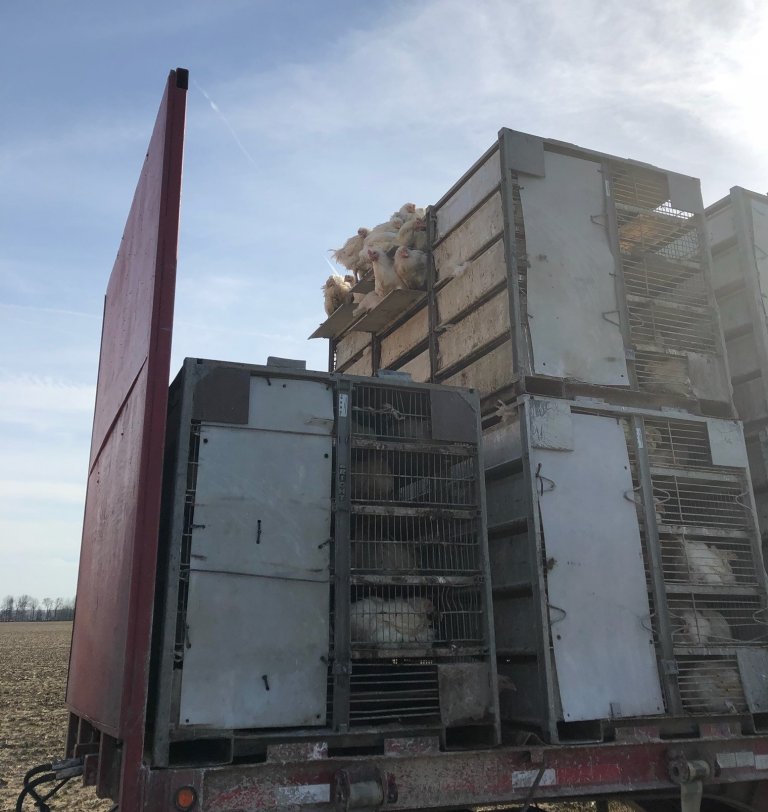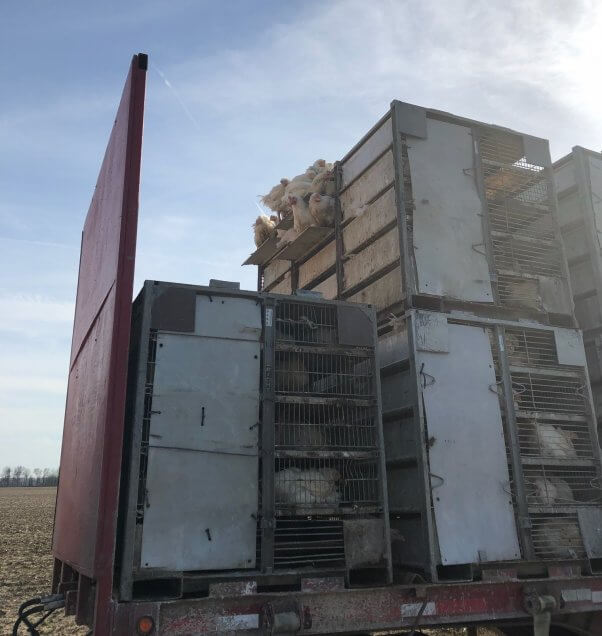 … chickens standing on top of a truck …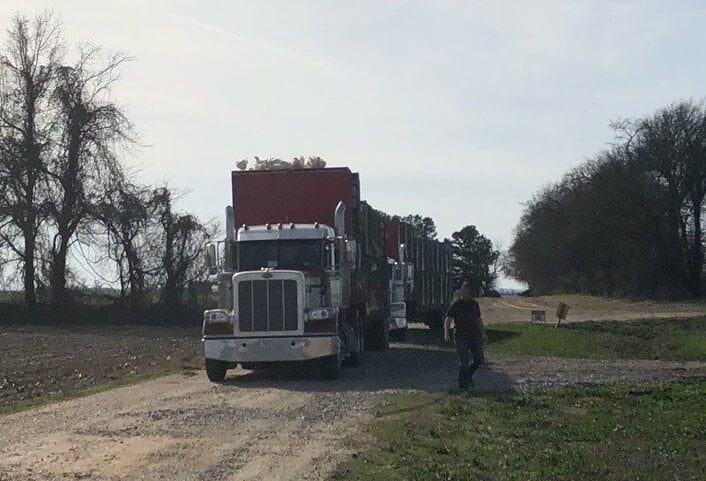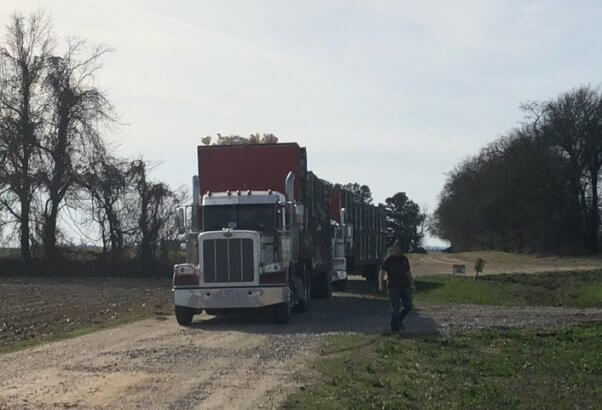 … and a large pile of dead chickens in a shed: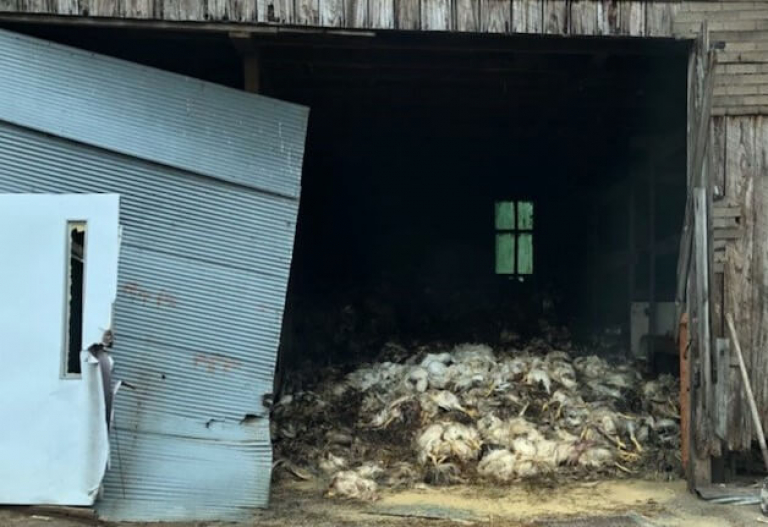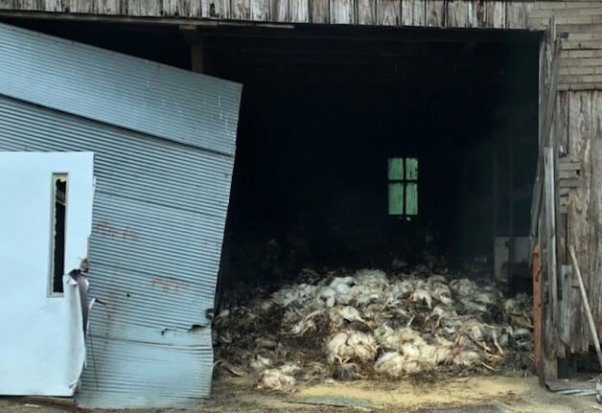 "Things are evidently so rotten at Tyson that one of its own former contractors is slamming the slaughter giant for apparently failing to comply with its own guidelines," says PETA Senior Vice President Daphna Nachminovitch. "Anyone upset to hear that scores of chickens are 'grown' only to be hanged or for their throats to be slit can help these vulnerable animals simply by choosing PETA-approved vegan meals."
Do What Tyson Should Do, Too: Go Vegan
In response to Jarvis' report, PETA has requested that Tyson immediately review its facilities' operations to ensure that workers aren't overloading transport cages, dilapidated cages are repaired, and disciplinary action is taken against all employees who fail to correct these alleged issues.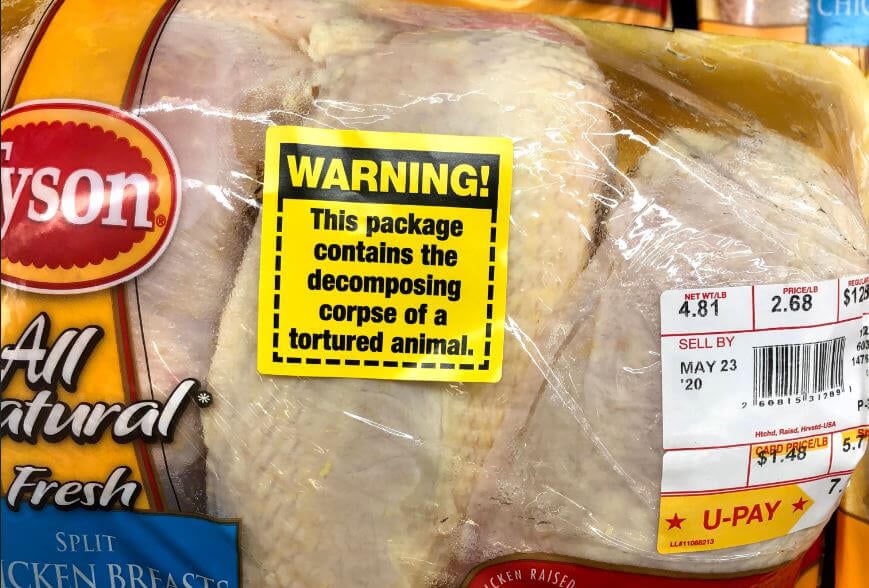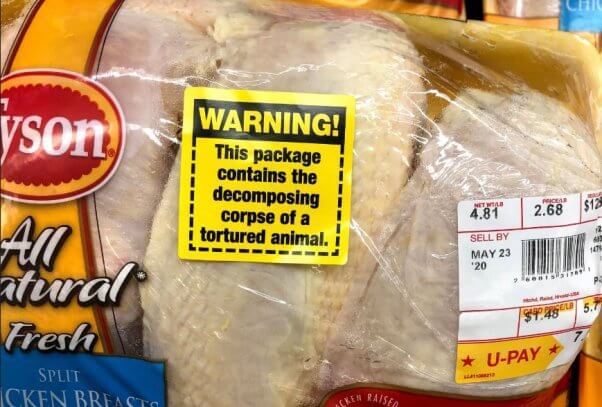 And kind consumers are responsible for taking an important step, too. Don't wait for Tyson to do the right thing, because you could be waiting a long time. The best way to save chickens is by not eating them. Everyone can help protect these birds, themselves, the Earth, and workers by going vegan.