UPDATE: Victory! As the Chief Saunooke Bear Park struggled, a private benefactor offered to purchase all of the bears. The park quickly accepted the offer and the bears were finally retired to a spacious sanctuary. Read more about the victory and how the bears are doing now here.
Update: The Cherokee tribal council's meeting to discuss the closure of the bear pits was postponed until Tuesday, March 19th at 5 p.m. because of bad weather, so please keep letting the council know that public opinion is on the side of the bears. To contact the council members, click on the "Take Action Now" button below.
The following was originally posted on March 5, 2013:
After PETA publicized the findings of our investigation at Chief Saunooke Bear Park, several tribal elders of the Eastern Band of Cherokee Indians—which owns the land on which Chief Saunooke and other bear pits are located but does not run them—were horrified to learn of the conditions there.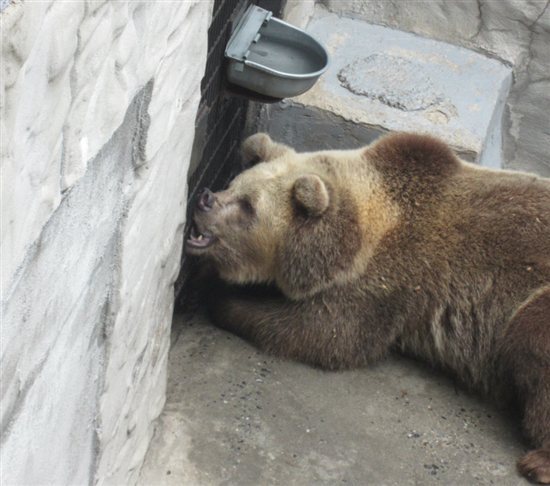 Led by Peggy Hill, a group of elders has proposed a resolution to close all the bear exhibitors on tribal land permanently, and the tribal council is poised to vote on the resolution at its next council meeting this week. Hill told the Associated Press that "[m]ost Cherokee people had no idea what was taking place behind the bars of these roadside zoos" and that the elders are appalled "at the horrible treatment of these jailed bears."
Unfortunately, not everyone is on board with the plan. Chief Saunooke is currently closed, after the U.S. Department of Agriculture suspended its license, but some in the community are pressuring the council to keep the other bear pits open. One of the facilities, Cherokee Bear Zoo, is also making a last-ditch bid for survival by claiming that it wants to remodel itself as a "sanctuary," although if this were its plan, there was nothing stopping it from doing so during all the years that it has been confining bears to barren concrete pits and racking up numerous violations of the federal Animal Welfare Act. The bear exhibitors in Cherokee have proved time and again that they shouldn't have any contact with animals.
You Can Help
Please contact the Cherokee tribal council and urge it to vote in favor of the resolution to close the bear pits permanently and send the bears to reputable sanctuaries.