This is pitiful: The USDA recently cited two bear exhibits (Cherokee, North Carolina's Chief Saunooke Bear Park and Cherokee Bear Zoo) for gross violations of the Animal Welfare Act—again.
According to newly released USDA inspection reports, Chief Saunooke Bear Park was cited for failing to provide veterinary care to bears suffering from diarrhea and for feeding bears moldy, wilted food. The Cherokee Bear Zoo was cited for failing to provide veterinary care to a grizzly bear whose hair had been falling out for weeks.
Both facilities were also cited for hazardous cage conditions, such as exposure to electrical outlets and sharp, protruding metal that could cause injury. Uh, yeah, and what about keeping miserable animals with sharp teeth in captivity and letting kids get close to them?! In July, a 9-year-old girl was bitten by a bear at Chief Saunooke Bear Park.
After the incident, PETA erected a billboard featuring a little girl with a bloody bandage around her hand and the words "Warning: Children Bitten at Bear Pits. Bear Prisons: Dangerous for Children."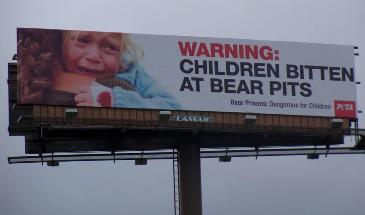 We've long complained that these unaccredited zoos prisons are unsuitable because they deny bears proper exercise, social interaction, and the ability to hibernate. Please help us close Cherokee's cruel bear pits by sending a personalized message to the Eastern Band of Cherokee Indians' tourism agency.
Written by Heather Moore