Now that New York City Mayor Bill de Blasio has presented the City Council with his proposal to retire the horses who are used by the cruel horse-drawn carriage industry, animal advocates are working to get the bill passed. So PETA enlisted some notable New Yorkers to blitz the city with a new ad campaign targeting areas served by council members who are undecided on the bill.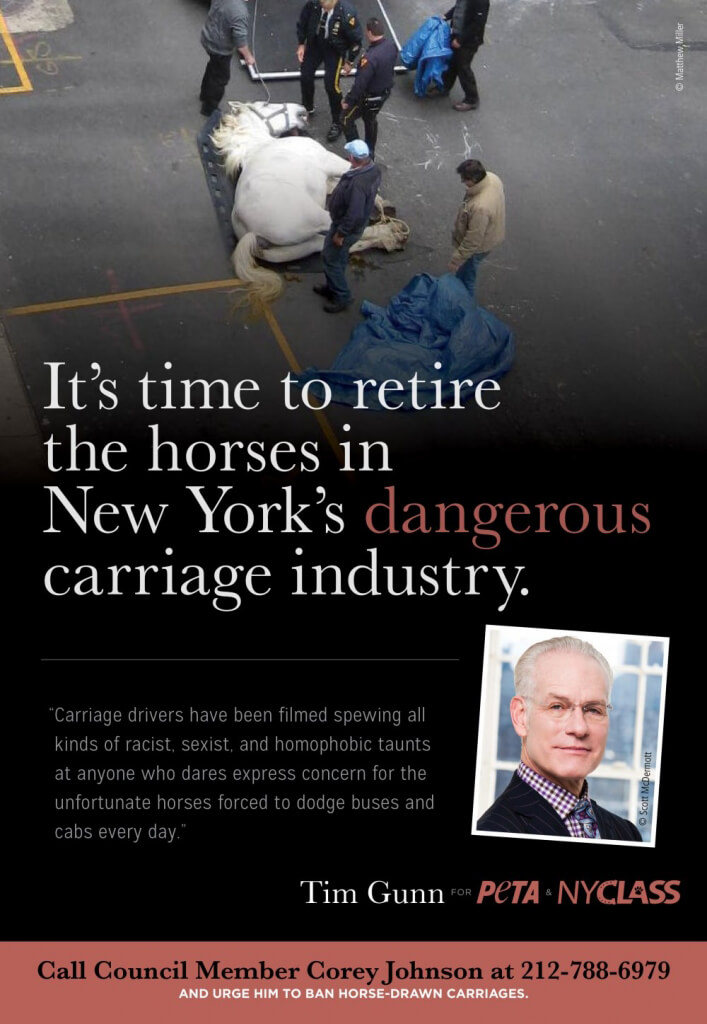 Image of Horse: Matthew Miller
Tim Gunn's ads will appear in Chelsea, a predominantly gay neighborhood, and surrounding areas served by gay representative Corey Johnson. The ads point out that the horse-drawn carriage industry is not only unkind to horses but also unkind to humans, as carriage drivers have been filmed spewing racist, sexist, and homophobic slurs. Tim's ads will also be placed in one of the most diverse areas of New York City: District 23 in Queens, which is served by Council Member Mark Weprin.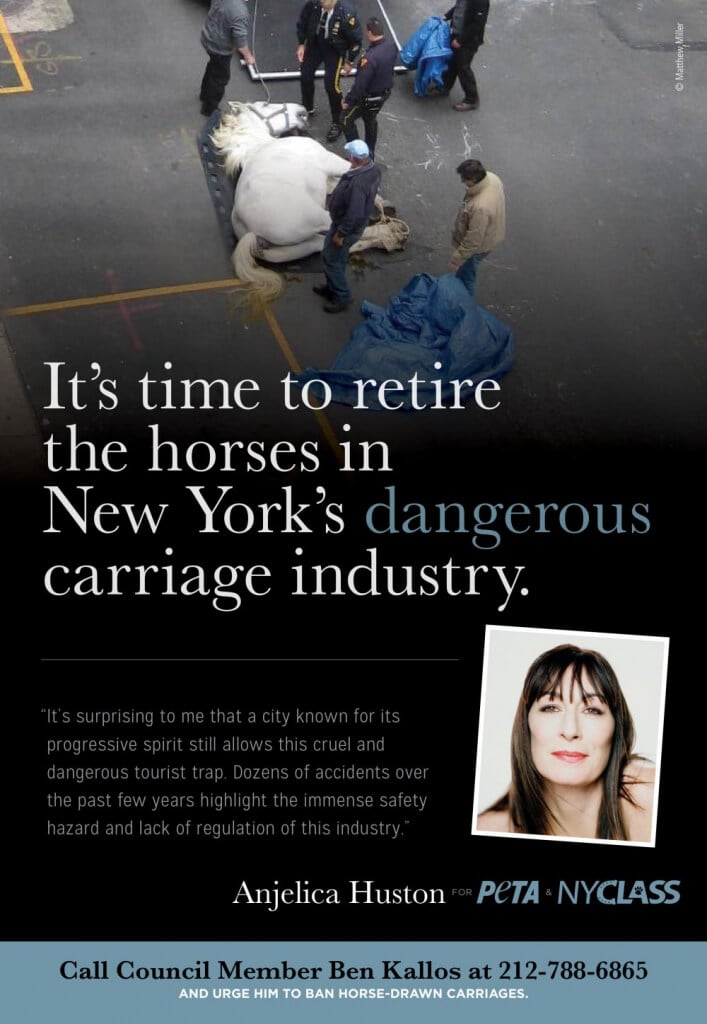 Classy Anjelica Huston is vying for support from Council Member Ben Kallos, who serves the Upper East Side, and Council Member Peter Koo, who represents Queens. Anjelica grew up caring for horses as an equestrian and finds the carriage industry to be "cruel and dangerous."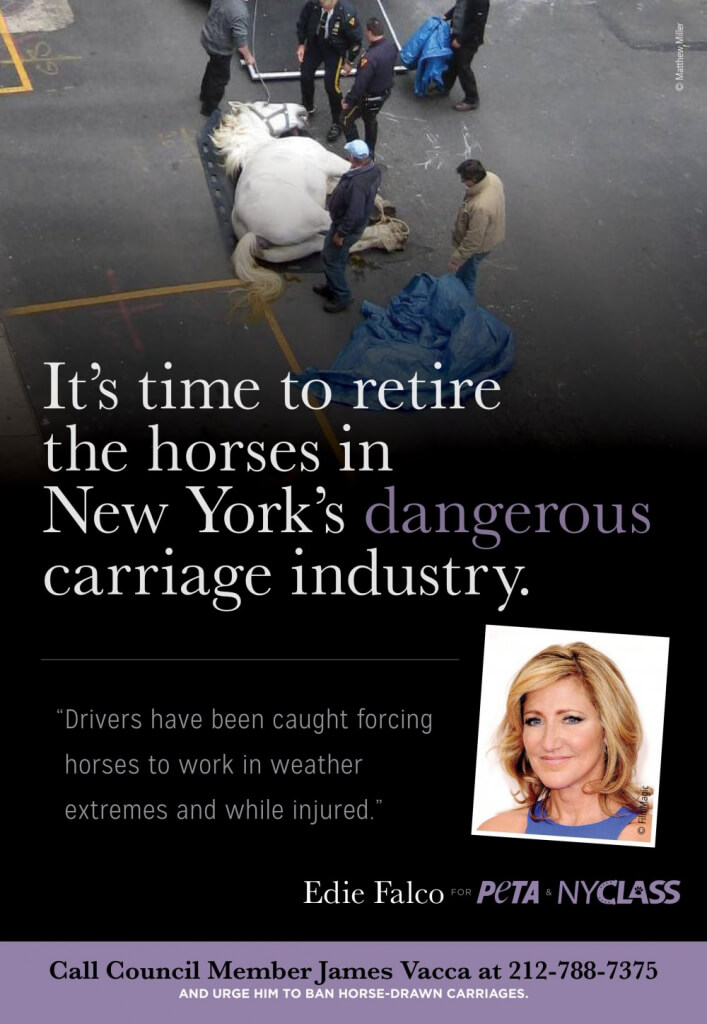 Edie Falco is making sure that Bronx Council Member James Vacca knows that horses suffer when they're forced to work in extreme weather conditions and while they're sick or injured.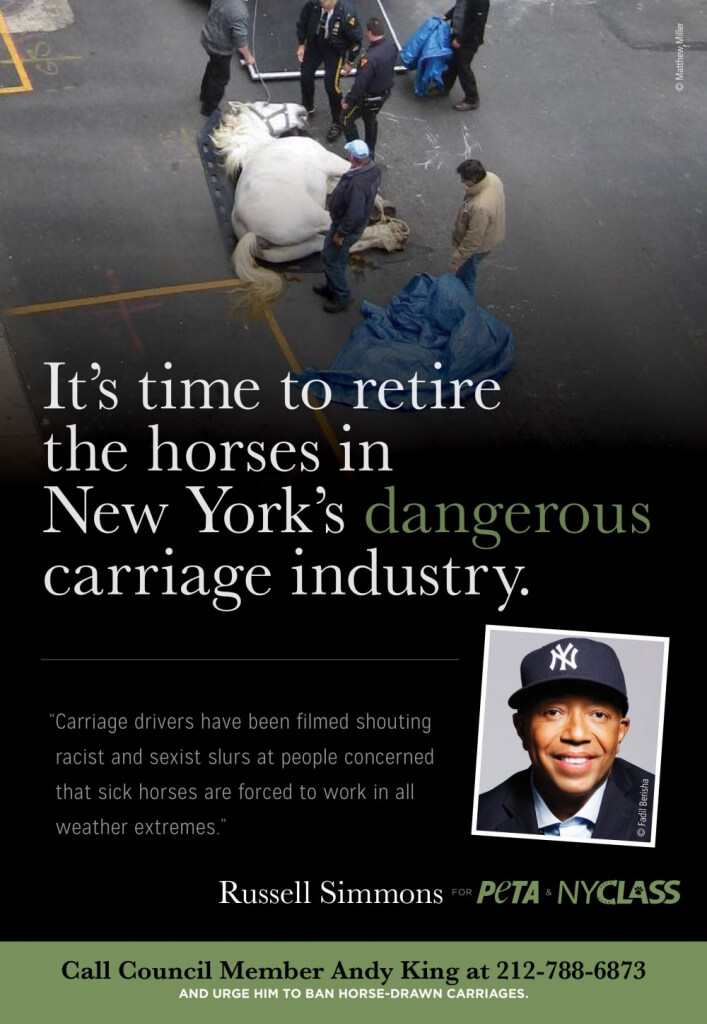 Russell Simmons' ads appear in the heavily African-American districts of Brooklyn's Laurie Cumbo and Mathieu Eugene, North Shore Staten Island's Deborah Rose, and the Bronx's Andy King. Mayor de Blasio's bill would protect carriage horses from suffering the same fate as Charlie—the horse appearing in the ads, who collapsed and died while pulling a heavy carriage through the city's congested streets. A necropsy showed that at the time of his death, Charlie was suffering from painful stomach ulcers but was still forced to work. And he's just one of the carriage industry's many victims—which includes both animals and humans.
What You Can Do
New York City residents: Please call your council member and urge him or her to support Mayor de Blasio's lifesaving bill. You can find a full list of council members' phone numbers here.