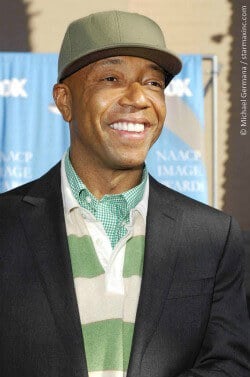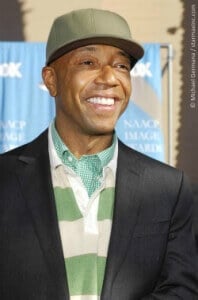 © StarMaxInc.com
Hip-hop pioneer and co-founder of Def Jam Records Russell Simmons is well known for his innovation, power, and creative vision. A long-time vegan, this influential tycoon uses every opportunity to encourage compassion through his entrepreneurial endeavors. When asked how he would describe himself to someone who didn't know him, Simmons answered, "I'm an animal activist …."
Because he tirelessly advocates for animals and sets a positive example for others by promoting a vegan lifestyle, PETA is pleased to name Russell Simmons our 2011 Person of the Year.
Simmons discusses his compassionate diet every chance he gets, including in news interviews; through social media; on the website that he co-founded, Global Grind; and in his latest book, Super Rich: A Guide to Having It All. He has eaten a plant-based diet for more than 10 years, and he was recently included in PETA's limited-edition sheet of U.S. postage PhotoStamps(TM), featuring vegetarians throughout history. In his article "Why I'm a Vegan," Simmons says, "Being a thoughtful vegan makes our time on this Earth more peaceful and joyous, because you get to have a hand in promoting and increasing the happiness, good health and well-being of others—both animal and human—rather than being an instrument of their suffering and death."
In accordance with his commitment to kindness, Simmons has seen to it that his clothing line, Argyleculture, is free of fur, wool, and leather. He has starred in public service announcements encouraging people to bring dogs inside to live as part of the family, to report cruelty to animals, and to take a stand against dogfighting. He also wrote an open letter to KFC's CEO calling on the chain to improve its suppliers' chicken slaughter practices.
Simmons graciously accepted his award, saying, "The horrible abuse of animals is the worst karmic disaster in the history of human kind. The work that PETA does to combat this catastrophe is amazing. I'm truly humbled to be chosen as this year's Person of the Year but the praise should go to the hundreds of thousands of volunteers that are on the ground doing the work. I accept this honor on their behalf."
Russell Simmons uses his fame for good, making himself a positive role model for his fans and everyone around him. Because Russell Simmons tirelessly advocates for animals by promoting an animal-friendly vegan lifestyle, PETA has named him our 2011 Person of the Year. You can follow Simmons' lead and help end animal abuse by ordering a free copy of PETA's vegetarian/vegan starter kit.