Update: Notorious elephant handler Tim Frisco was caught on video yet again abusing an elephant with a bullhook at a recent Shrine circus performance.
PETA obtained the footage of the Kalurah Shrine circus performance in Binghamton, New York, from an audience member. In the video, Frisco is seen violently yanking the face and trunk of a 10-year-old elephant named Val with a bullhook—a weapon that resembles a fireplace poker with a sharp metal hook on one end that's used to beat and threaten elephants.
Val is the youngest elephant forced to perform in a circus or other traveling act. She has been on the road since before she was even 2 years old.
Urge Carson & Barnes Circus, which provided the Kalurah Shrine circus, to join the rest of us in the 21st century by eliminating all animal acts and sending the long-suffering animals it holds captive to reputable sanctuaries.
Originally published April 26, 2017:
PETA recently obtained photographs showing an elephant at a Shrine circus performance suffering from multiple wounds, including what appears to be an open, ulcerated wound on her tail, another ulcer on her right rear leg, and a wound on her trunk.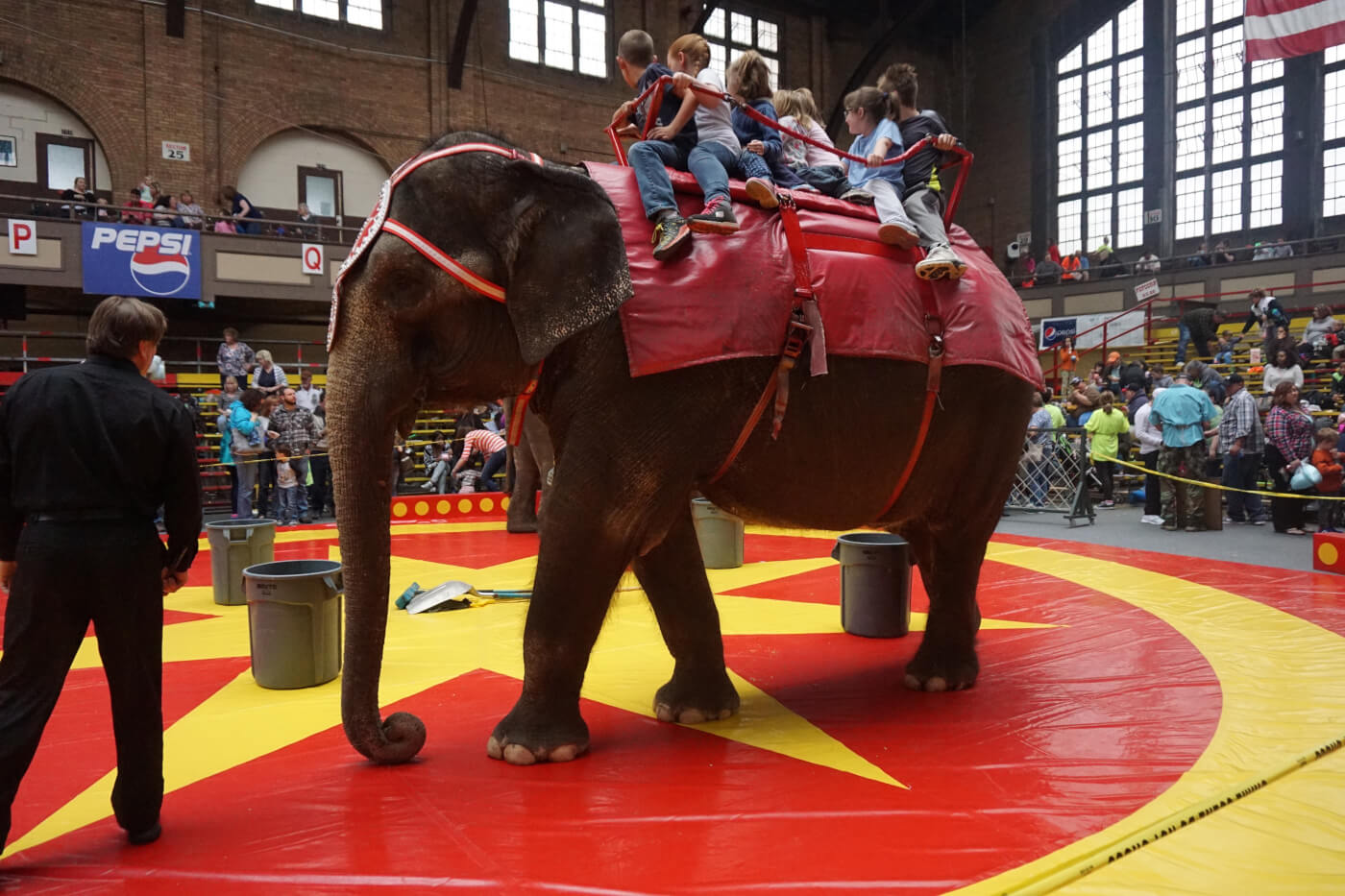 After attending a recent performance of the Irem Shrine circus in Kingston, Pennsylvania, an audience member sent these photos, which show lesions that could have been caused by a bullhook—a weapon that resembles a fireplace poker with a sharp metal hook on one end that's used by circus handlers to beat and coerce elephants into performing tricks.
The elephant handler at the Irem Shrine circus, Tim Frisco, has a long history of inflicting painful injuries on elephants. He has been caught on camera viciously striking them, electro-shocking them, and instructing other handlers to beat them with a bullhook until they scream in pain.
Carson & Barnes Circus, which provided the Irem Shrine circus with Frisco's elephant act, has a long history of violating the federal Animal Welfare Act, including failing to document the veterinary treatment of an elephant who lost 500 pounds in just a few months and then died and failing to notice an elephant's recurring and apparently painful lameness in one of her legs.
Last year, the circus paid a hefty fine for mishandling elephants on two occasions, including one incident in which three elephants escaped and ran amok for nearly an hour, during which they damaged the venue and some cars in the parking lot and two of them sustained injuries.
Help Us Save Elephants From More Beatings
The sight of an open, ulcerated wound on an elephant's body should horrify any kind person. Violence and cruelty are the norm at any circus that uses wild animals, which is exactly why PETA urges families to choose exclusively animal-free entertainment.