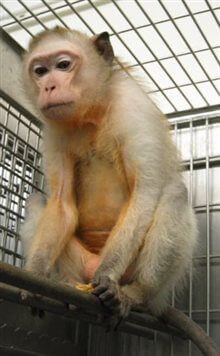 A primate at a Covance primate testing lab.
Update: After receiving PETA's request for an investigation, the U.S. Department of Agriculture found that Bristol-Myers Squibb was to blame for the hanging death of the monkey and cited the company for violating the Animal Welfare Act.
 As if being locked inside a laboratory and treated like a living test tube weren't torture enough, a whistleblower informed PETA that a monkey and a rat were recently scalded to death at pharmaceutical giant Bristol-Myers Squibb's laboratory in Pennington, New Jersey. Their cages were run through the high-pressure cage washer with the animals still inside, causing the trapped animals intense agony and terror as the blistering-hot water burned their flesh.
Also according to the whistleblower, another monkey strangled to death after she was attached to the front of her cage, apparently by some sort of leash, and then left unattended. All three of these tragic deaths, which reportedly occurred over a six-month period, could have been easily prevented. So what's going on at Bristol-Myers?
A U.S. Department of Agriculture (USDA) inspection report substantiates the whistleblower's report of a monkey dying in the cage washer, and based on this, PETA suspects that the other allegations are also true. But it's Bristol-Myers Squibb's turn to be in hot water now: PETA has submitted complaints to the USDA and the Office of Laboratory Animal Welfare, asking both to investigate and hit the multibillion-dollar company where it hurts—in its bank account—if these allegations are true.
But what the pharma giant really must do is stop subjecting tens of thousands of dogs, rabbits, mice, rats, and monkeys to imprisonment, pain, and death. PETA, which holds stock in Bristol-Myers Squibb specifically for the purpose of addressing the company's board and stockholders, has submitted a shareholder resolution urging it to reduce the company's reliance on animal tests by switching to modern, non-animal methods and to provide greater transparency of its animal testing practices. Please, click here to ask Bristol-Myers Squibb's CEO to take personal responsibility for making sure that these recommendations are implemented.