Forks Over Knives continues to change the way that America eats. Kristen Bell and fiancé Dax Shepard have both gone vegan after seeing it.
Another awesome Kristin—Kristin Chenoweth—is throwing her support behind her Glee costar Lea Michele's campaign to get horse-drawn carriages out of New York City. Chenoweth tweeted her disgust at seeing the miserable horses and is asking the New York City Council to ban the carriages.
Anjelica Huston is taking a stand against horse-drawn carriages while working in New York. The Smash star criticized the cruel carriage industry on Piers Morgan Tonight, and guest host Rosie O'Donnell agreed, "It does seem absurdly cruel." Anjelica continued speaking out for animals, deeming it "unconscionable" to orphan baby apes and force them to act.
And as always, Ricky Gervais continues to keep Twitter abuzz for animals, this week posting, "you can't justify torturing an animal for a shampoo."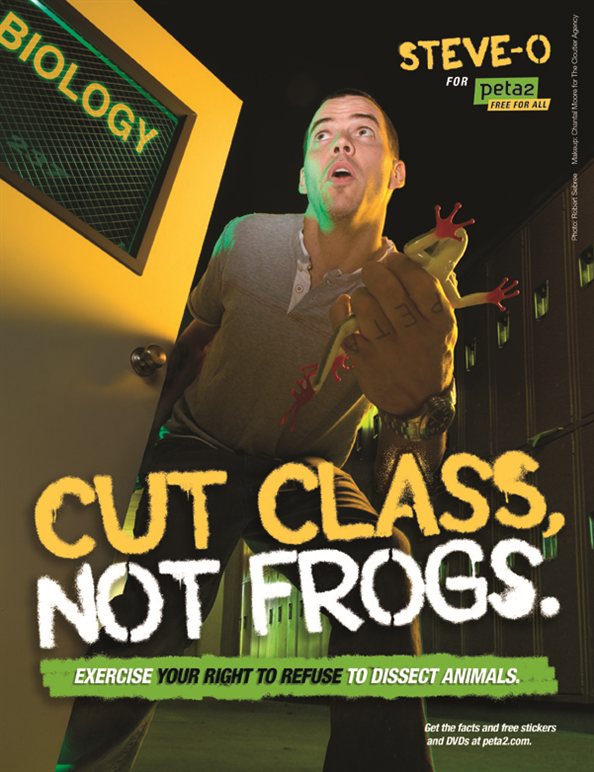 Photo: Robert Sebree; Makeup: Chantal Moore for The Cloutier Agency
Steve-O agrees that animals don't belong in laboratories. He wrote to U.S. Sen. Barbara Boxer of California to ask her to support the Great Ape Protection and Cost Savings Act, which would ban the use of chimpanzees in experiments.
Fellow vegan and tattoo aficionado Travis Barker is raising health-conscious, animal-friendly kids who share their dad's penchant for vegan eating.
Nikki Reed and husband Paul McDonald welcomed a new "kid" into their family—a beautiful rescued dog.
To keep up on all the latest celebrity animal news, follow @PETA on Twitter.