It's December, and the temperature is dropping—so it's the perfect time to announce PETA's 2019 Company of the Year …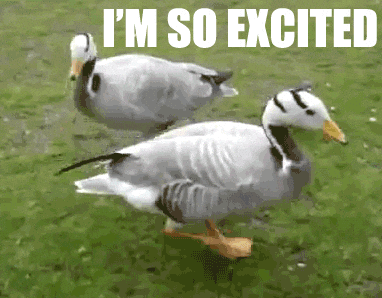 … Save the Duck! The Earth- and animal-friendly puffer jacket company earned this year's award for its commitment to respecting and protecting animals, safeguarding the humans it employs, using raw and recycled materials, and continually innovating its practices to meet the planet's developing needs.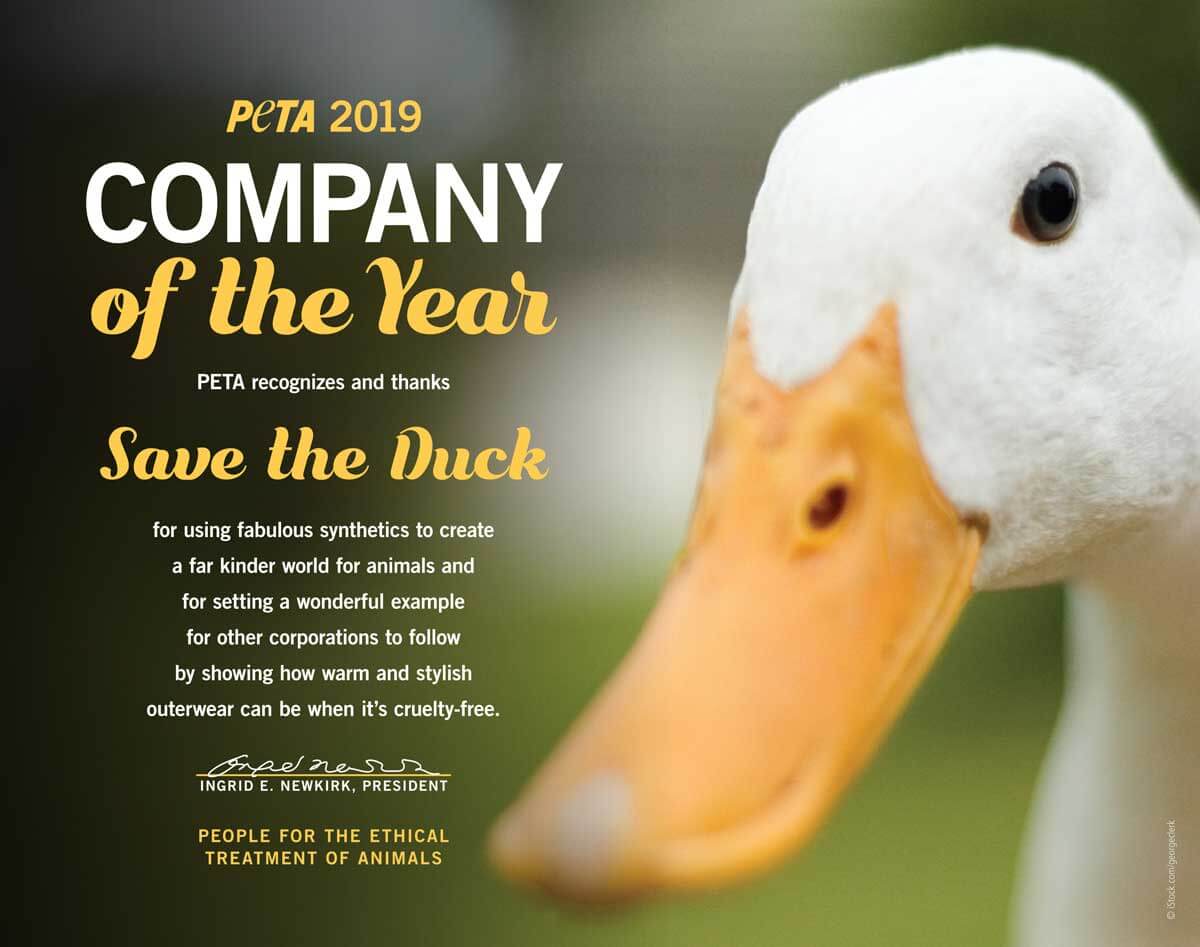 We love Save the Duck for demonstrating to other clothing companies *cough*Canada Goose*cough* that outerwear can be warm, stylish, and animal-free.
Not only has Save the Duck always been free of down, fur, and all other animal-derived materials, it also continues to push the boundary of what it means to be a sustainable company, constantly changing its product line to be more and more environmentally friendly. In addition to rejecting down and fur, Save the Duck uses recycled plastic bottles …
… regenerated fishing nets …
… and animal-free eco-fur …
… in its designs—practices that benefit Earth and all its inhabitants.
2019 Company of the Year isn't Save the Duck's first PETA award.
In 2016, we honored Save the Duck with an Innovator for Animals Award after the release of its revolutionary Plumtech technology, an innovative padding material that's animal-free and outperforms down feathers.
The company's down-free designs are so superior and advanced that they've even kept vegan mountain climber Kuntal Joisher cozy during "one of the coldest summits as well as one of the toughest nights [he'd] ever experienced." In 2018, Joisher sported a custom, one-piece Save the Duck suit while scaling Asia's Lhotse, the fourth-highest mountain in the world. Then, earlier this year, the company provided him with another custom piece for his Everest climb: a base camp jacket that kept him "warm and toasty," even at an elevation of 22,000 feet.
Joisher isn't the only icon who loves Save the Duck. Other fans include Megan Fox, Selma Blair …
… Isla Fisher, Liev Schreiber, and Rebecca Gayheart, Eric Dane, and their daughter Billie.
We love that Save the Duck offers a vegan puffer jacket collection for kids, too, giving even the smallest among us the chance to be big heroes to animals.
Save the Duck Saves Lives
In 2017, Save the Duck and its down-free designs saved 3 million ducks—that's 3 million ducks who were spared the torment of the down industry, where birds' feathers are ripped out, sometimes while they're still alive and conscious. These birds are often left with gaping wounds, and some even die as a result. PETA has repeatedly exposed the down industry for what it really is: unbearably cruel.
Even when live-plucking isn't used, birds suffer. One PETA eyewitness exposé of a former Canada Goose down supplier revealed panicked birds trampling each other while being herded into small wire pens—geese on the bottom of the pile were crushed, and at least one died.
https://www.youtube.com/watch?v=f4FST39BZ-s
Some birds were grabbed and carried by their necks, confined to cramped cages for up to 24 hours, and forced to watch in terror as their brethren were shackled and killed—killed for their flesh, because many farmers who raise birds for food make an extra profit by selling their flesh and their feathers. Although Canada Goose insists that it was no longer using this supplier to obtain its feathers at the time of our investigation, our concerns aren't quelled—there's absolutely no such thing as "ethical down," despite Canada Goose's claims.
Thanks to Save the Duck, millions of sentient ducks will never know such misery.
Together, we can help save even more birds from miserable fates. Help ensure that no birds suffer for your clothing by always shopping vegan. Treat yourself—and ducks—to a warm, stylish, animal-free jacket from Save the Duck. The outerwear company's jackets are available at major fashion retailers nationwide—including Saks Fifth Avenue, Barneys New York, and Nordstrom—as well as at stores around the globe. Save the Duck even opened its first store in Asia earlier this year. Click below to shop online:
In addition to supporting PETA's 2019 Company of the Year, please sign our pledge to go down-free now: