When you think of Ron Perlman, you probably envision an iconic tough-guy actor who has starred in productions like Hellboy and Sons of Anarchy. Yet behind the rugged exterior of this Hollywood legend lies a compassionate heart, particularly when it comes to his dogs. Ron joined forces with PETA in a heartwarming ad campaign featuring his beloved dogs, Harrington and the late Sassypants, to deliver a message about the urgent need to adopt, not shop.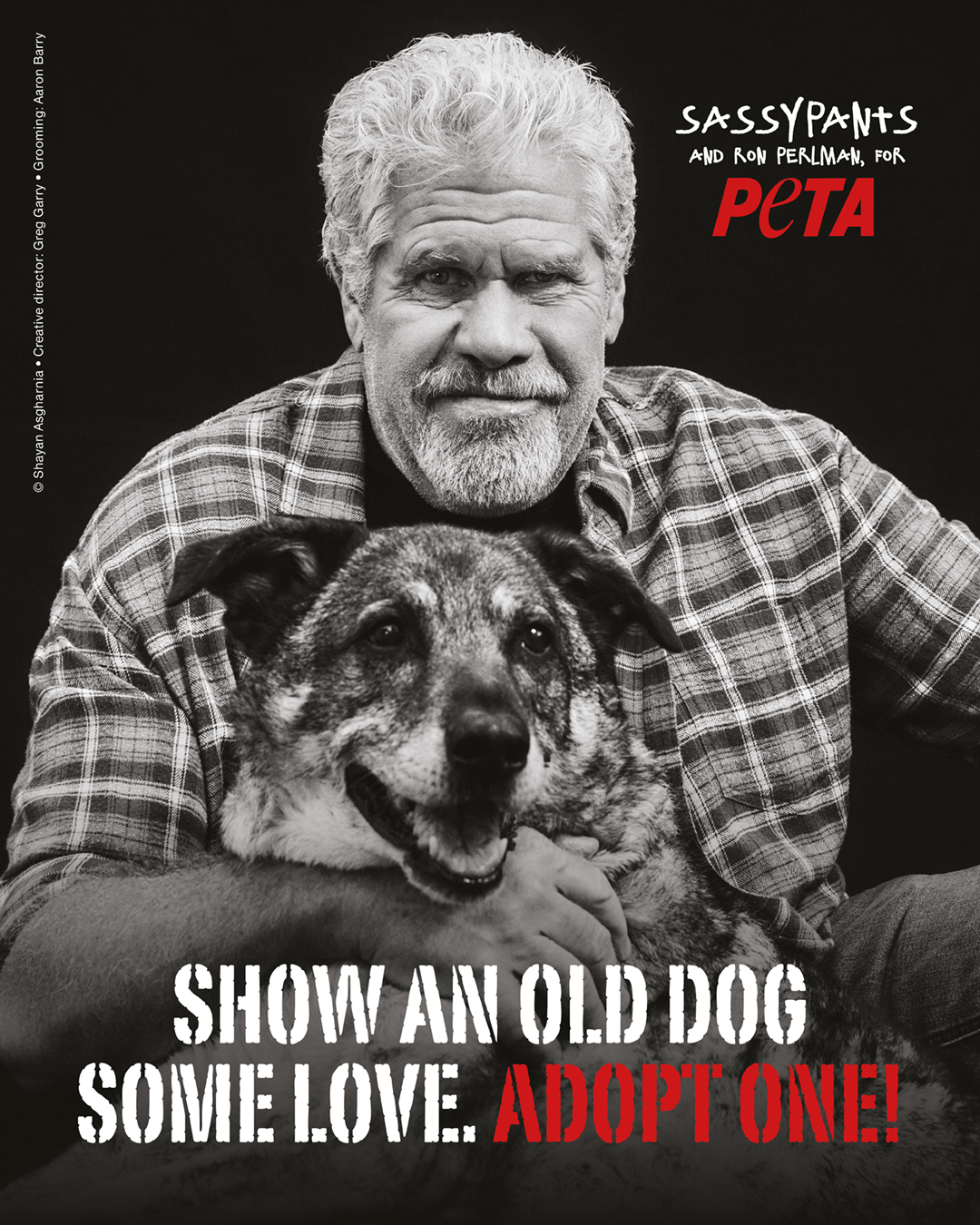 Photo: © Shayan Asgharnia
The Remarkable Sassypants
Sassypants—the 15-year-old German shepherd adopted when she was 9 by Ron's wife, Allison—recently passed away, but not before she had stolen Ron's heart. "Sassy is very quiet, very beautiful, and somebody who needs to be reminded, there is a place on this Earth where she's safe," he said. "We're able to sit there for hours and hours and love on each other, and she accepts me."
Many people gravitate toward adopting puppies, but older dogs like Sassypants have immense love, loyalty, and wisdom to offer. Unfortunately, they often find themselves in animal shelters due to circumstances beyond their control. One quick review of any shelter's website will turn up one older dog after another. Can you imagine being part of a family, and then one day you're not? The humans and home you've grown to love—gone. Adopting older dogs can help ease their feelings of heartbreak and betrayal and fill their final years with love.
"You know, if you can rescue a senior animal, do it, because what you're gonna give them is the best years of their lives, and it doesn't get better than that."

—Ron Perlman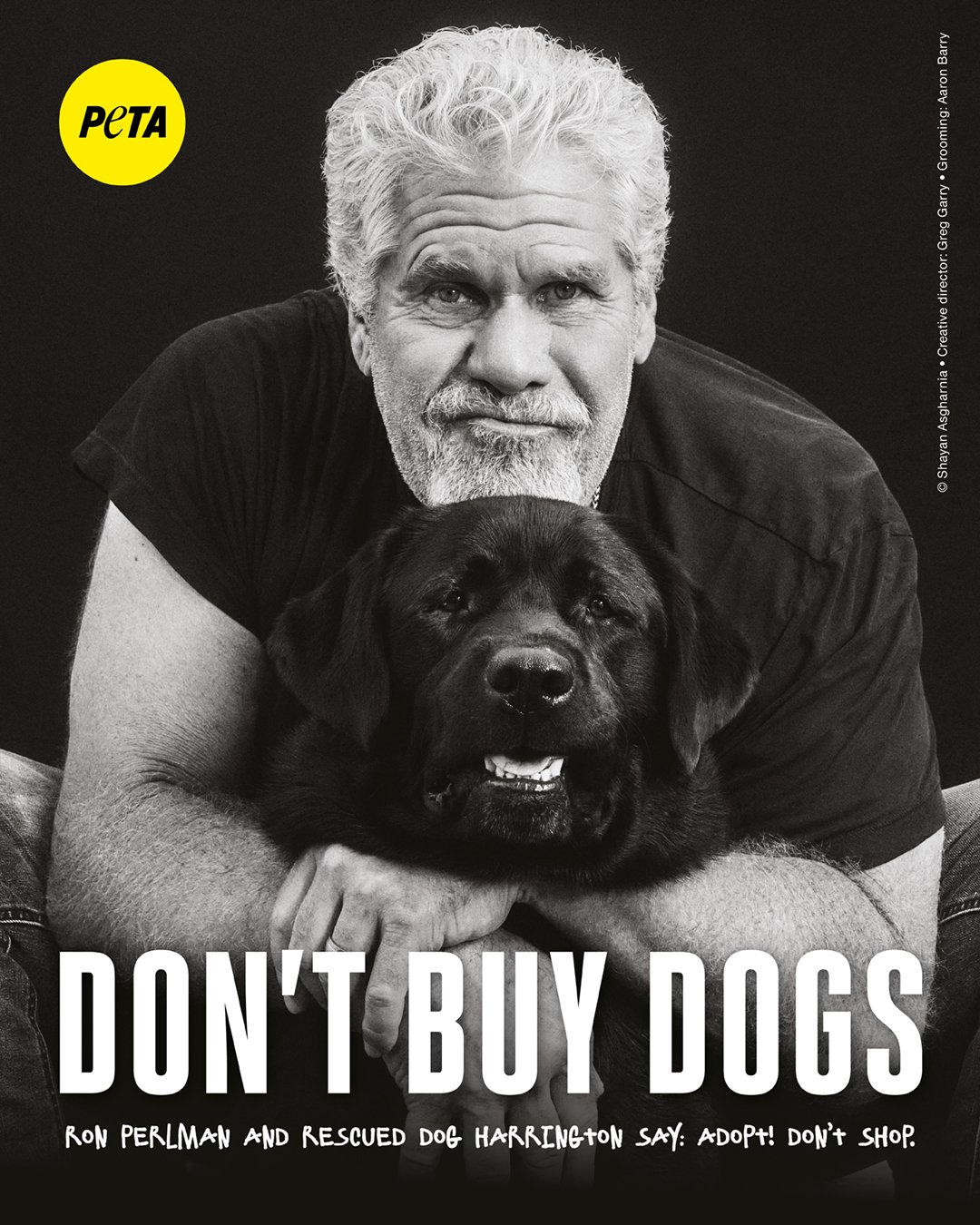 Photo: © Shayan Asgharnia
Meet Harrington
Ron and his wife regularly checked shelter websites, and one day, a picture of a black dog caught his attention, and he couldn't resist. Thus began their journey with Harrington, a dog who brings immeasurable joy into their lives. Harrington, Ron says, is "deliciously weird and delectably fun." Harrington is a Labrador retriever, and his story highlights the fact that "purebreds" make up at least 25% of the dogs in shelters. Virtually any breed of dog can be found in a shelter or through a breed-specific rescue group.
"I'm a very cuddly guy. Serotonin just courses through me when I'm cuddling with my dogs because it's pure love. The level of gratitude and heartwarmingness that has been infused into my life is irreplaceable."

—Ron Perlman
The homeless-animal overpopulation crisis is at an all-time high: On any given day, an estimated 70 million homeless dogs and cats are struggling to survive in the U.S. Because shelters with "no-kill" policies turn animals away, more and more of them are ending up on the streets, where they reproduce and create even more homeless animals. Dogs and cats are domesticated animals who depend on humans to meet their needs for food, water, veterinary care, shelter, and safety and can't survive for long on their own.
Every year, millions of dogs and cats must be euthanized at shelters across the U.S., many because suitable homes for them simply don't exist. The only way to end the animal overpopulation crisis is to always have your companion animals spayed or neutered and never buy animals from breeders or pet stores, which fuel the homeless-animal crisis. Although many animals are adopted from shelters, far more of them need families than there are loving homes available.
Show an Old Dog Some Love: Adopt—Don't Shop
Ron's message is clear: By adopting, we not only enrich our own lives but also give animals the love, care, and safe haven they deserve. Rescuing dogs rather than shopping for them is the most humane choice. There's no other right way to go.
If you're truly ready to provide an animal with a lifetime of attentive care and proper companionship, be sure to visit your local open-admission animal shelter or Petfinder.com, and remember to have all your animal companions spayed or neutered.