Update: During the month of June (National Dairy Month), as part of PETA's nationwide "De-Calf Your Coffee" campaign, a costumed "cow" has been spotted passing out free pro-vegan coffee cup sleeves near coffee shops in some of the top dairy-producing states.
In Harrisburg, Pennsylvania, our mascot was posted outside Capital Joe Coffee, where legislators and aides often stop on their way to work at the state Capitol less than half a mile away.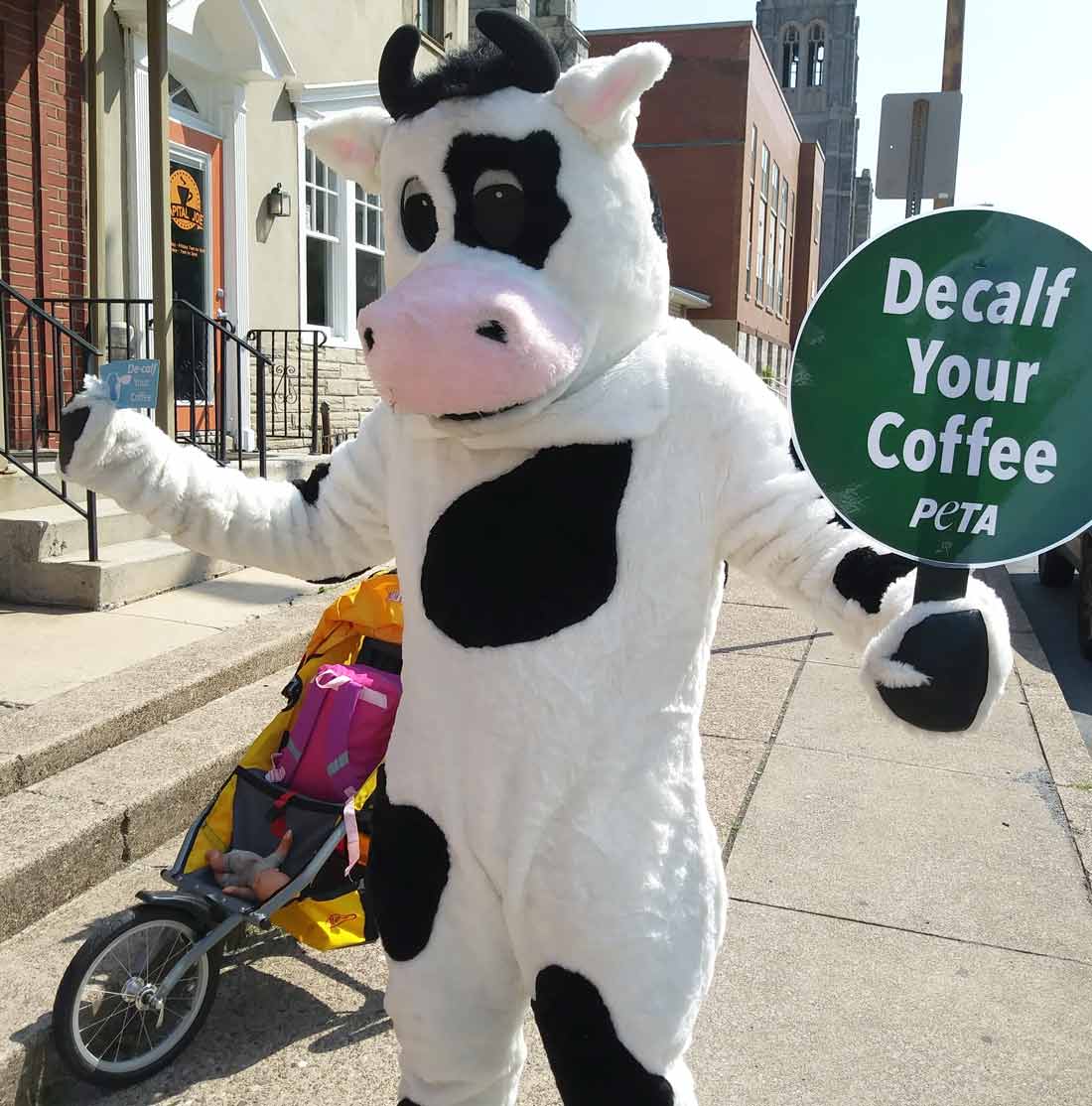 In Milwaukee, Wisconsin, we were outside Colectivo Coffee Lakefront on Lincoln Memorial Drive.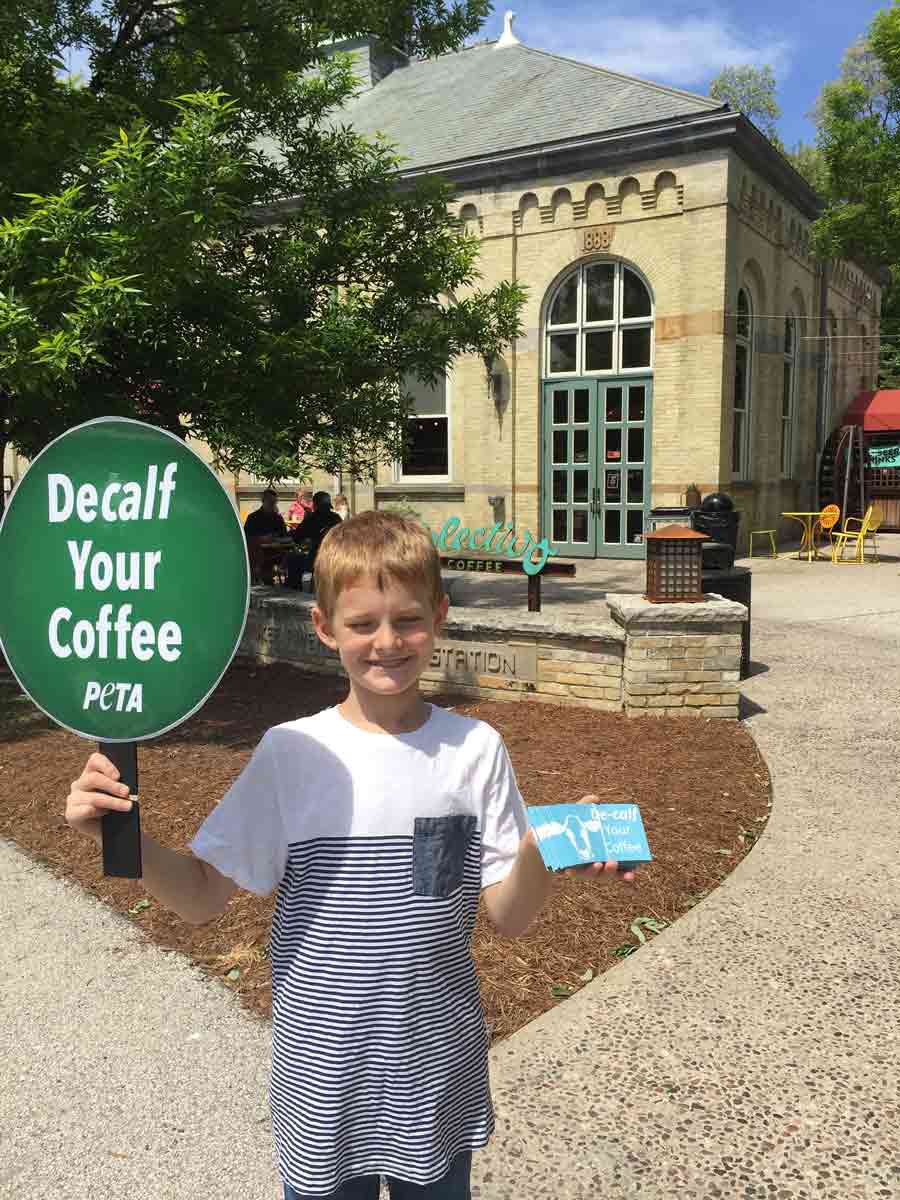 PETA's been on the moove. Coffee connoisseurs also met our costumed ambassador outside cafés in Sacramento, California, and Montpelier, Vermont.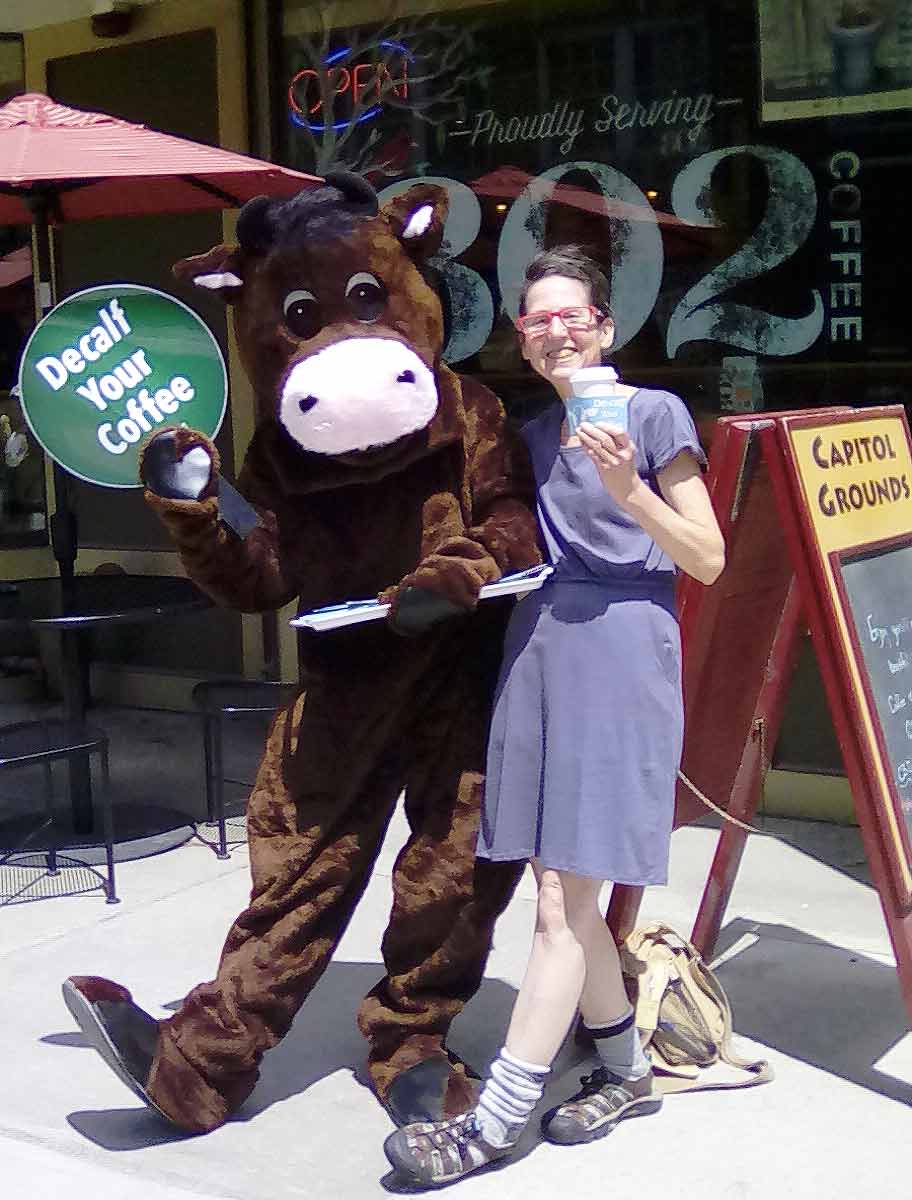 The campaign was launched in response to the controversial Dairy Pride Act—which aims to "prohibit the sale of any food that uses the market name of a dairy product [but] is not the milk of a hooved animal."
Originally posted on May 21, 2018:
As dairy state senators seek to ban the word "milk" from packaging and advertising for every form of milk except the dairy kind, PETA is fighting back with a campaign launching in hundreds of independent coffee shops in some of America's biggest dairy-producing states. Printed on custom coffee cup sleeves, this is our message:
"De-calf Your Coffee: Dairy Is Udder Cruelty. Choose Almond, Soy, or Coconut Milk"

Before June, which is "National Dairy Month," nearly 20,000 of PETA's cruelty-free creamer sleeves will protect the hands of coffee drinkers in the capital cities of New York, California, Pennsylvania, Ohio, and Wisconsin—"America's Dairyland"—with future plans to place the ads in more cafés in the coming months.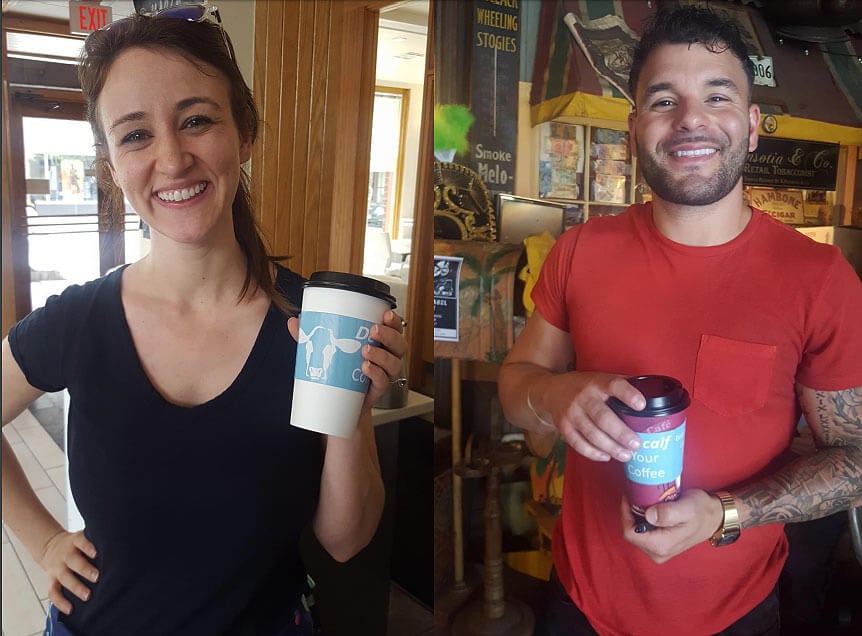 Brite Media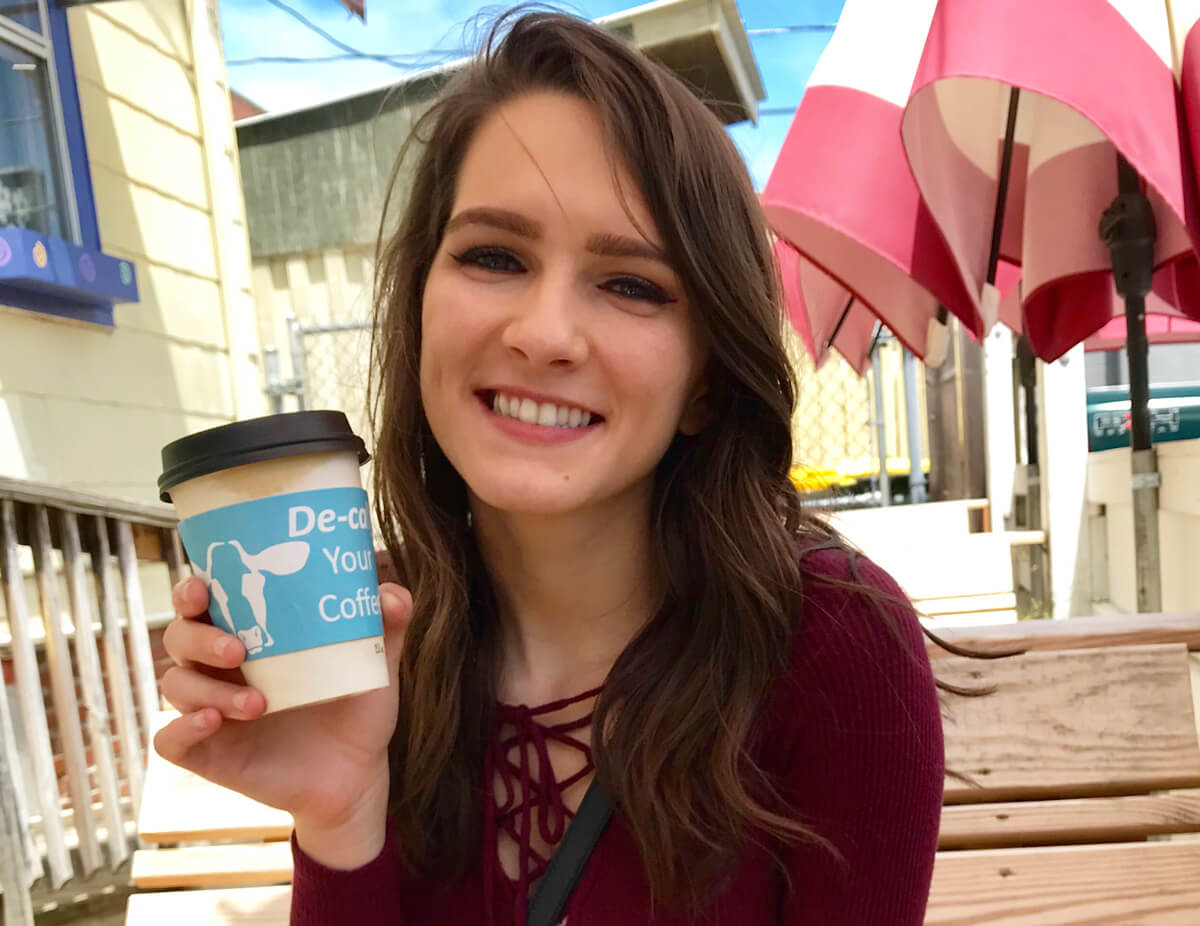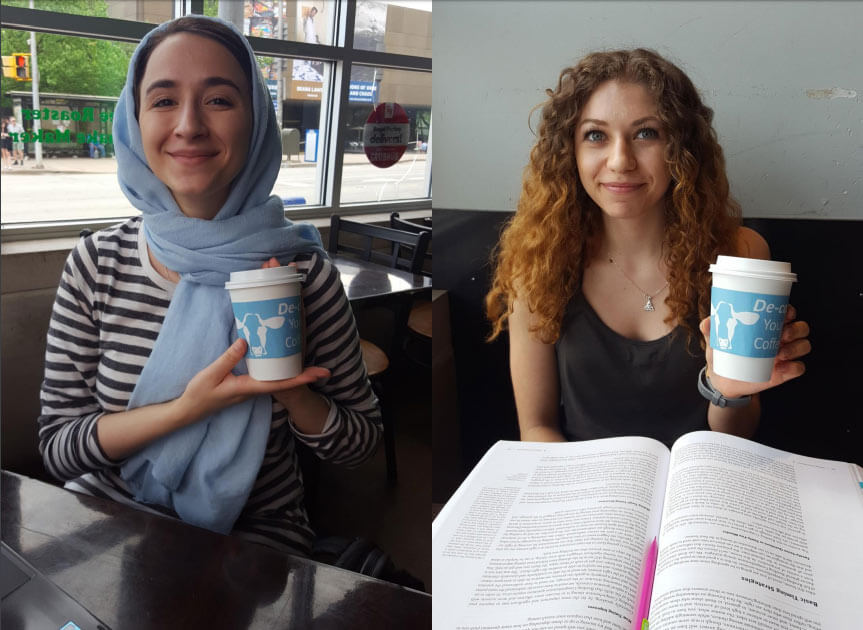 Brite Media
Among the cities targeted will be Madison, Wisconsin, the hometown of Senator Tammy Baldwin, sponsor of the controversial Dairy Pride Act, which aims to "prohibit the sale of any food that uses the market name of a dairy product [but] is not the milk of a hooved animal."
Like humans, cows produce milk to nourish their own young. But on today's factory farms, they are artificially inseminated (raped via syringe), and calves are torn away from their loving mothers within a day of birth, causing both extreme distress. Mother cows wail for their calves for days. The young males are locked up in veal crates or modules, and female calves are sentenced to the same miserable fate as their mothers. Learn more here.
Learning about the conditions under which cow's milk is obtained is enough to leave a sour taste in anyone's mouth. That's why so many consumers are ditching dairy for coconut, almond, oat, hazelnut, and soy milks. Not only do vegan milk options taste better than cow's milk, they're also free of the cruelty that every glass of dairy milk is brimming with. So, what are you waiting for? Learn everything you need to know about vegan milk options and decalf your coffee, your latte, and your LIFE today!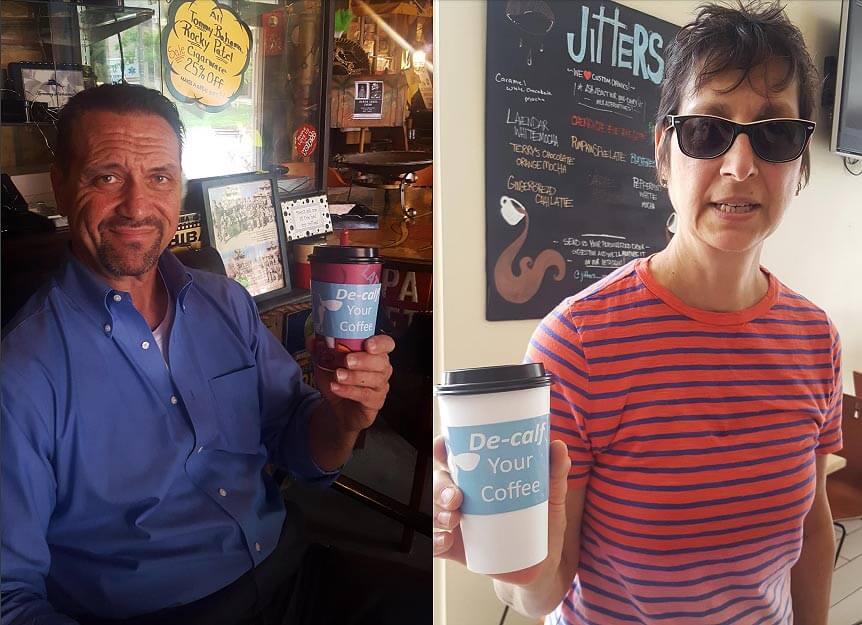 Brite Media
PETA placed the national campaign through New York–based Brite Media, which contracts with independent coffee shops across the country.