RH—formerly known as Restoration Hardware—refuses to guarantee to shareholders and customers that the feathers in its products aren't yanked out of sensitive ducks and geese. So when RH held its annual meeting this week, PETA was there asking shareholders to vote for a resolution calling on the company to commission a report on the welfare of the birds on the farms and in the slaughterhouses in the retailer's down-supply chain. Our call comes amid concerns that these birds are often live-plucked or scalded to death in defeathering tanks.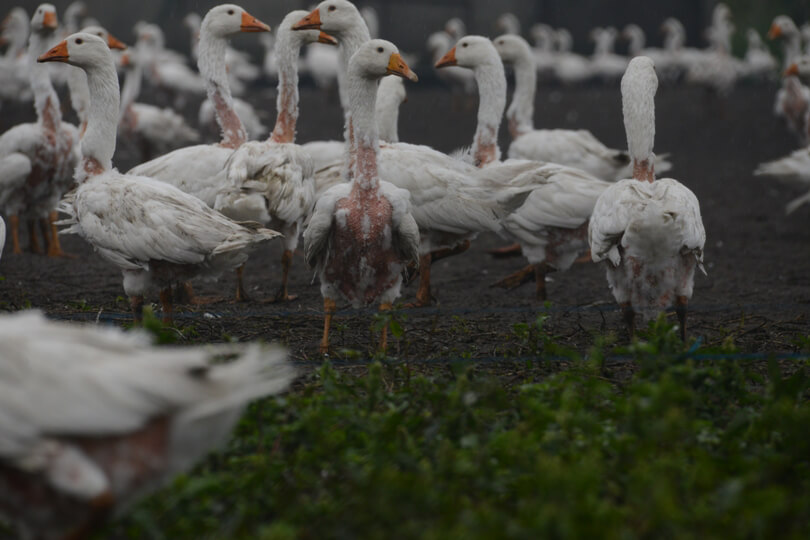 Copyright Friedrich Mülln
PETA representatives pointed out that RH offers no transparency regarding whether its monitoring process has confirmed suppliers' compliance with animal welfare law—or what the company does when a country's law allows for practices that are considered cruel and are prohibited in many places throughout the world, such as China's allowance of live-plucking.
PETA first purchased stock in RH in 2012, and we began calling on the company to stop selling down in 2013. We have attended annual meetings since 2016 to pressure the company to stop selling down inserts for its decorative pillows. In 2021, we asked it to label its down-free pillow inserts as "all-inclusive" to let customers know that down alternatives are cruelty- and allergen-free as well as environmentally friendly.
PETA and PETA Asia linked farms that pluck live geese to down suppliers certified under the Responsible Down Standard or the China Feather & Down Industrial Association's Non Live-Pluck Products Guarantee. Workers were observed ripping feathers out of fully conscious geese as they bled and screamed out in pain. One facility admitted to live-plucking in secret and deliberately mislabeling live-plucked feathers in order to fool buyers.
In slaughterhouses, birds are often inadequately stunned before their throats are cut, so they're still conscious when they're dumped into defeathering tanks full of scalding-hot water.
It's worth noting that a goose farm is responsible for this year's avian flu outbreak, which has resulted in the deaths of nearly 400,000 wild birds worldwide. And even though the down industry is part of animal agriculture—which accounts for nearly one-fifth of greenhouse gas emissions—RH touts its "environmental stewardship through sustainability."
Join PETA in Demanding That RH Stop Selling Down
After talks with PETA, RH now offers a down alternative for nearly all its bedding and upholstery—but it continues to sell down inserts for decorative pillow covers. There's no reason for this, as customers surely don't care what fills a decorative pillow cover, especially given that the company describes its own down alternative as the "lightest, loftiest and most natural-feeling" material of its kind, which—unlike down—is also hypoallergenic and easy to care for.