Update: July 15, 2021
"Will RH distinguish itself by embracing hypoallergenic and animal- and environmentally friendly home furnishings by labeling down-alternative pillow inserts 'all-inclusive?'"
That's 👆 the question that a representative from PETA—an RH shareholder—asked this morning during the home-furnishings giant's annual meeting. "Today's conscientious consumers won't rest easy on unethical pillows," PETA's representative went on to say, urging RH to label down-free pillow inserts "all-inclusive" to convey that feather-free options are a first choice among kind shoppers, many of whom have watched PETA's investigations and learned that highly sensitive, social, family-oriented geese and ducks used in the down industry endure intensive confinement before they're slammed into crates and trucked to slaughterhouses in all weather conditions (where their throats are then cut­—often while they're still conscious).
"Feather-free filling is an upgrade from cruelly plucked bird feathers, and RH's marketing should reflect that," says PETA Executive Vice President Tracy Reiman.
Luxurious vegan down also protects allergy-prone customers as well as the planet and all its inhabitants: Duck and goose farms are a public health hazard, responsible for multiple outbreaks of avian flu and E. coli infections. And the down industry releases toxic chemicals, massive amounts of antibiotics, and fecal waste onto land and into waterways, harming workers, wildlife, and the environment.
Join PETA in urging RH to embrace its down-free line of pillows and all the good that comes from opting for vegan materials:
Update: July 22, 2020
RH (formerly Restoration Hardware) required shareholders who wanted to exercise their right to attend the company's annual meeting to gather in person during the pandemic—an apparent violation of the local county's stay-at-home order—making it impossible for PETA (a stockholder) to attend.
We'd planned to grill RH executives about the company's use of down pillows at its annual meeting today in Corte Madera, California. Our question is this:
Since RH knows that cruelty to animals is involved in the production of down items, will it take the vital first step toward eliminating its use of down entirely by offering decorative pillow inserts made exclusively of one of the many wonderful alternatives to down?
However, despite (and in apparent violation of) the Marin County stay-at-home order, the meeting was held in-person only. After our request to present remotely was denied, we filed a complaint with authorities in Marin County.
We won't let RH stop us from exercising our right as shareholders to call on the company to switch to down-free pillows and stop profiting from gentle birds' terrifying deaths.
You shouldn't let anything stop you from speaking up for animals, either. Geese (who, when left in peace, mate for life) are sometimes slaughtered before their feathers are removed in the down industry, but other birds' feathers are plucked from their sensitive skin while they're still alive. Buying down can also support the foie gras industry, as producers frequently boost their profits by selling the feathers of birds who are force-fed until their livers become diseased and swell to up to 10 times their normal size.
No matter where down is sourced, it's always a product of cruelty, as all birds used by the industry are slaughtered in violent ways.
We first purchased stock in RH in 2013 in order to push the company to choose only animal-friendly materials. It agreed to stop selling mohair after a PETA video exposé revealed cruelty to goats in the mohair industry. Ducks and geese deserve the same consideration as goats—click on the button above if you're with us.
Originally published on July 18, 2018:
Today, a group of PETA supporters bearing signs proclaiming, "Restoration Hardware: Stop Funding Animal Abuse," gathered outside the company's annual meeting in Corte Madera, California.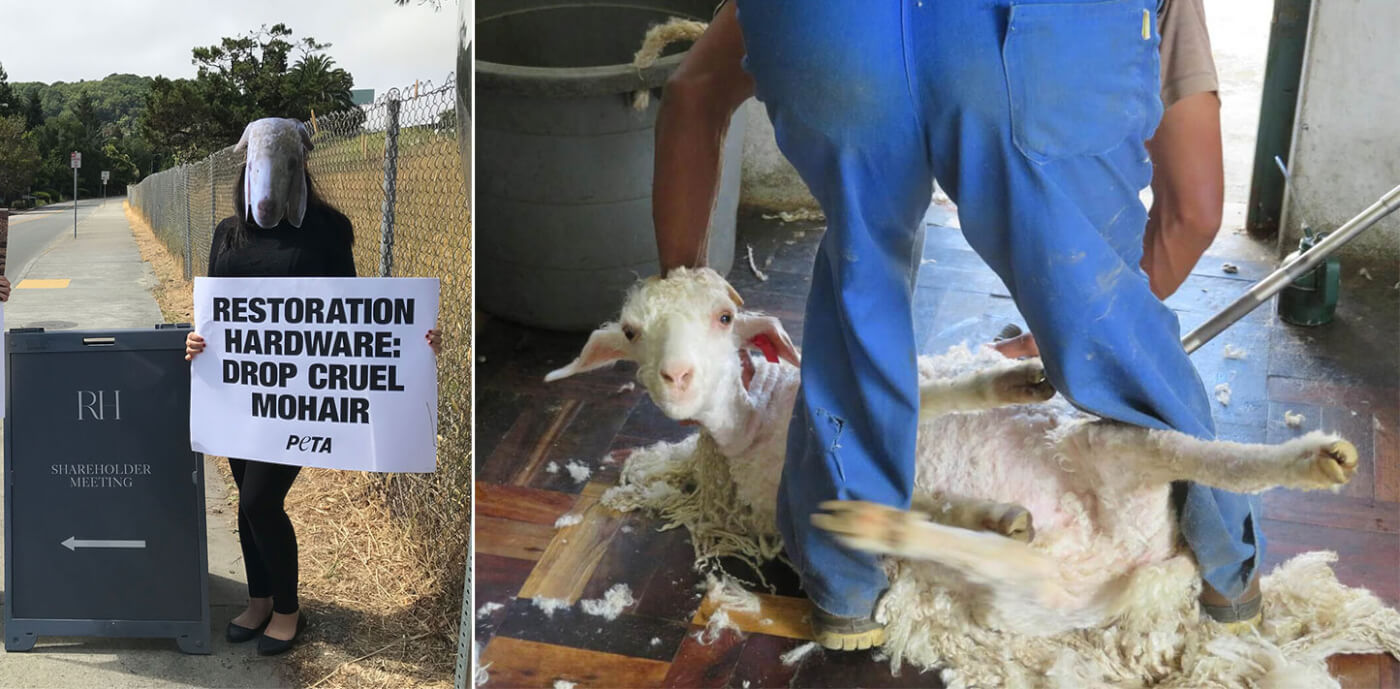 Inside the meeting, a PETA representative called out executives over the company's continued use of cruelly obtained down feathers and mohair, asking:
"When will Restoration Hardware stop supporting this abuse and commit to no longer using mohair in any of its products?"
No pillow or comforter is worth the terror experienced by a baby goat sheared bloody for mohair or a bird plucked alive for a feather filling. PETA is calling on Restoration Hardware to stop supporting cruelty to animals and take all down and mohair items off its shelves.
Birds' feathers are often ripped out for down. PETA urges Restoration Hardware to ditch down at shareholder meeting! https://t.co/hEhlPlKBFt pic.twitter.com/2BGZYwo4Yf

— PETA (@peta) July 1, 2017
We recently revealed that angora goats were mutilated, dragged, thrown, and killed in cruel ways in the mohair industry. PETA's video exposé on the subject has already prompted more than 250 top retailers worldwide to ban mohair.
In the down industry, workers often restrain birds and rip out their feathers by the fistful, sometimes leaving them with bloody, gaping wounds.
Buying down can also support the foie gras industry, as producers often boost their profits by selling the feathers of birds who were force-fed until their livers became diseased and swelled to up to 10 times their normal size.
Join Us in Demanding Compassion From Restoration Hardware
Restoration Hardware offers a down alternative for nearly all its bedding and upholstery, which it describes as the "lightest, loftiest and most natural-feeling" material of its kind. There's no reason for the company to continue selling items made with down feathers—nor is it necessary, chic, or kind to continue stocking shelves with mohair that's been crudely taken from screaming goats. Join us in urging Restoration Hardware to stop supporting animal abuse.