As the world celebrates Prince on what would have been his 63rd birthday, PETA is remembering the music icon by sharing his anti-wool message with those who need to hear it most: the fashion industry. Check out PETA's brand-new ad in Women's Wear Daily, which urges designers to honor the late star by leaving sheep out of their designs: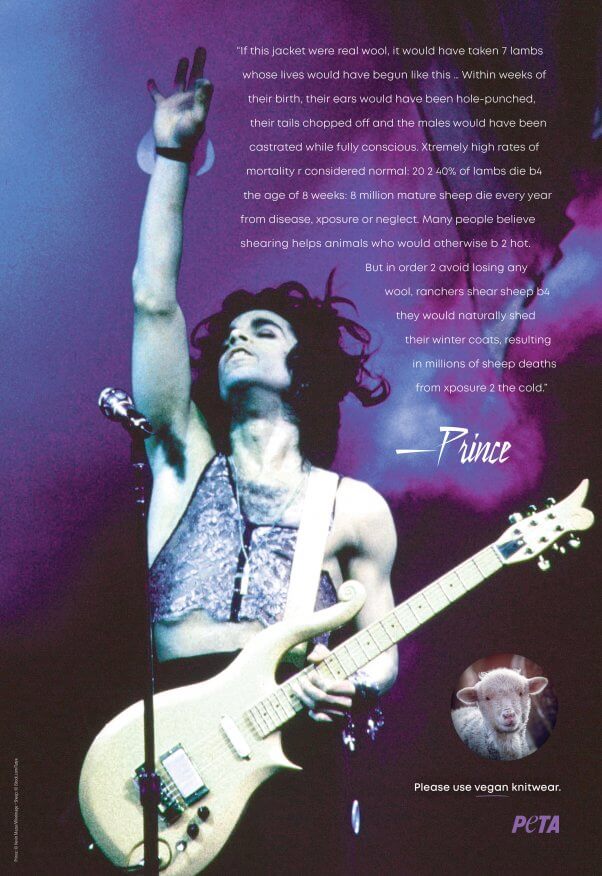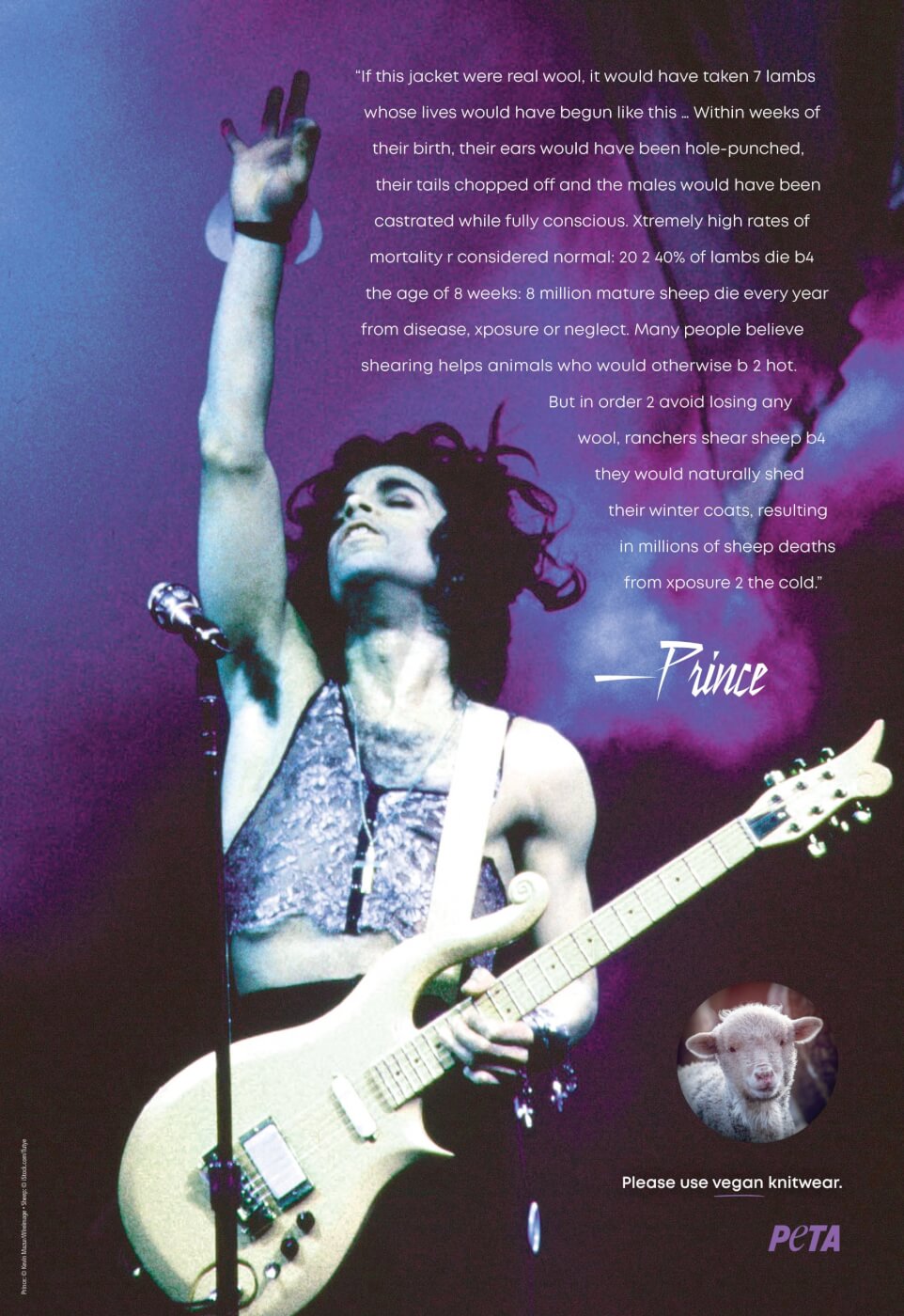 Kevin Mazur/Wireimage
The beautiful anti-wool quote featured in the ad comes from Prince's 1999 album Rave Un2 the Joy Fantastic, on the cover of which he appears in a faux-wool jacket. The pop music icon used PETA as a resource for the information he included in the album's liner notes about the cruelty that occurs in the wool industry:
If this jacket were real wool, it would have taken 7 lambs whose lives would have begun like this … Within weeks of their birth, their ears would have been hole-punched, their tails chopped off and the males would have been castrated while fully conscious. Xtremely high rates of mortality r considered normal: 20 2 40% of lambs die b4 the age of 8 weeks: 8 million mature sheep die every year from disease, xposure or neglect. Many people believe shearing helps animals who would otherwise b 2 hot. But in order 2 avoid losing any wool, ranchers shear sheep b4 they would naturally shed their winter coats, resulting in millions of sheep deaths from xposure 2 the cold.

—Prince
A proud PETA supporter, Prince chose to live and let animals live, saying simply that he didn't "eat anything with parents," because "'Thou shalt not kill' means just that!" Crowned PETA's Sexiest Vegetarian Celebrity in 2006, Prince also donated his song "Animal Kingdom" to PETA to use as a musical invitation to our 20th anniversary party in New York and attended our 2005 gala.
Sheep, cows, and other animals used and killed for clothing all think and feel; experience pain, fear, love, and joy; and, most importantly, want to live—just as we do. When we shop, we have the opportunity to reject speciesism with our wallets by choosing clothes and accessories made of vegan materials. Whether you shop online, at the mall, or at boutiques, vegan fashion is everywhere! A quick search for #VeganFashion on social media will lead you to plenty of brands and inspire you—or check out our vegan shopping guide.