Animal liberation artist Praxis hit the streets of Miami this weekend with a clear message: Shut down the Miami Seaquarium, the abusement park that has starved dolphins to force them to perform degrading tricks. These sickening details and more came out in a U.S. Department of Agriculture inspection report, which PETA recently obtained. The inspection found that dolphins were biting humans out of stress from the underfeeding and that they're at a breaking point from the abuse. This art demonstration is just the latest in Praxis x PETA's history of stunning collaborations, which have called out the vile profiteers who use animals for experimentation, fashion, and entertainment.
El artista @PraxisVgz viajó a Florida y pasó toda la noche pintando un mensaje para el @MayorDaniella: ¡El @MiamiSeaquarium hace que los delfines pasen hambre! ¡Ciérrenlo ahora! pic.twitter.com/YL3sV0WdVS

— PETA Latino (@PETA_Latino) October 30, 2022
Human Liberation, Animal Liberation
Praxis' work has always been dedicated to standing in defense of all vulnerable animals by painting the streets, where he can reveal harm that goes on behind closed doors. Central themes of his art are grassroots resistance, awareness of exploitation, and community defense of subjects that oppressors try to render invisible. Praxis' talent and passion shine across mediums, be it his trademark stencil bombing, wheatpasting, or designing of massive pieces for reclaimed commercial billboards.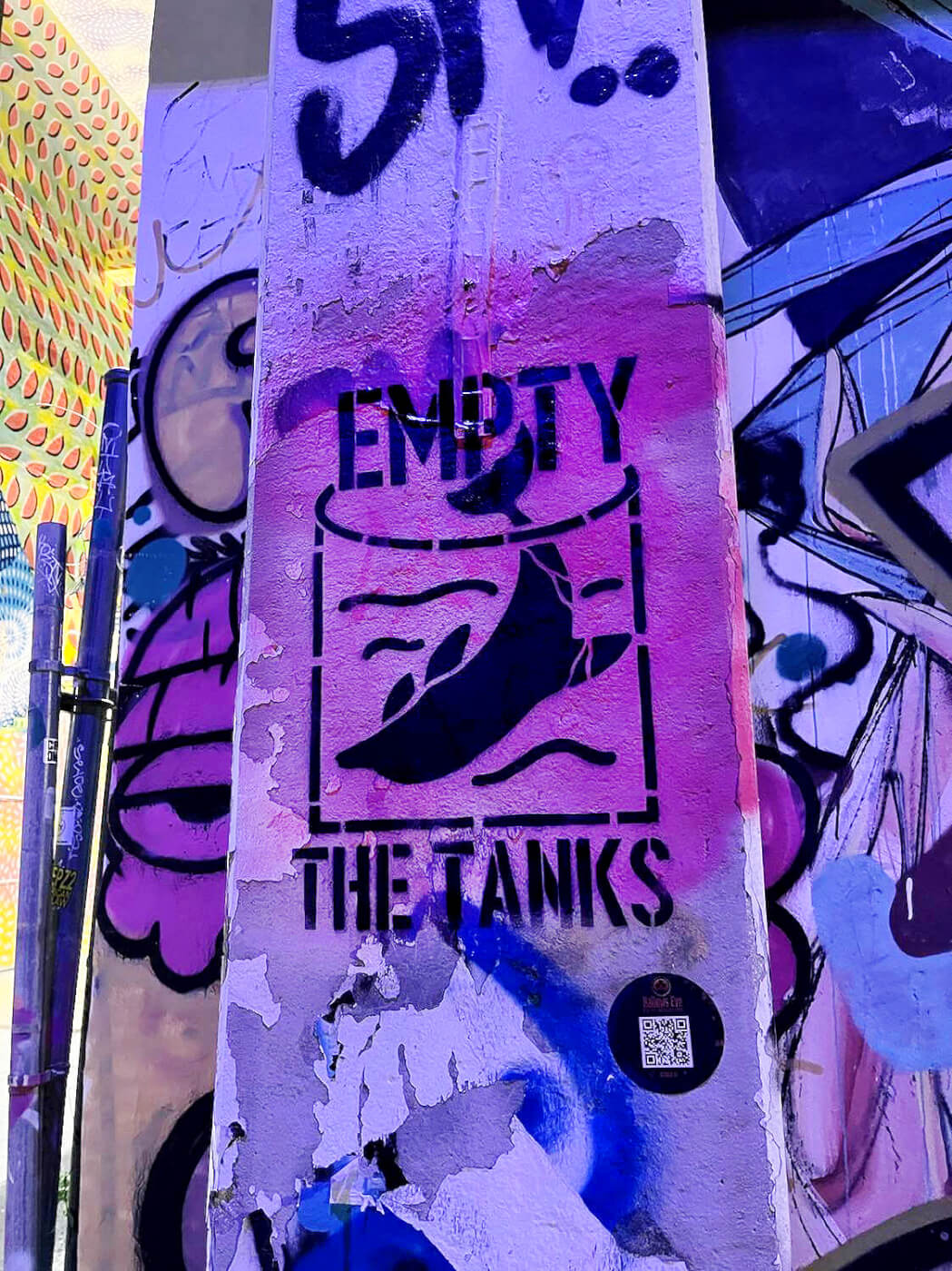 The Seaquarium's sordid history stretches over 50 years and includes the imprisonment of Lolita, an orca who has long lived without the companionship of another of her kind, left with little to do in a tiny, barren concrete tank. She is no longer forced to perform but is still left to a miserable, lonely existence, coping with symptoms of severe psychological trauma instead of being released into a seaside sanctuary. Praxis created a piece last year calling out her imprisonment at the Seaquarium:
View this post on Instagram
The Suffering Continues at the Miami Seaquarium
Miami-Dade County assured the public that things would improve and that there would be greater oversight of the animals when it approved a lease transfer to The Dolphin Company last fall. Clearly, though, these were empty words. Praxis and PETA have come together to call on Miami-Dade County Mayor Daniella Levine Cava to shut down the Miami Seaquarium. The dolphins there deserve to live in peace at a seaside sanctuary, not to be starved and otherwise harmed for the sake of fleeting human entertainment.
Praxis' art inspires hope and brings the possibility of revolution within reach. Remember that your voice can make an enormous difference in a world of cruelty. Write to Mayor Cava today in support of the dolphins trapped at the Miami Seaquarium, and urge the county to shut down the park.