Progress! Plans for a new horsemeat pet food factory in South Korea have been nixed! Keep reading to see how PETA and local activists pushed for this victory.
PETA's investigation into horse slaughter in South Korea revealed that horses who were retired from being forced to race (most with American parents or who were U.S.-born) and other horses were abused and killed at a massive slaughterhouse in Jeju. PETA documented that workers and drivers repeatedly beat panicked horses in the face while they unloaded them and killed other horses in front of them. Several workers and the slaughterhouse itself were convicted and fined, and the shocking video made waves around the world—to South Korea's shame.
One of the horses killed, Cape Magic, had arrived with a large bandage on his leg, and PETA learned that he'd come straight from a track where he'd been forced to race less than three days before. This precipitated a health scandal when it was discovered that during this time he'd been administered phenylbutazone—a drug prohibited in animals for human consumption.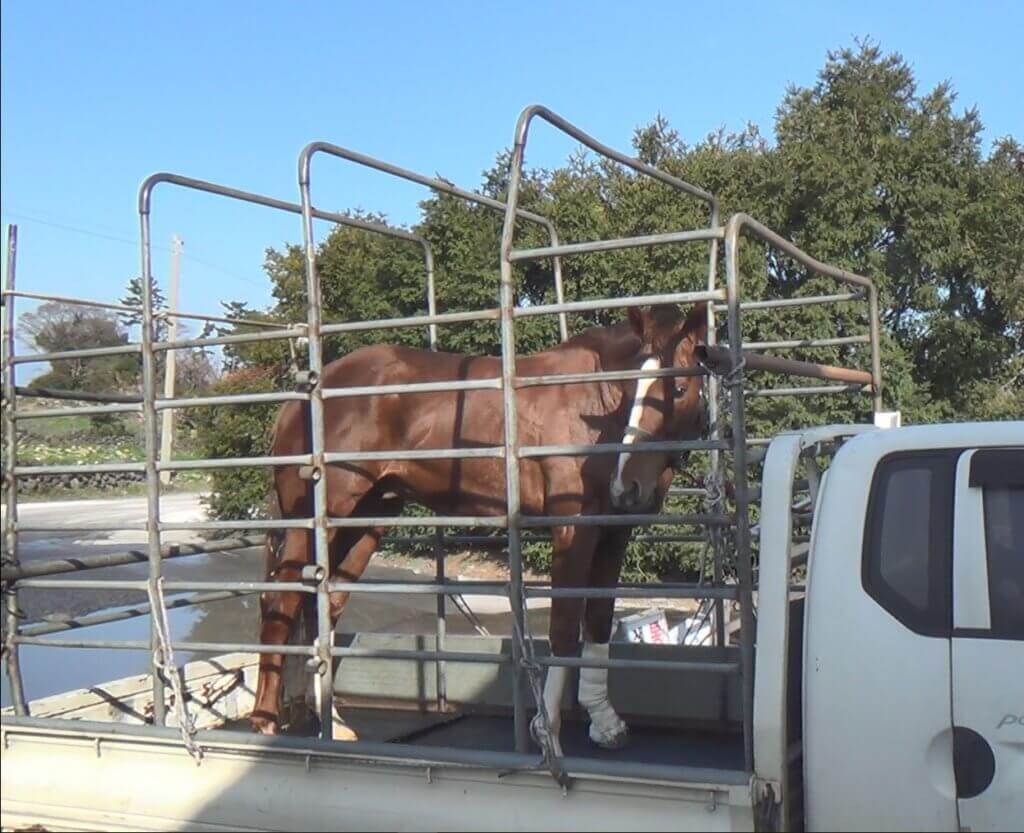 After an outcry—which caused the demand for horsemeat to plummet further—Jeju officials announced a new horsemeat certification program for restaurants that promised not to use meat from horses forced to race.
However, the racing industry continued to cast off injured and unsuccessful horses—about 1,600 each year. So Jeju proposed a new plan to profit from this pipeline—a new factory to kill horses for pet food. But the public doesn't want dangerous drugs in the food of companion animals. Local animal rights groups and civic groups spoke out against the proposal and agitated for a humane retirement system for horses.
Both Jeju Vegan and Animal Freedom Coalition started holding regular marches from the racetrack to the slaughterhouse.
When South Korean–owned horse Knicks Go won the famed Breeders' Cup Classic race in November, a PETA activist got herself invited into the winner's circle, where she unfurled a sign with a message that U.S. media couldn't decipher but that Koreans couldn't miss: "Korea Racing Authority, how dare you turn racehorses into dog food!"
As a result of this pressure at home and abroad, Jeju withdrew its plans for the new horsemeat pet food factory!
However, the flow of horses to existing slaughterhouses continues, and Korea still lacks an aftercare system for horses. You can help—please tell the Korea Racing Authority (KRA) to renounce horse slaughter and designate 3% of prize money to create a comprehensive retirement plan for horses formerly used for racing. Take action below: