Your car serves you in many ways, but did you know that it can also do a lot to help animals? Purchasing a car with a vegan interior is a great start, but decorating with vegan-promoting car decor and PETA literature can do even more. Here are some easy ways to shift out of neutral and start driving forward some positive change for animals, all from the comfort of your driver's seat.
1. Create a Custom Vegan License Plate

The limits here are endless—well, almost. A personalized plate can contain up to seven letters and numbers, with either a space or hyphen. You may have trouble getting some messages, like "LVTOFU," approved, depending on the reviewer's sense of humor or understanding of the witty double entendre, but there are bundles of other options. A few possibilities include "KALELVR," "EATPLTS," "NUTMILK," and "GOVEGAN." Get creative and have fun!
2. 'Kale, Yeah!' You Can Decorate With Bumper Stickers.
Nothing sparks the inner child in all of us quite like decorating with stickers, but adult life so rarely calls for them. PETA's bumper stickers, however, offer the perfect excuse to channel all the energy of a kindergarten art project, with an end result that potentially saves animals' lives. Being vegan saves nearly 200 animals' lives every year, so if even one person is moved by seeing a simple sticker, it will make a significant difference.
3. Tired of the Status Quo? Catch the Breeze on the Open Road With PETA Flags
If you want something a little more NASCAR, a straight-to-the-point "End Speciesism" car flag may be just what your ride needs. Speciesism is the belief that humans are superior to other animals and is used as an excuse for exploitation. Make it clear to everyone else on the road that all animals are deserving of respect and kindness.
4. There's No Need to 'Throw Shade' When You Have a Sunshade to Help Keep Your Car Decor Cool

It's always hard to leave your air-conditioned home during a heatwave, especially when you know there's the threat of burning your hands on the steering wheel once you get into your vehicle. A car's interior temperature increases very quickly, reaching 99 degrees in just 20 minutes on a pleasant, 70-degree day. PETA's sunshade not only reflects some of the sunlight, helping to keep your car's temperature down, but also reminds others to leave their dogs at home when they're running errands.
5. Dog in a Hot Car? It's Hammer Time!
Speaking of overheated cars, no one should ever leave a dog in a car unattended on a warm day, regardless of whether the windows are slightly open and the car is parked in the shade. There are a few steps that should be followed before smashing the window of a stranger's vehicle, but if a dog is unresponsive, it may be time to channel and do some window damage. Before using PETA's lifesaving hammer, be sure to gather a few witnesses who can attest that the dog's life is in imminent danger, take photos or videos of the incident, and wait for authorities to arrive once the dog is out of the vehicle.
6. Keep a Leash and Collapsible Carrier in Your Trunk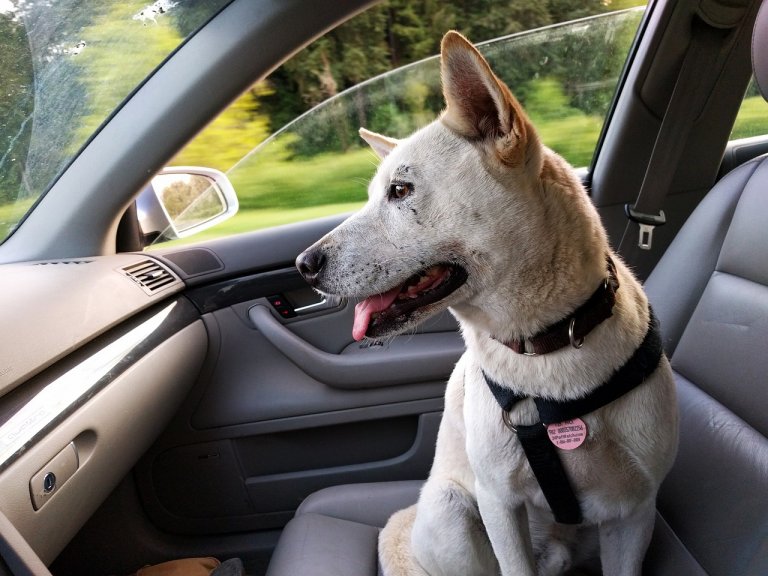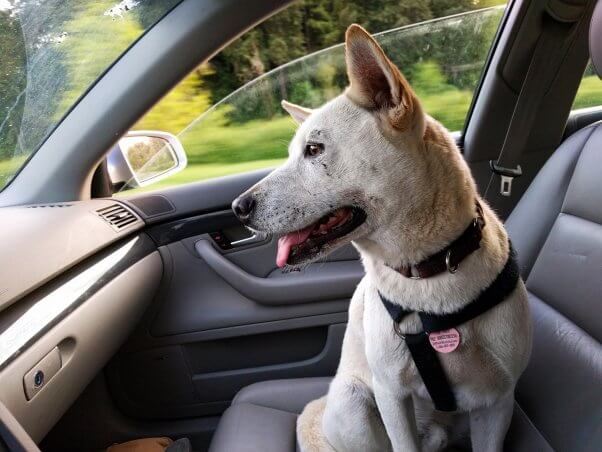 A leash, a carrier, and a heavy pair of gloves won't take up much space in your car, and you never know when you might stumble across an animal in need of help. The first step in helping a lost dog or cat is carefully and calmly securing the animal, so keeping a heavy pair of gloves to prevent any nips or scratches and to hold the animal carefully is a must. It also helps to have a package of dog treats or cat food in your car to help entice the animal if they are nervous, along with a blanket to keep them calm once they are safely inside your vehicle. Keeping a printout of the steps to follow in case you find a stray or lost animal may come in handy, too.
7. Have a Few Vegan Starter Kits in Your Glove Compartment—Just in Case
You never know when someone may take a look at the animal rights messages on your car and start asking a few questions. Keeping a few copies of PETA's free vegan starter kit in your glove compartment could make a world of difference for a curious not-yet vegan, who will have a list of resources to start changing their life, thanks to you!
There's no better way to drive home the point that you support animal rights. Fuel your friends' passion for compassion by sharing this post on Facebook and Twitter, and encourage others to sign up for a free copy of our vegan starter kit.