After two months of tailing President Joe Biden in a push for him to appoint a National Institutes of Health (NIH) director focused on promoting animal-free science and ending the animal studies that are failing to provide cures, PETA toasts the president for his announcement that Dr. Lawrence Tabak will serve as the agency's interim director. Watch as our "dinosaurs" throw a party in front of the White House to celebrate:
https://twitter.com/peta/status/1469143676622417920
"NIH desperately needs a fresh new thinker who will embrace cutting-edge research over the same old failing animal experiments," says PETA Senior Vice President Kathy Guillermo. "PETA is celebrating Dr. Tabak's appointment as an indication that the president understands the need to bring U.S. science into the 21st century."
We must still urge the president to nominate a visionary director who understands that NIH needs to fund and conduct research that won't impede the search for treatments. We can and must help humans and spare animals.
https://twitter.com/peta/status/1469129966872932355
Under the leadership of Tabak's predecessor, Francis Collins, NIH squandered nearly half its budget on animal experiments every year, even though 95% of new drugs that test safe and effective in animals fail in human clinical trials. The Research Modernization Deal, developed by PETA scientists, provides a strategy for phasing out these studies.
Take action to encourage your legislators to embrace technology and cutting-edge science—such as organs-on-a-chip, three-dimensional tissue models, and supercomputers—that will save millions of lives.
Originally published on November 8, 2021:
Dinosaurs are roaming the Earth again—their latest stop is the 2021 United Nations Climate Change Conference, also known as COP26, in Scotland—to make sure that President Joe Biden appoints a visionary director to lead NIH, one who will embrace state-of-the-art, high-tech research, rather than another "dinosaur" who funds outdated animal experiments that don't help humans.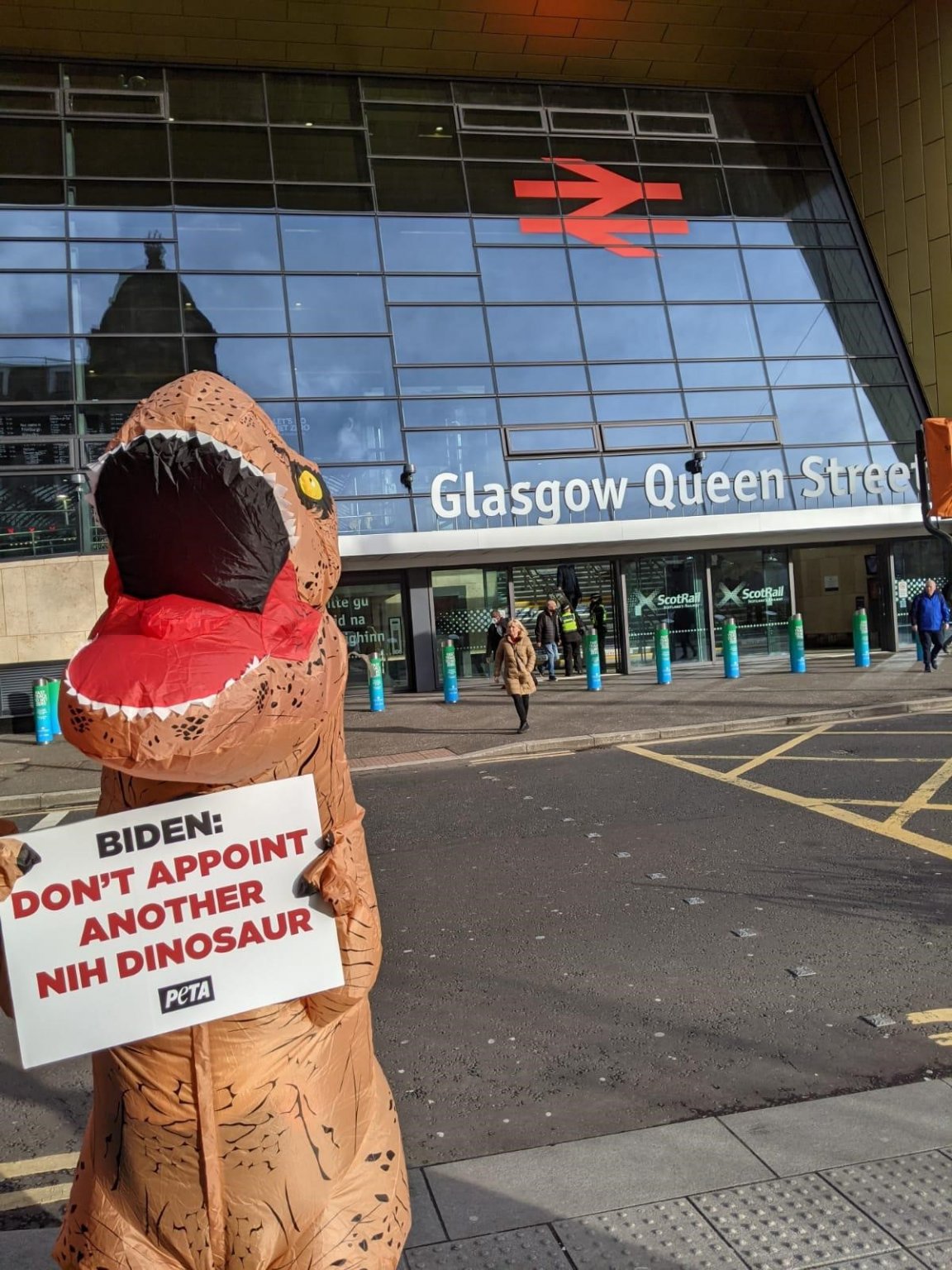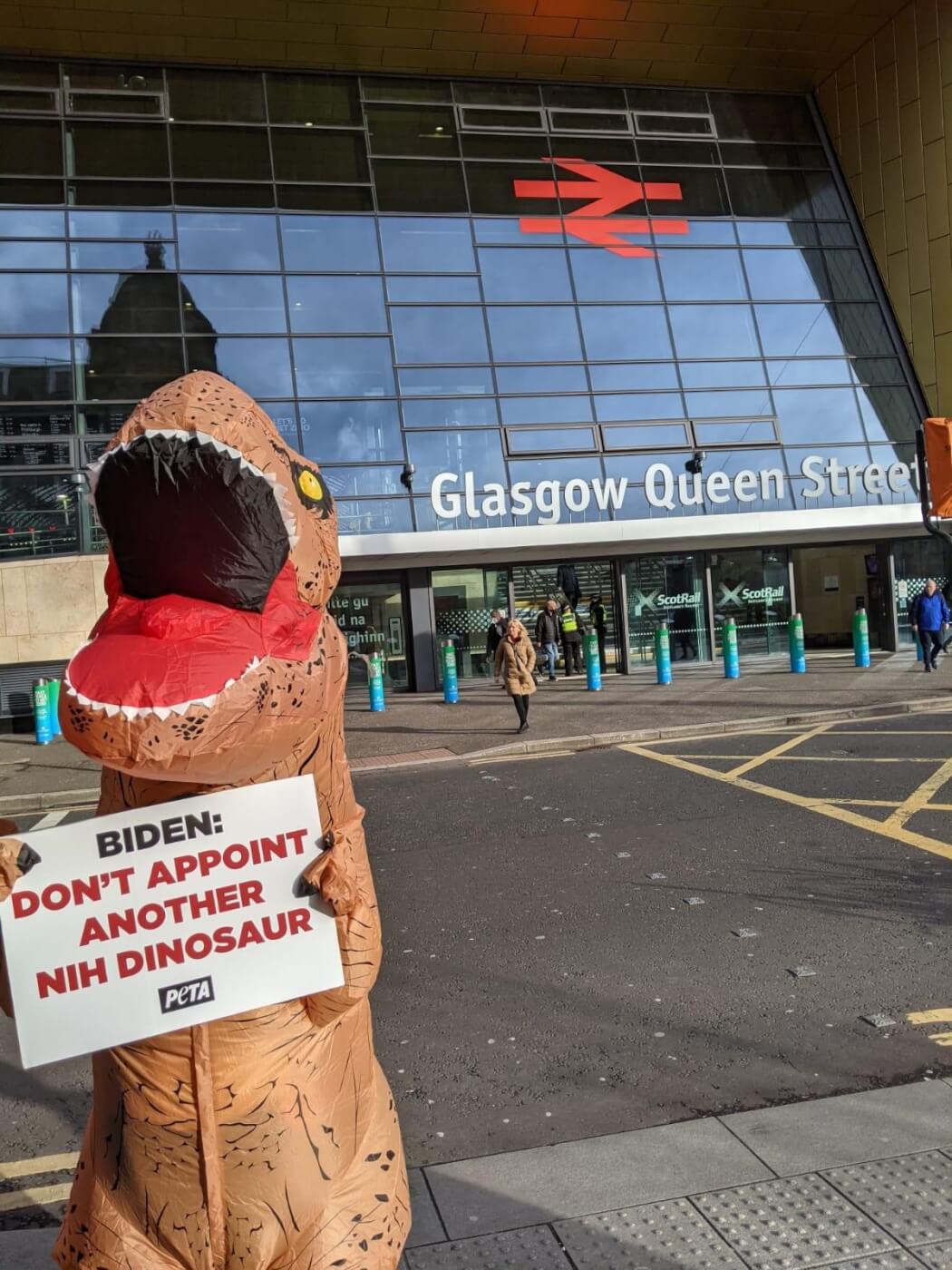 Torturing beagles and frightening monkeys with fake snakes are just two examples of NIH's ethical, fiscal, and scientific failures. The agency squanders more than $19 billion annually on animal experiments—despite clear evidence that harming animals isn't providing cures or treatments for human ailments.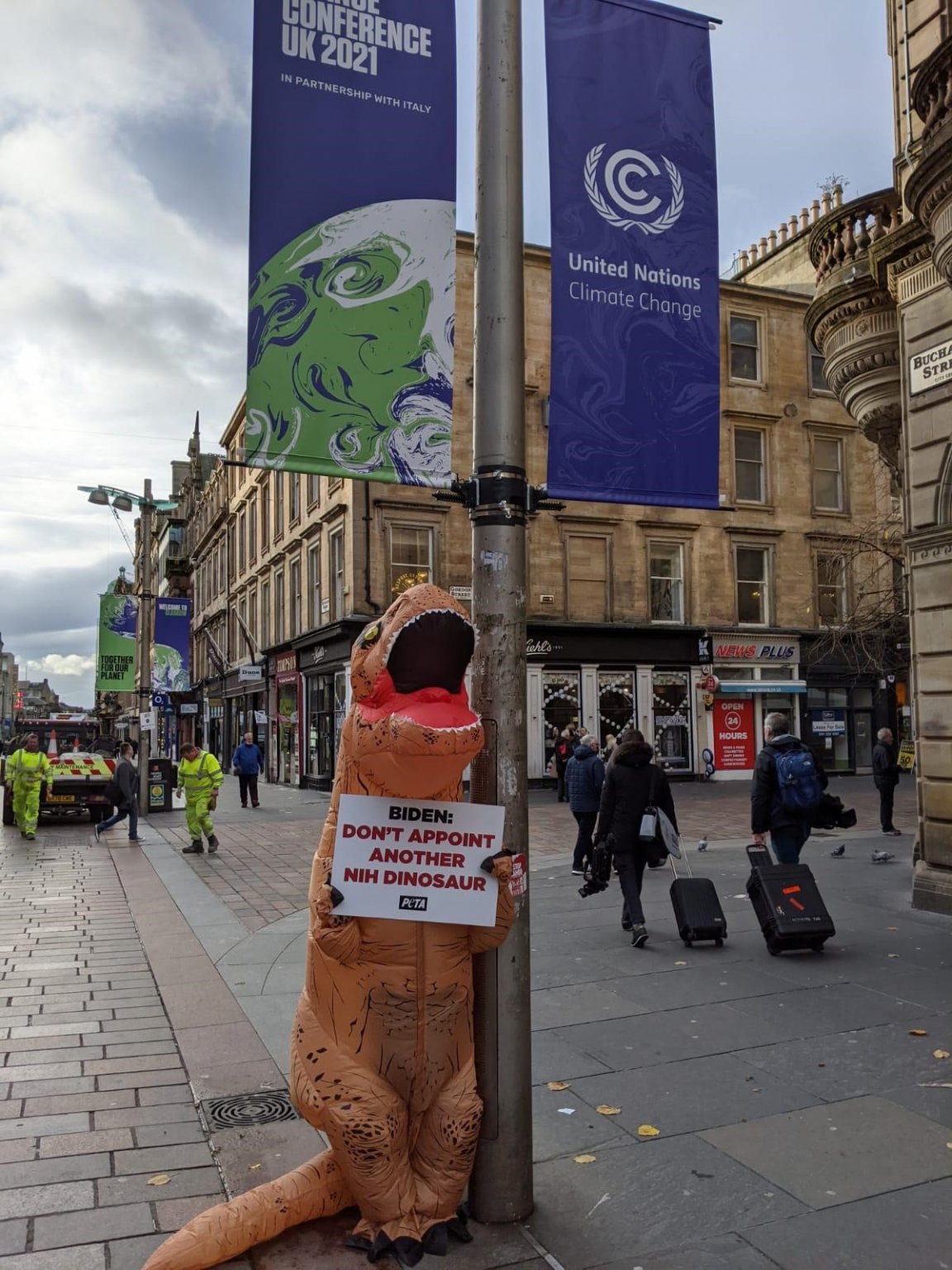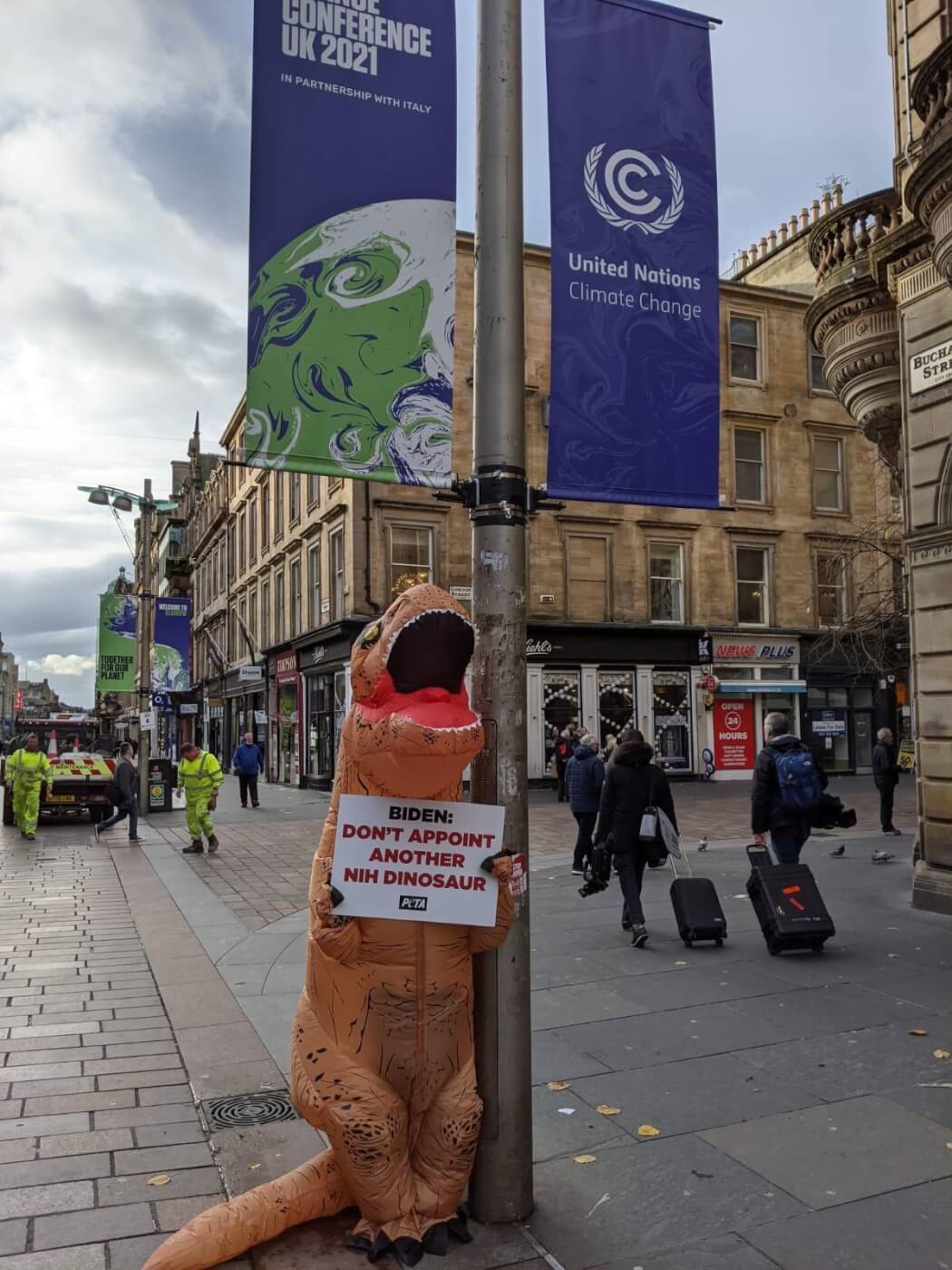 PETA is calling on our members and supporters to flood the president's inbox with messages urging him to appoint an NIH director who's committed to bringing the agency into the 21st century by investing in cutting-edge, animal-free research methods.
Originally published on October 20, 2021:
On the heels of the news that National Institutes of Health (NIH) Director Francis Collins is stepping down, PETA supporters in giant blow-up dinosaur costumes gathered outside the White House, followed President Joe Biden to various events, and appeared around Washington carrying signs that read, "Biden, Don't Appoint Another NIH Dinosaur."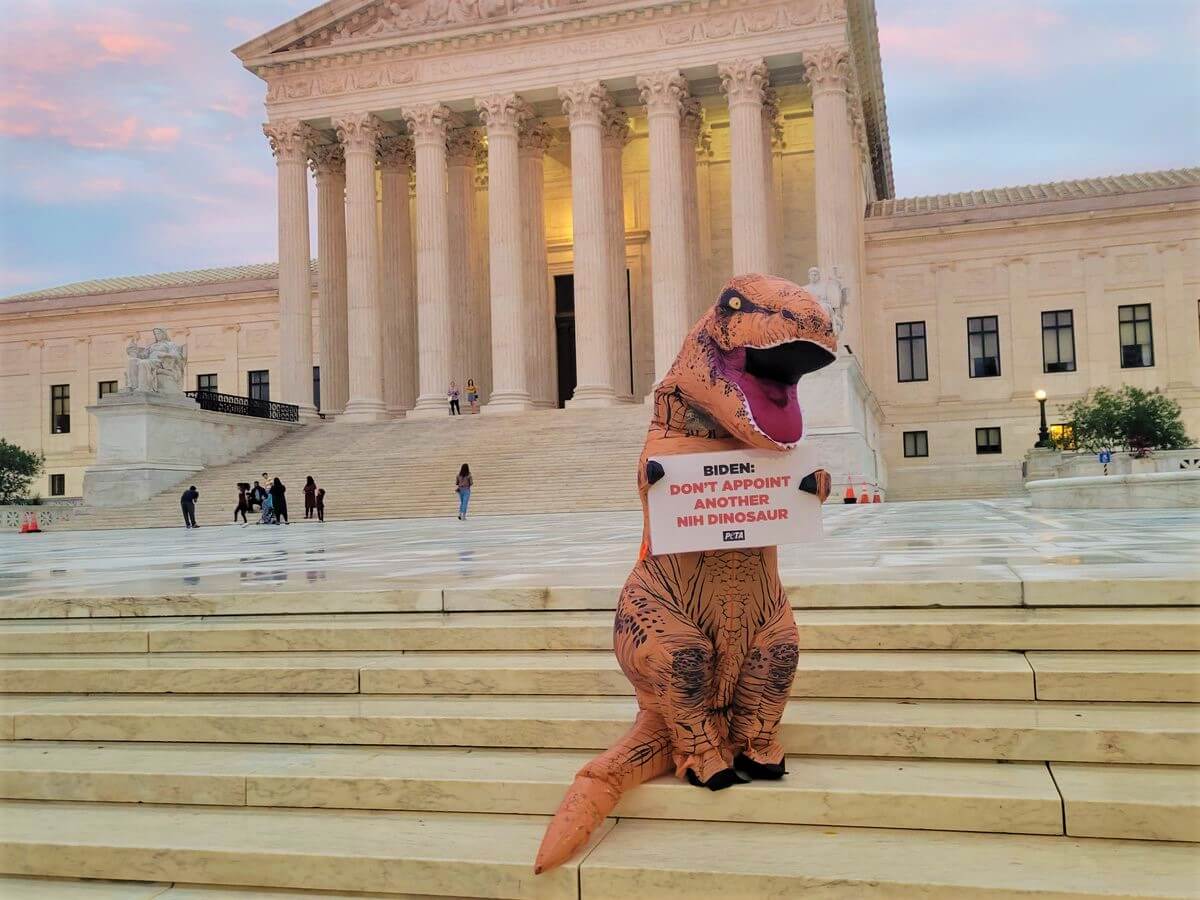 PETA is urging the president to take the U.S. out of the scientific Stone Age by choosing a visionary replacement who will end the agency's funding and conducting of animal tests and instead invest in state-of-the-art research methods like organs-on-a chip, high-speed computer analysis, and three-dimensional tissue models.
We're still in #WashingtonDC asking @JoeBiden to keep dinosaurs out of @NIH and choose a new director committed to focusing on modern animal-free research. pic.twitter.com/QYhE0AsTpT

— PETA (@peta) October 15, 2021
It's crucial now that Biden find a leader who understands the bigger picture: that protecting human health, securing our nation's role as a leader in innovation, addressing disparities within the scientific community, and preventing the next pandemic have everything to do with eliminating our reliance on animal experiments and prioritizing human-relevant, animal-free research.
Listen to @FrankieTheDino's message on animal testing!@JoeBiden: Please don't choose another dinosaur who supports experiments on animals to lead the @NIH.

These archaic methods belong in the Stone Age! #DontChooseAnimalExperimentation pic.twitter.com/R4aqOSo2E5

— PETA (@peta) October 29, 2021
Originally published on October 5, 2021:
Great news for animals: National Institutes of Health (NIH) Director Francis "Blind Eye" Collins is leaving!
The ink wasn't even dry on the lease for the Capitol Hill campaigns office that PETA planned to use to escalate our campaign for Collins to be replaced at NIH because he had turned a blind eye to the failure of animal experiments. News that he's resigning brings hope for animals and the agency that he turned into a bureaucratic dinosaur.
In July, PETA urged Secretary of Health and Human Services Xavier Becerra to fire Collins and seek a new NIH director, citing the NIH's disproportionate funding of animal experiments that fail to lead to treatments or cures for humans. Our letter reads, in part, as follows:
Even as scientific evidence has mounted on the failure of animal experiments to produce cures and treatments for humans and also on the sentience of animals, the agency has failed to heed this evidence and has continued to waste public funds on cruel and failed experiments. NIH's own animal laboratories serve as a poster child for abusive, deadly, and useless experiments—and this has been going on for years under Collins' watch. For the sake of animal welfare, sound science, public trust, and the U.S.' position as a global leader in biomedical research, we ask that you please consider replacing Collins with a more competent, forward-thinking director.
PETA's president also protested in front of Collins' home, calling on him to resign. We published a high-profile opinion piece that ran in the Miami Herald and other newspapers demanding new leadership; ran full-page ads in Washington, D.C., media outlets stating, "Francis Collins Must Go"; urged our supporters to call for his resignation; and flooded Instagram and Twitter with the hashtag #FrancisCollinsMustResign. PETA's Kathy Guillermo also appeared on Tucker Carlson Tonight calling for a new NIH director who will embrace modern science.
Again and again, PETA has exposed abuse and shoddy science at NIH, including three decades of experiments in which baby monkeys were torn away from their mothers and tormented to create mental illness. This laboratory was shut down in 2015 following an intense two-year PETA campaign. In 2020, we released never-before-seen video footage from the laboratory of NIH experimenter Elisabeth Murray, who damages the brains of monkeys and then terrifies the animals with realistic-looking plastic snakes and spiders.
In July, PETA released federal documents revealing multiple animal welfare violations inside NIH laboratories. Animals died of dehydration, starvation, and asphyxiation and were burned on heating pads, denied pain relief, and more.
Collins often refused to comment on these issues or take action until forced to do so by public pressure. He similarly refused to address the growing concern over the failure of animal experiments to lead to treatments for humans or to respond to tens of thousands of e-mails from Americans urging him to adopt PETA's Research Modernization Deal, which documents the failings of animal studies and provides a strategy for phasing out the use of animals and increasing funding for modern methods.
Please urge your legislators to do better and support PETA's Research Modernization Deal:
Originally published on September 1, 2021:
PETA has been saying it for months, and now one of the nation's leading newspapers has reported startling new information that confirms our assertion that Francis Collins, director of the National Institutes of Health (NIH), must be removed from his post immediately.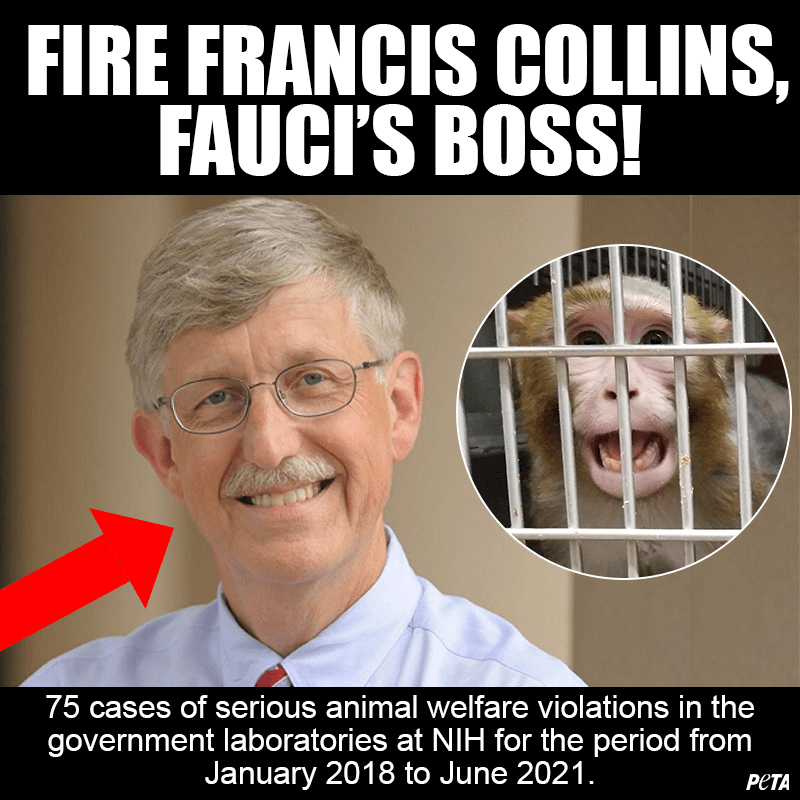 The Washington Post has revealed that Collins and one of his top lieutenants, Anthony Fauci, have approved and funded pathogen-engineering experiments—so-called "gain-of-function research"—that can make deadly viruses even more contagious or virulent. And they've been doing this with none of the usual transparency and with a weakened scientific review committee.
This appears to be about Collins' consolidation of authority and power. The scientific review committee, reports the Post, has been reduced to an advisory board whose power to veto has been removed. In one experiment that NIH funded, a bird flu virus was essentially weaponized. This already-deadly airborne virus had not been easily transmitted, but the genetic tinkering made it transmissible among mammals. Scientists who reviewed the work say that if it were released, it could kill 4 billion people in short order.
The experimenters then wanted to publish the study, which includes a sort of "how to" on engineering the virus. Some scientists feared that the study's publication could show nefarious actors how to create a virus that can be used in biowarfare. They objected. But, reports the Post, Collins and Fauci—behind the scenes—lobbied for its publication, effectively anointing themselves arbiters of what is safe, effective, and important. The study was published.
Mind you, this fiddling with deadly viruses is taking place under NIH's authority—the same agency where, in 2014, workers found 12 long-abandoned cardboard boxes that contained 300 vials of infectious agents, just absent-mindedly strewn across the room. Some of these vials contained the virus that causes smallpox. The vials had been used decades—decades!—before and were supposed to have been destroyed.
This is also the same NIH where rampant negligence, cruelty, and repeated violations of federal law occur almost daily. As we've pointed out before, 75 cases of serious animal welfare violations were documented in NIH's Maryland laboratories between January 2018 and June 2021. Animals suffocated, starved, and died of dehydration. They were injected with the wrong drugs and subjected to unapproved procedures. They became trapped in parts of equipment and died while frantically struggling to escape. One mouse burst into flames—yes, you read that right—when experimenters failed to notice that alcohol fumes had built up during a heat-generating surgery.
But this is the agency that the public trusts to fund research on viruses capable of wiping out half the planet, and we're going to leave Collins in charge? The answer should be a firm no.
We already knew that Collins too often puts science in the backseat. He is well aware that experiments on animals are failing to lead to treatments for humans. But he is apparently more concerned with preserving his reputation among animal experimenters while he throws half the agency's bloated budget of $41 billion out the window on cruel and senseless animal experiments, despite overwhelming scientific evidence that animal studies overwhelmingly fail to lead to effective treatments and cures for human diseases. But the Post's report adds a sinister new layer to Collins' reign.
PETA has already shown that Collins can't keep his own house in order. What we've just learned is that the director of our nation's foremost research authority is not a leader—he's a comic book villain.