Previous PETA Members' Bids for the Soyful Plate Rejected Across U.S.
For Immediate Release:
August 12, 2021
Contact:
Megan Wiltsie 202-483-7382
Hampden, Maine – After several states rejected PETA-promoted, pro-vegan license plates with the letters "LVTOFU," nervous that the soybean-celebrating message seems suggestive, PETA staffer Jennifer Austin just had her bid approved in Maine—the nation's third-most vegan state. PETA employees had previously sought approval for similar plates in Colorado, Florida, and Tennessee.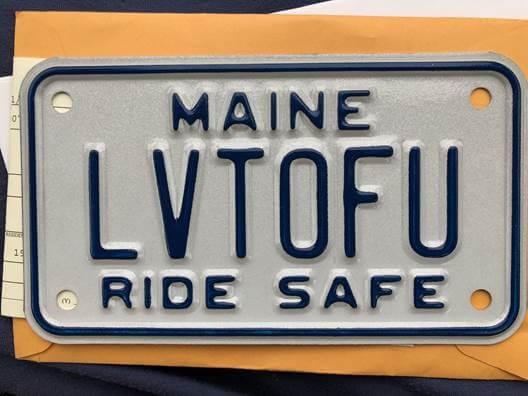 "After some speed bumps in other states, PETA's tofu-loving message is about to hit the streets," says PETA President Ingrid Newkirk. "PETA is driving home the message that vegan protein is tasty as well as kind, sparing animals the slaughterhouse and the cooking pot."
Each person who goes vegan saves nearly 200 animals every year; reduces their risk of suffering from cancer, heart disease, strokes, diabetes, and obesity; and dramatically shrinks their carbon footprint. Tofu has also never caused a pandemic, while SARS, swine flu, bird flu, and COVID-19 all stemmed from confining and killing animals for food.
PETA—whose motto reads, in part, that "animals are not ours to eat" and which opposes speciesism, a human-supremacist worldview—offers a variety of delicious tofu-based recipes on its website, such as General Tso's Tofu and Buffalo Tofu-Scramble Breakfast Tacos. For more information, please visit PETA.org or follow the group on Twitter, Facebook, or Instagram.