Update: Yesterday, PETA and Coalition LA cohosted a launch event for the new PETA x Coalition LA vegan leather jacket. The event, held at Coalition LA's downtown Los Angeles showroom, brought fashion enthusiasts, bloggers, social media influencers, and animal advocates together to celebrate the jacket's launch and a turning point in the history of the fashion industry.
It featured a panel that included actor and influencer Daniella Monet, eco-conscious boutique GALERIE.LA founder Dechel Mckillian, vegan stylist Emmanuelle Rienda, and PETA Campaigns Manager Christina Sewell.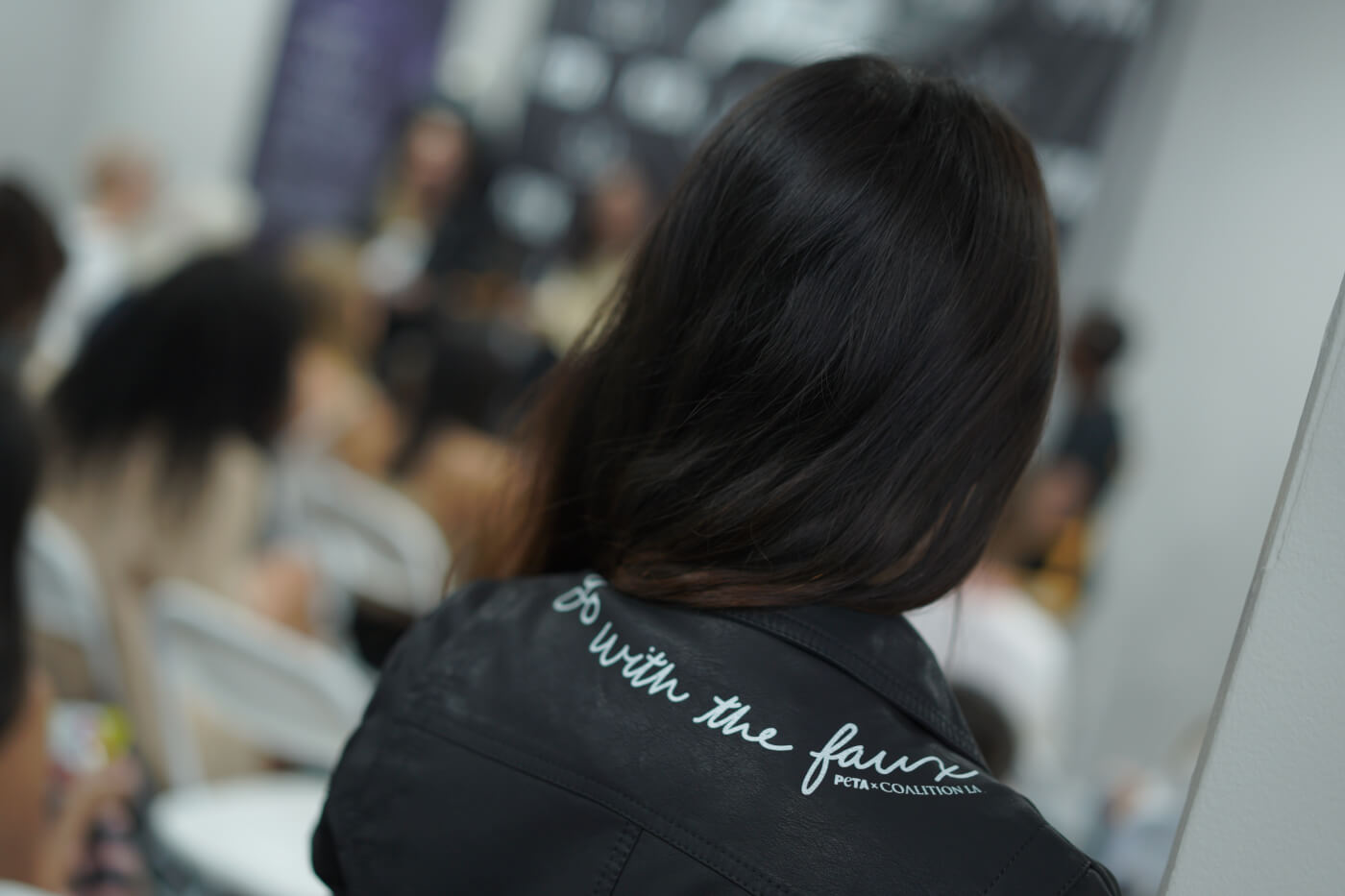 Photo: Jett He
The panelists discussed everything from the sustainability of innovative vegan materials and different styles and methods of activism to how merging sustainability, vegan living, and high artistry is the next frontier of the fashion landscape. A packed house listened intently while the four panelists explained why it's clear that the future of fashion is vegan.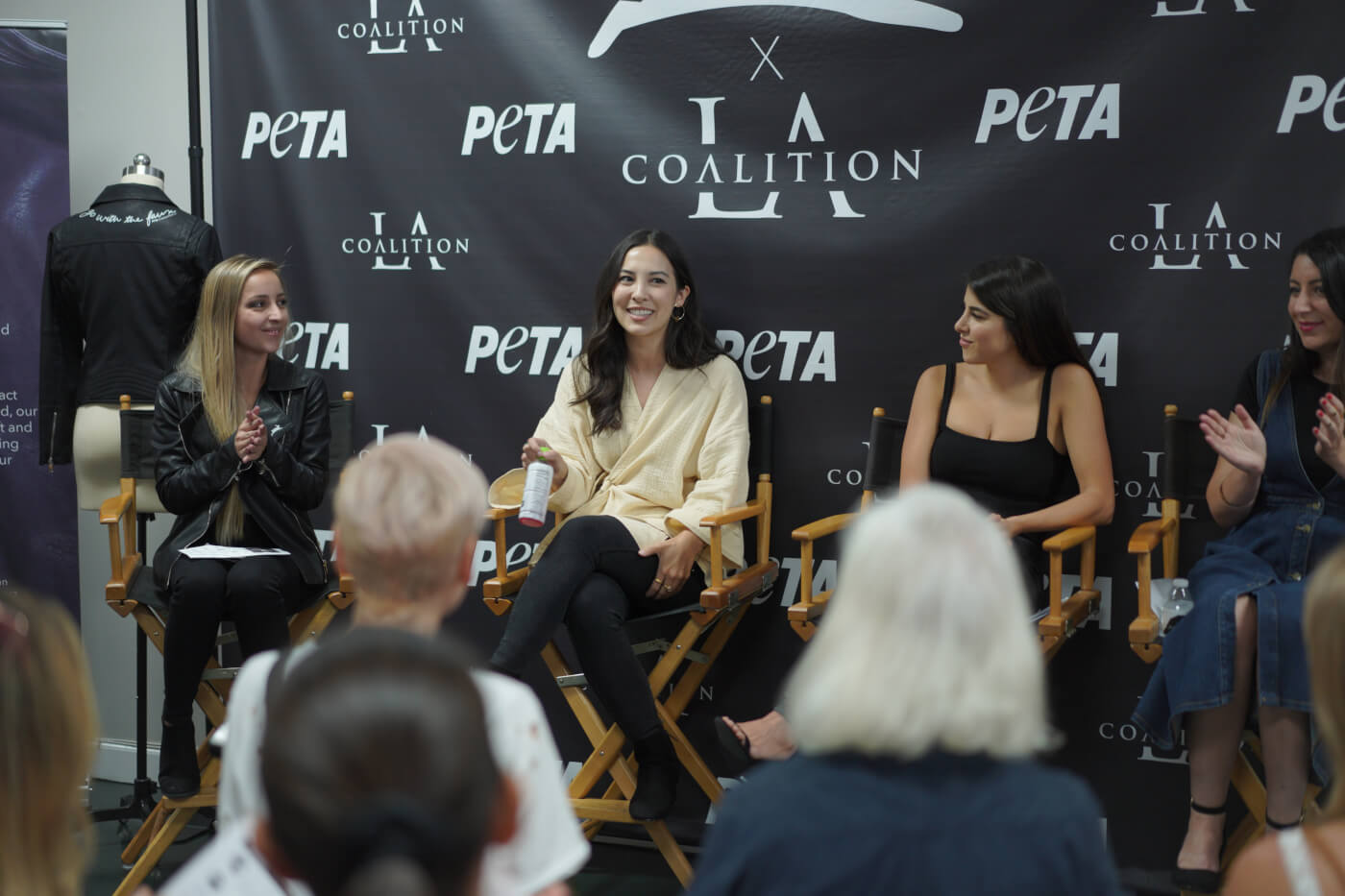 Photo: Jett He
Click here to get your PETA x Coalition LA vegan leather jacket, and keep reading to learn more about why we co-created this animal-friendly closet staple with Coalition LA.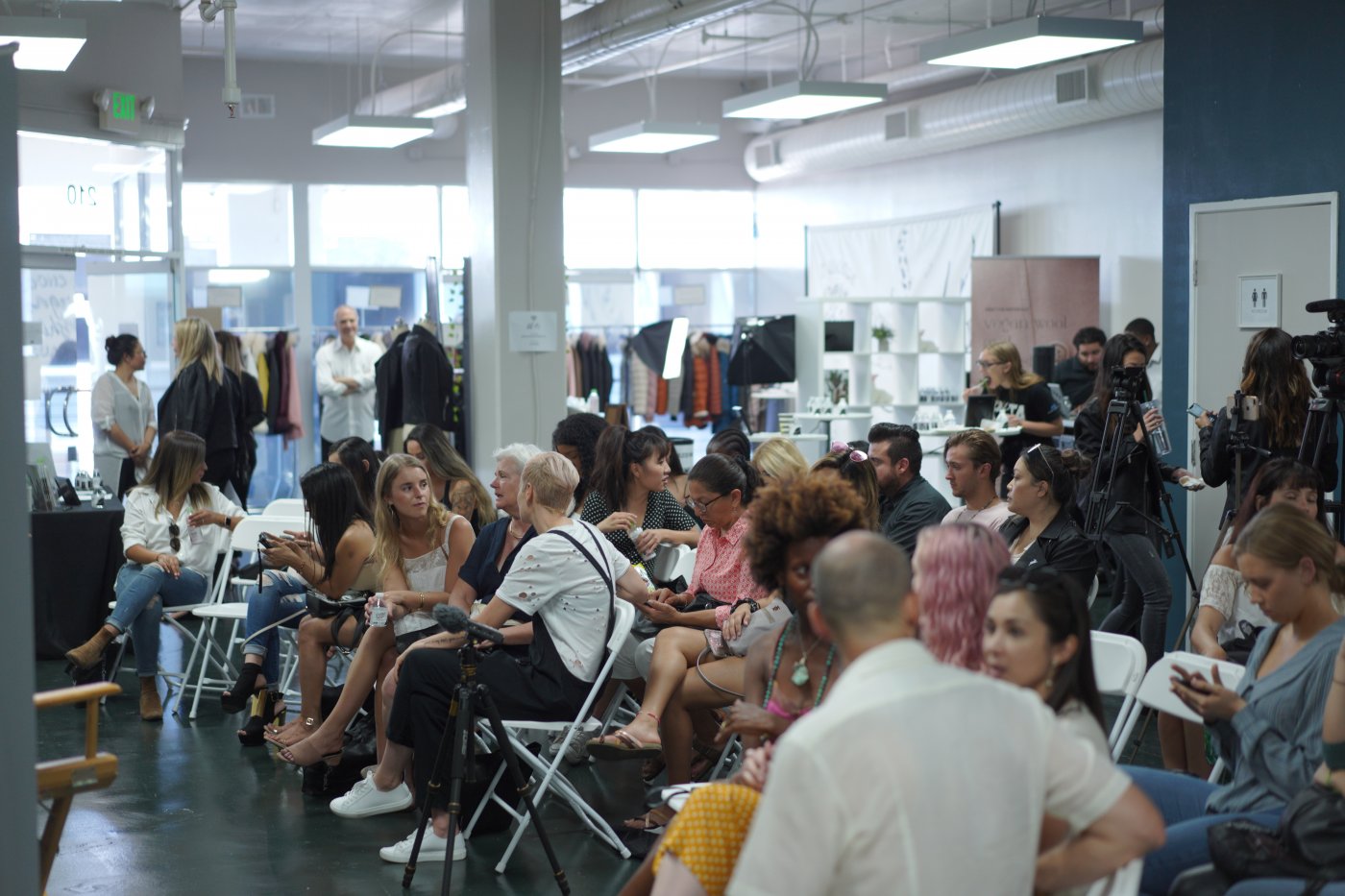 Photo: Jett He
Originally posted on July 25, 2018:
Just in time for the fall shopping season, contemporary brand Coalition LA has teamed up with PETA to offer an innovative, biker-chic vegan leather jacket with the message "Go With the Faux" emblazoned on the back.
The wholesale brand will sell the jacket at WWDMAGIC—the largest tradeshow in the U.S. for women's fashion.
"Coalition LA is on a mission to prove that there's no reason to breed and kill animals or pollute the planet for fashion," says the brand's Creative Director Darci Wong. "We're proud to work with PETA to hold the fashion industry to a higher standard."
Made from a polyester lining and polyurethane outer—which has a third of the environmental impact of animal-derived leather—this jacket offers sustainability and style.
It features side pockets, a folded lapel, and metal zippers that'll make any outfit edgy.
This versatile jacket is your new go-to for fall. Through August 6, you can get 20 percent off with the code GOFAUX when you purchase the jacket from the PETA Catalog.
Why Animal-Derived Leather Sucks
Cows killed for leather endure castration, tail-docking, and dehorning without any painkillers. At slaughterhouses, they may be skinned and dismembered while they're still conscious. Tanneries use up to 130 different chemicals to prevent animals' skins from decomposing in the wearer's closet, and people who work in and live near tanneries suffer from exposure to these toxic chemicals.
But fashion companies are opening their eyes to this abuse, and many are banning animal-derived fabrics such as mohair, angora, fur, and leather. Thanks in large part to PETA's efforts and our telling investigations, we're paving the way for the vegan fashion revolution.
https://twitter.com/peta/status/923631838299607043
Compassionate consumers: Look great without sacrificing your values. Click below to get your PETA x Coalition LA vegan leather jacket—also available in select Los Angeles retail shops.