Despite the fact that the U.S. Department of Agriculture (USDA) charged Jambbas Ranch Tours—where Ben the bear was held for years in a dog run–like pen—with nearly a dozen violations of the federal Animal Welfare Act more than seven months ago, the dismal menagerie is still in business. Why? That's what we're asking the North Carolina Wildlife Resources Commission (NCWRC) in an appeal to revoke Jambbas' captive wildlife licenses and endangered species permit.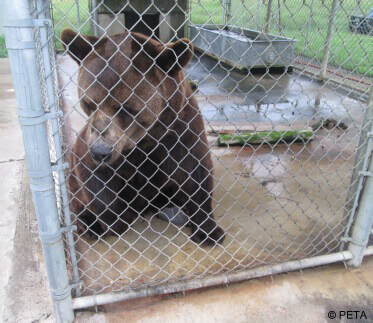 Ben was freed, thanks to a lawsuit by PETA, the Animal Legal Defense Fund, and concerned citizens, but Jambbas is still holding deer, elk, bison, alligators, and other animals in squalid conditions. The repeat violations cited by the USDA include animals suffering from untreated wounds and diseases and animals kept in cramped, filthy cages and enclosures with nothing to drink but putrid water in rusty containers. One USDA inspector even discovered a dead goat, and a recent visitor to Jambbas saw a dead rabbit's body lying in a rusty cage. James Bass, the menagerie's operator, has even admitted to multiple violations of North Carolina's cruelty-to-animals laws.
In our request to the NCWRC, we point out that the agency is required by law to take into consideration the care that the animals are receiving before renewing Jambbas' licenses and permits. State law also requires the NCWRC to refuse to renew licenses and permits if it has reason to believe that the applicant is not qualified to hold wildlife or if doing so would "be contrary to the best interests of the conservation of wildlife resources."
What You Can Do
Please join PETA in urging the NCWRC to revoke Jambbas' licenses and help get this miserable menagerie shut down for good.