Animal advocates have long known the name Jambbas Ranch Tours. The notorious roadside zoo in Fayetteville, North Carolina, has racked up a mountain of citations from the U.S. Department of Agriculture (USDA) for its pervasive neglect and abuse of animals. In fact, nearly every single USDA inspection of Jambbas since October 2006 has resulted in citations for the zoo for failing to provide animals with even the minimum care required by the Animal Welfare Act (AWA). And the latest inspection is no exception. Following a PETA complaint, the USDA again performed an unannounced inspection of Jambbas and found the following violations, among others:
Two bison were suffering from gaping wounds that were left untreated.
A dog had discharge and crusting around both eyes.
Rabbits were kept in rusty cages amid their own waste.
Water containers were dirty and rusty.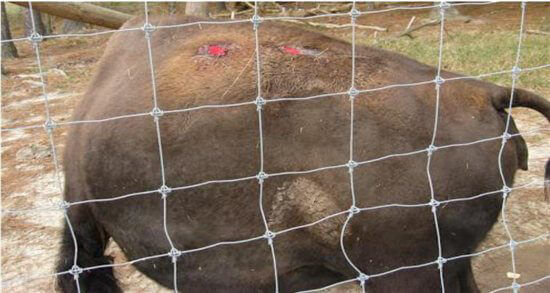 The USDA has been formally investigating Jambbas for at least 18 months for the abuse and neglect of animals. The zoo's chronic violations of the AWA disqualify it from having its license to keep and exhibit animals renewed, yet inexplicably, the USDA continues to renew Jambbas' license year after year, which prompted PETA and others to file a lawsuit. 
It's time for every one of the hundreds of animals at Jambbas to be retired to sanctuaries, just like Ben, the long-suffering bear who is now relishing his new life at the PAWS Sanctuary. Please urge the USDA to revoke Jambbas' license and let its captive animals finally retire to sanctuaries, where they will be loved and cared for, instead of caged and used for profit.