StarCraft players gearing up for the launch of StarCraft II: Heart of the Swarm will be getting a new perspective on the game's arthropodal extraterrestrials, the Zerg.
PETA—or, as we are renaming ourselves in honor of the expansion pack's launch, "Terrans for the Ethical Treatment of Zerglings"—will attend tonight's launch event in Irvine, California, and distribute copies of our new "Zerglings Have Feelings, Too" leaflets as a reminder that gamers and nongamers alike should have compassion for all beings—even those who are very different from us.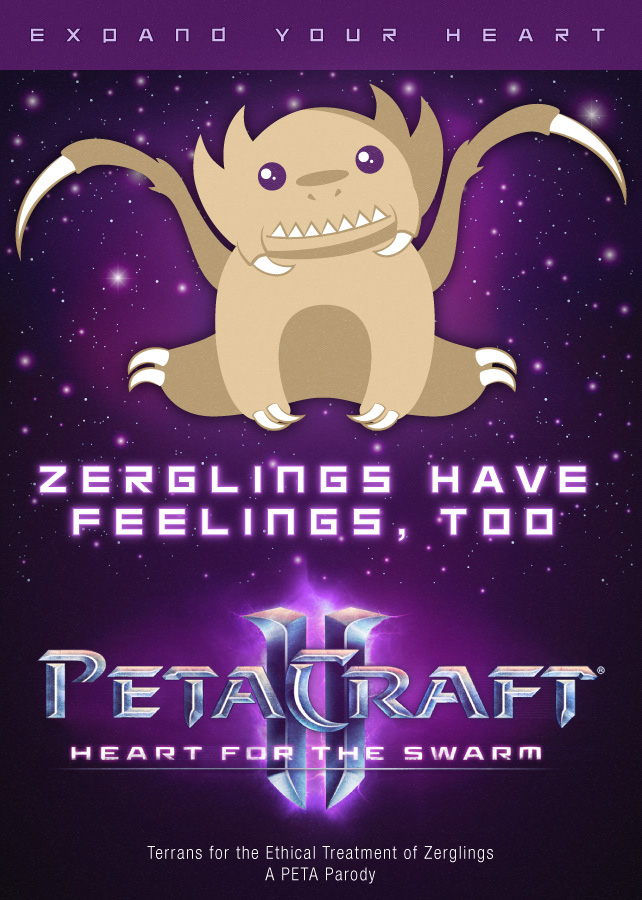 Heart for the Swarm
We always root for the underdogs (and undermice and underpigeons, etc.) at PETA. And when playing StarCraft, I had noticed how the Zerg were treated more like animals than like other people. I couldn't help but wonder if there would be an analog to PETA in the world of StarCraft. Tonight, my dream will come true.
People often wonder what PETA has against video games, especially after playing our Pokémon: Black and Blue or Super Tanooki Skin 2D parody games, which have each gotten millions of people to think about PETA's issues and, together, have led to more than 750,000 people watching PETA's hard-hitting videos. The truth is that as a gamer and a PETA staffer, I get excited about combining my passions.
So remember, while Zerglings are not real, there are many equally "strange" and exotic animals we share this planet with who deserve our empathy. Just because crocodiles and snakes look alien to us, that doesn't make it OK to skin them alive for a handbag, shoes, or a belt.
And if we had to share our world with the Zerg in reality, I'd like to think that we'd make an effort to understand and respect them rather than sending out the battlecruisers—because the alternative to having empathy for other beings is about as grim as it gets, whether you're a Terran, a Zerg, or a Protoss. OK, whoa, that got kind of serious there. What I am saying is look at the cute Zergling! How could anyone ever want to hurt a Zergling?
If all this talk of "Zerg rights" has you thinking, I recommend that you check out Animal Liberation, the groundbreaking book by Peter Singer, which is credited with kick-starting the modern animal rights movement. What does "animal liberation" even mean? See PETA's summary of the book here to find out.