In 2015, a PETA eyewitness exposé showed the world where "exotic skins" really come from. The fashion industry was not ready for the reaction.
Since the investigation was released—revealing that crocodiles used to make "luxury" bags for Hermès were kept in barren concrete pens and that alligators were kept in dank, dark sheds without sunshine, fresh air, clean water, or even basic medical care before workers skinned them—French imports of reptile skins dropped more than 30%, according to a telling report in The Wall Street Journal.
When consumers saw rows of reptiles hanging dead from their tails, stripped of their skin and individual autonomy just so that fashion brands could turn them into accessories, many couldn't ignore the simple fact that there is no "humane" way to steal the skin off animals' backs. No matter where the factory is, it will never be a natural habitat, where crocodiles swim, walk, and crawl and where alligators look after and bond with their young.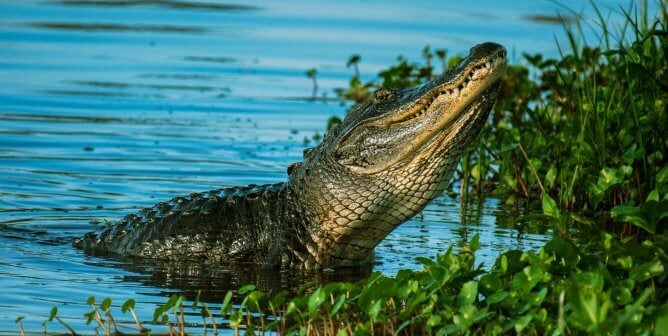 Not all exotic skins come from reptiles. When PETA investigators traveled to South Africa in 2015, they obtained never-before-seen footage inside the largest ostrich slaughter companies in the world—at slaughterhouses that supply ostrich skins to Hermès, Prada, Louis Vuitton, and other top European fashion houses. They found workers roughly handling ostriches, forcing them into stun boxes, and slitting their throats.
In their natural habitats, both mother and father ostriches work together to raise their young. Ostriches who are killed for their skin never even get to meet their parents on the crowded, unnatural dirt feedlots on which they are raised.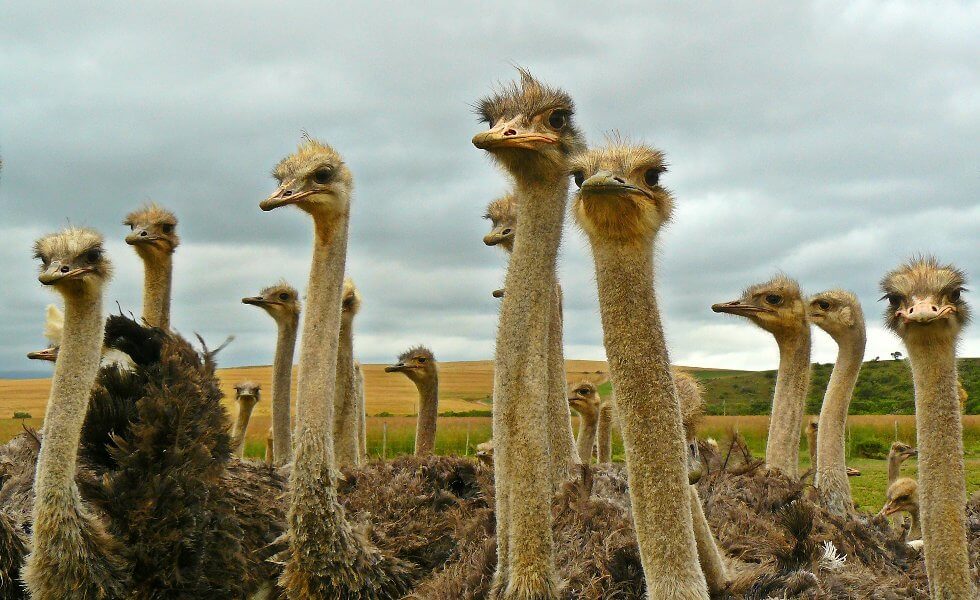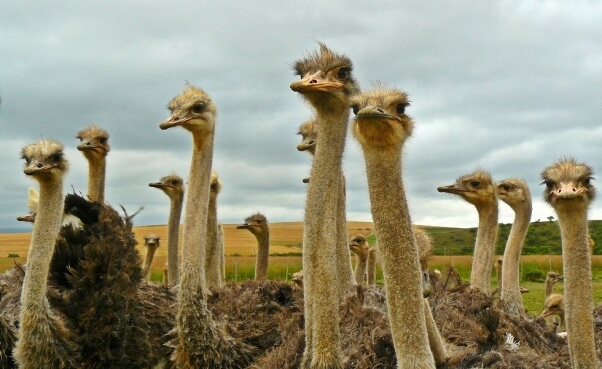 The two large companies filmed by PETA's investigators, Klein Karoo International and Mosstrich (which, together, produce roughly 75 to 90 percent of all items made with ostrich skin worldwide), felt the impact in a big way. The two businesses, which used to be at the top of the game, have now merged to stay afloat in a swiftly declining industry. According to one executive, an average of 240,000 ostriches were killed annually until 2010. Since PETA's video exposé was released, that demand has been slashed. In 2018/2019, the annual number was reduced by more than 100,000 birds.
A new generation of consumers is transforming the market for fashion. Today, the way a company acts is just as important as the goods it produces. Customers are willing to drop brands that are stuck in their antiquated ways of exploiting animals and opt instead for sustainable vegan goods that speak to their conscience.
Major Brands Say Goodbye to Exotic Skins
After turning its back on fur, the French fashion group SMCP (with famous brands Sandro, Maje, and Claudie Pierlot) confirmed in communications with PETA France that the company would stop selling items made of exotic skins.
SMCP is another addition to the long list of luxury fashion companies and brands that have done so. In late 2019, Jil Sander confirmed to us that it had stopped using skins from animals such as alligators, crocodiles, ostriches, lizards, and snakes in its designs. The brand also became one of more than 330 that have banned angora following PETA Asia's eyewitness exposé. (More on that later.)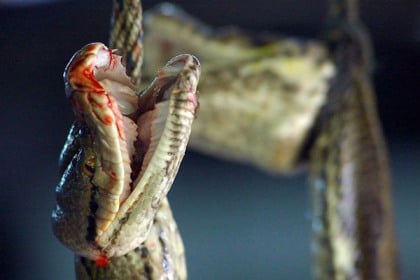 The latest luxury brand to join Vivienne Westwood, Diane von Furstenberg, Victoria Beckham, Chanel, Tommy Hilfiger, Calvin Klein, and many others on the right side of history is Alexandre Birman, which will stop sourcing exotic skins beginning on January 1, 2021, after talks with PETA. The shoe brand's ethical decision will send a strong message to the fashion industry about the dangers of raising and killing exotic animals for "luxury" fashion items—including the increased risk of outbreaks such as COVID-19.
Crocodiles & alligators used for their skin are often kept in filthy farms where infections & injuries are common.

Yet @LouisVuitton still sells exotic skins, which sentences animals to painful deaths & puts human health at risk.

TWEET & tell them to ban wild animal skins now! pic.twitter.com/EtVkg26ILU

— PETA (@peta) July 1, 2020
Other companies—including adidas, Adolfo Domínguez, Ann Inc., Arcadia Group (which owns Topshop), ASOS, bebe, H&M, L Brands (which owns Victoria's Secret), MANGO, Nike, Nine West, Overstock.com, and PUMA—have also banned exotic skins. PETA has become an Hermès shareholder and pressured the company to ditch exotic skins from both the inside—at its annual meetings—and on social media.
It's Not Just Exotic Skins—All Materials Made From Animals Are on Their Way Out
Using animals for clothing or accessories is a dying business. As people everywhere become more aware of how animals suffer in the fashion industry, companies, fashion design universities, and even entire cities are implementing bans on animal-derived materials.
BREAKING: #SanFrancisco has banned fur! They are the first major US city to ban fur sales. Everyone is realizing that #FurIsDead. https://t.co/eGxJGiZGn2 pic.twitter.com/vHjBbHHu9C

— PETA (@peta) March 20, 2018
Fur
Numerous brands and magazines have committed to going fur free.
Donna Karan and DKNY, InStyle magazine, Donatella Versace, Michael Kors and Jimmy Choo, Burlington Coat Factory, and Gucci are just a few.
Some of the companies who have banned fur:
-Gucci
-Versace
-Armani
-Furla
-Calvin Klein
-H&M
-Michael Kors
-Gap
-Zara
-Lacoste
-Ella Moss
-bebe
-Nine West

— PETA (@peta) March 15, 2018
Angora
When PETA Asia released shocking eyewitness video footage showing that workers violently rip fur out of angora rabbits' writhing bodies, customers shared the video widely, vowed never to wear angora again, and contacted stores and designers in droves demanding that they stop buying it. Retailers listened, and the list of stores that are making their customers and rabbits happy is now a long one: Over 330 brands have refused to sell angora.
Nearly 300 brands banned angora wool including:
-Anthropologie
-bebe
-Calvin Klein
-Forever 21
-H&M
-Ralph Lauren
-Urban Outfitters
-Zara

— PETA (@peta) August 17, 2017
A PETA video exposé of the mohair industry has similarly prompted more than 255 top international retailers—including Topshop, Diane von Furstenberg, Ralph Lauren, H&M, and Forever 21—to ban the cruelly obtained material.
At PETA's urging, legendary fashion house @DVF has joined the more than 240 brands that have pledged not to sell mohair! https://t.co/YVhLd7req7

— PETA (@peta) July 19, 2018
One company, ASOS—which sells more than 850 labels as well as its own brand of clothing and accessories—also banned cashmere, silk, down, and feathers across its entire platform.
Ditch Skins, Fur, Feathers, and All Fabrics Stolen From Animals—Wear Vegan Today!
The future of luxury fashion lies in innovative vegan fabrics. Take, for example, the recent Biodesign Challenge, in which a team from the Universidad de los Andes in Colombia competed for a prize sponsored by PETA and was able to create a sustainable sheep-free wool using coconut and hemp fibers. Other companies are discussing ways to grow leather in labs, while some have already begun making vegan leathers from things like mushrooms, coconut water, and even grapes.
Remember: You don't need to have a big budget to upgrade your wardrobe. Check out our handy "How to Wear Vegan" guide below, and be sure to join the thousands of people calling on Hermès to ditch exotic skins.
SPOTTED in #Luxembourg: Police question a bloody "crocodile" trying to get her skin back from #Hermes. #Killed4Hermes pic.twitter.com/aU3k2z7TAc

— PETA (@peta) September 14, 2015