Everyone is clamoring for it, so PETA is helping to fill the government-shutdown gap by providing forlorn panda-cam addicts with a more compassionate alternative. We're inviting folks to watch our own little "pandas" romp in the 1-acre Bea Arthur Dog Park located right next to The Sam Simon Center, PETA's headquarters in Norfolk, Virginia.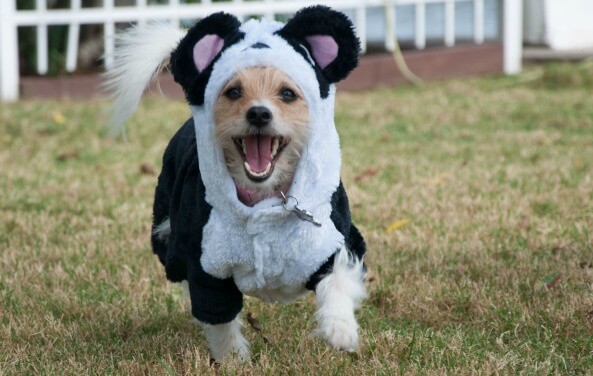 Viewers will have the best seat in the house as rescued dogs dressed comfortably* as adorable panda stand-ins play to their heart's content—or until their guardians need to get back to work saving animals' lives. But that doesn't mean that the fun will be over. Once they're back in the building, PETA's "pandas" eat healthy treats and endure nonstop tummy rubs. Pretty good gig, huh?
Zoo panda cams may seem like harmless fun, but animals in zoos are generally regarded as commodities to buy and trade without any regard for established family relationships. Zoos breed animals such as Mei Xiang because the presence of babies draws zoo visitors, but the fate of many animals in zoos is often bleak as they outgrow their "cuteness." "Surplus" lions, tigers, zebras, and other animals are often sold at auctions and may wind up at unaccredited roadside zoos, in circuses, in people's backyards or basements, or even at canned-hunting ranches, where they are shot and killed.
Be a friend to animals: Watch documentaries, go bird watching, or take a hike to see animals in their natural habitat.
*Some dogs like to dress up, but others prefer their natural state. Please don't dress up your dog if he or she isn't interested, and watch closely for signs of stress and restricted breathing or circulation.