Here's the situation: Abercrombie & Fitch has offered to pay Mike "The Situation" Sorrentino and other Jersey Shore cast members not to wear the brand, saying that seeing the Sitch in Fitch is damaging the company's image. Well, Mike can't run around shirtless—at least not all the time―so PETA is sending him replacement clothing that's worthy of T-shirt time. Here's our mocked-up, fingers-crossed vision of what Mike would look like rocking a PETA tee: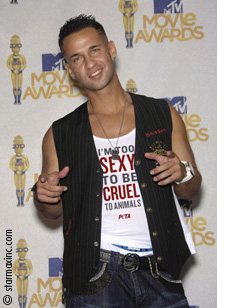 Unlike A&F, PETA would be honored if The Situation were to wear our 
T-shirt and show his fans that real tough guys are kind to animals. By sticking up for animals, The Sitch would join other macho men with hearts of gold like Dennis Rodman, Amar'e Stoudemire, Waka Flocka Flame, Mac Danzig, Chad Ochocinco, Carey Hart, and Ron Artest.
We hope to see Mike fist-pumping in our T-shirt soon. In the meantime, you can pick up one of our "too sexy" tees for yourself at the PETA store at CafePress.com. As Pauly D would say, "Yeeeeeeeah, buddy!"
 
Written by Michelle Sherrow