No one should be forced to live in a rusty cage or a filthy, cramped concrete pit. Time and again, all over the country, these are the sorts of conditions that roadside zoos imprison bears in.
However, in just five years, PETA has helped change the lives of 60 bears who now can roam enriching habitats that are measured in acres, not feet.
These life-changing victories wouldn't have been possible without our dedicated friends such as The Wild Animal Sanctuary, animal advocate and The Simpsons co-creator Sam Simon, generous donors, wildlife agencies, and the millions of PETA supporters who never let up when an animal is in need.
These bears can finally play, climb, have friends and raise their families.
Elsie, for instance, spent 20 years in captivity. She and her three cubs —Bella, Brutus, and Dusty— paced along the border of their cage so frequently that they created a dirt path. The bears were often seen panting from the unsparing summer heat. Brutus is now missing, and the facility isn't offering any information on what happened to the missing bear.
Now, Elsie and two of her cubs are finally experiencing life beyond a roadside zoo.
For a decade, Fifi was forced to stand on her hind legs and perform confusing tricks in a roadside zoo before spending another 20 years caged behind rusty bars on a concrete slab. She hardly looked like a bear at all when PETA found her. Now, see how far she has come!
Lily was forced to live in a cramped, barren, and squalid corn crib for years. It was often littered with piles of feces and puddles of urine and contained little else besides a pitiful tire swing. But thanks to our wonderful supporters, Lily is now in Colorado, with acres to roam and explore for the first time in her life.
Some of our rescues helped shut down roadside zoos.
In 2012, a PETA eyewitness documented appalling conditions at Chief Saunooke Bear Park. The bears lived in concrete pits and were so stressed by their intensive confinement that they continually turned in tight circles, paced endlessly, and broke their own teeth by gnawing on the metal cage bars. Shortly after PETA released its evidence, the U.S. Department of Agriculture suspended the roadside zoo's exhibitor's license and slapped it with a $20,000 fine. Chief Saunooke Bear Park is now closed for good.
PETA also helped close down Black Forest Park, from which we rescued 17 bears. These included two female bears, Ursula and O.B., who were repeatedly bred and whose cubs were always taken from them shortly after birth. Another bear, named Marley, was found to have two broken legs.
Now Ursula and O.B.  are able to raise their families (both bears were pregnant when they were rescued), and after Marley arrived at the sanctuary, she was treated for her injuries and has made a full recovery. She's also a surrogate mother for a bear cub named Eva.
Right now, in roadside zoos across the country, hundreds of bears are trapped in dungeon-like pits or cramped cages for human amusement.
Bears are extremely intelligent and inquisitive, and they spend most of their waking hours foraging and exploring home ranges of up to hundreds of miles in the wild.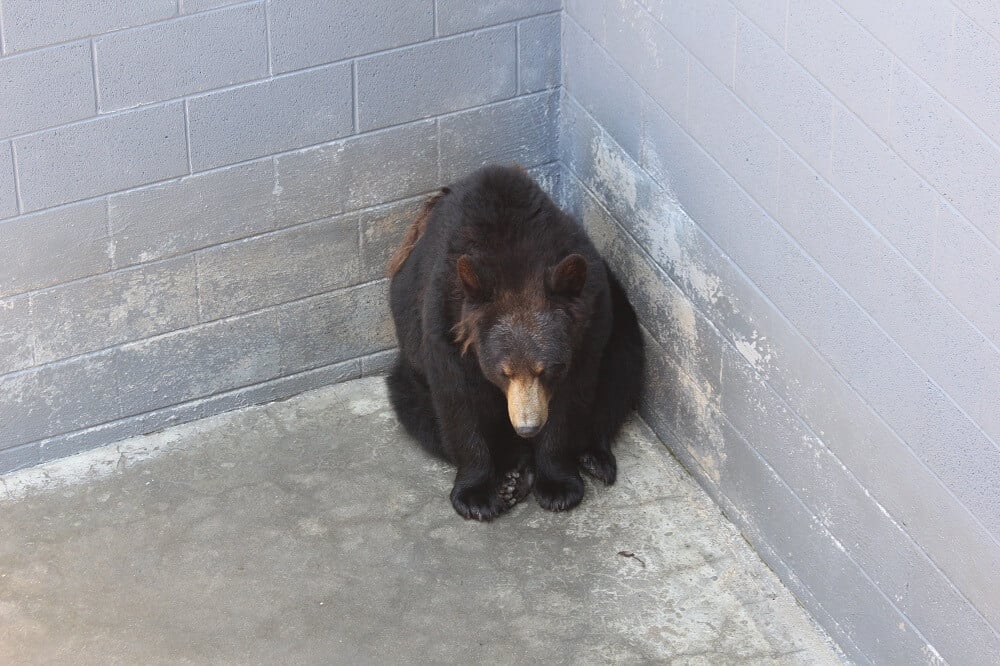 In stark contrast, the bears imprisoned inside roadside zoos are confined to tiny concrete pits devoid of even a single blade of grass or to filthy cages that drive many animals insane with "zoochosis." All that most of these bears can do is sleep, pace back and forth, and beg for food from visitors.
We've come a long way, but so much more work needs to be done.
Never patronize a business that uses wild animals as attractions, and share this page to make sure that your friends and family are in the know.
Just as we've done for these 60 bears, together, we can change lives forever. Take action now.