After more than 20 years in captivity, Elsie is home, and her offspring, born at a roadside zoo in 2002, are finally experiencing life as bears in a naturalistic habitat.
Elsie, a North American black bear, had been held at the seedy Mobile Zoo in Wilmer, Alabama, since 1996, when it acquired her from a similarly miserable roadside menagerie. Her three cubs—Bella, Brutus, and Dusty—were born in 2002. Brutus is now missing, and the facility isn't offering any information on what happened to the missing bear.
Their life inside the roadside zoo was dismal at best. Their enclosure was a fenced-in area with paths worn from the bears' pacing, a sign of extreme distress. Until recently, the only pool that they had to cool themselves in was a small black tub that was barely big enough to allow one bear to submerge, often displacing water and leaving little for the others.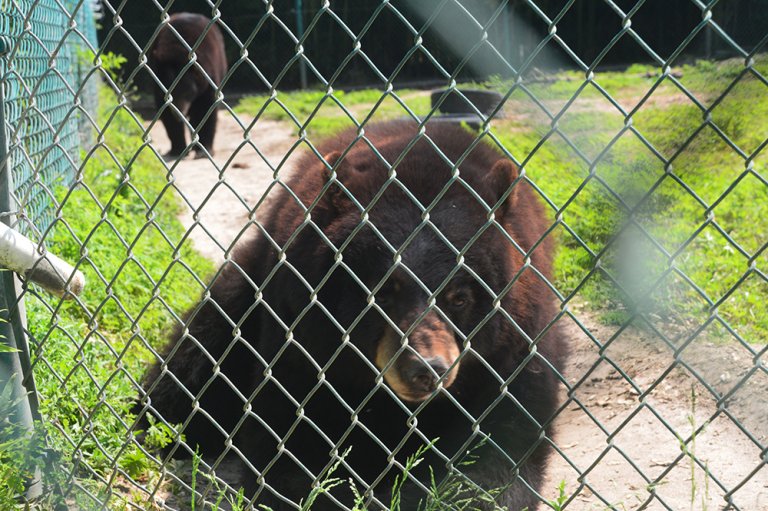 The U.S. Department of Agriculture (USDA) cited The Mobile Zoo numerous times for letting the bears overheat, for allowing green and brown organic matter to grow inside the feeding tubes, and for multiple other sanitation and safety problems.
The Mobile Zoo was also cited for failing to provide the bears with adequate veterinary care, including after bears suffered from vomiting and diarrhea. The USDA also cited the facility after finding an accumulation of feces and rotting food in or around the animals' enclosure.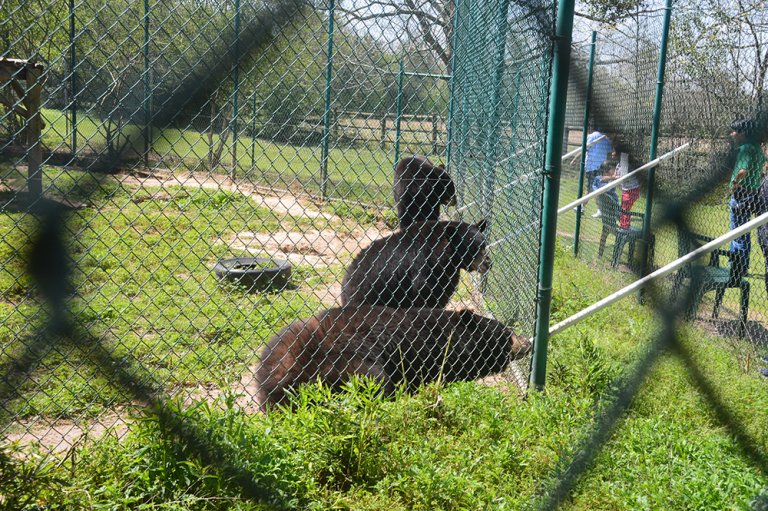 But the bears' luck began to change on November 15, 2016. For years, PETA issued complaints that resulted in piles of citations against The Mobile Zoo and its owner, John Hightower. After filing an administrative lawsuit against the roadside zoo, the USDA finally revoked its license.
Four months later, the facility was forced to shut down after authorities received a complaint about the conditions in which the animals were living. Local animal control then began seizing and rehoming the animals. Hightower was arrested on 28 counts of cruelty to animals.
PETA had alerted The Wild Animal Sanctuary (TWAS) to the plight of the bears after the exhibit's license revocation. TWAS worked for months to secure the bears and was awarded ownership of Elsie and her cubs following their confiscation. PETA plans to cover the transport costs for the bears and to make a donation toward their lifetime care.
PETA's other rescue from The Mobile Zoo, chimpanzee Joe, is thriving in his new home at an accredited sanctuary in Florida. We sued the roadside zoo for holding Joe in solitary confinement and agreed to drop the lawsuit when Hightower consented to surrender him.
What You Can Do
In Roswell, New Mexico, a roadside zoo called Spring River Park & Zoo confines bears and mountain lions to decrepit concrete pits with pools that are often algae-coated and foul-smelling. Two female bears, Sierra and Ursula, have been documented time and again pacing back and forth—It's time that these bears and mountain lions were given ample space to engage in normal behavior as well as the care and attention that they deserve at reputable sanctuaries.
Help PETA free the bears imprisoned at the Spring River Park & Zoo!