Animal rights advocates have to be braver, wittier, and more tenacious than the industries we're up against. And PETA members have got guts in spades.
So when Canada Goose opened a store on Chicago's busy Michigan Avenue, protesters came out in full force.
"@CanadaGooseInc has got to go!" PETA & activists crash company's #Chicago store opening to be loud for animals who suffer for fur & down. pic.twitter.com/thTp6cGQtH

— PETA (@peta) October 28, 2017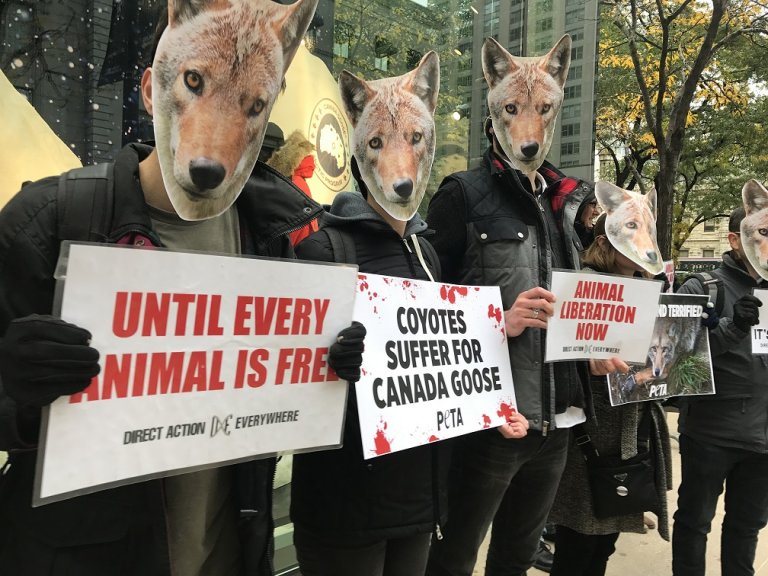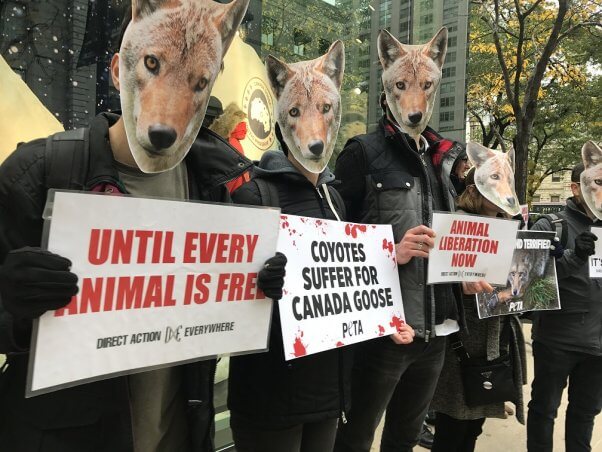 Meanwhile, as Yale University President Peter Salovey began an alumni presentation in Seattle, a brave PETA supporter took over the stage and informed Yale graduates about the abuse of sparrows that their donations to the school are helping to support.
The same day, another bold activist charged into the Texas A&M University Board of Regents meeting, shouting, "Shut the dog lab down now!" He continued yelling in protest of the school's abusive and pointless muscular dystrophy experiments on dogs even as he was being carried out.
At the University of Pittsburgh (Pitt), students and faculty were exposed to a kind of life that no mouse should ever have, but many do. A PETA member dressed as a Pitt experimenter tormented and stabbed a "bloody mouse" to reveal how real Pitt experimenters puncture mice's intestines to produce sepsis – even though the results aren't applicable to humans.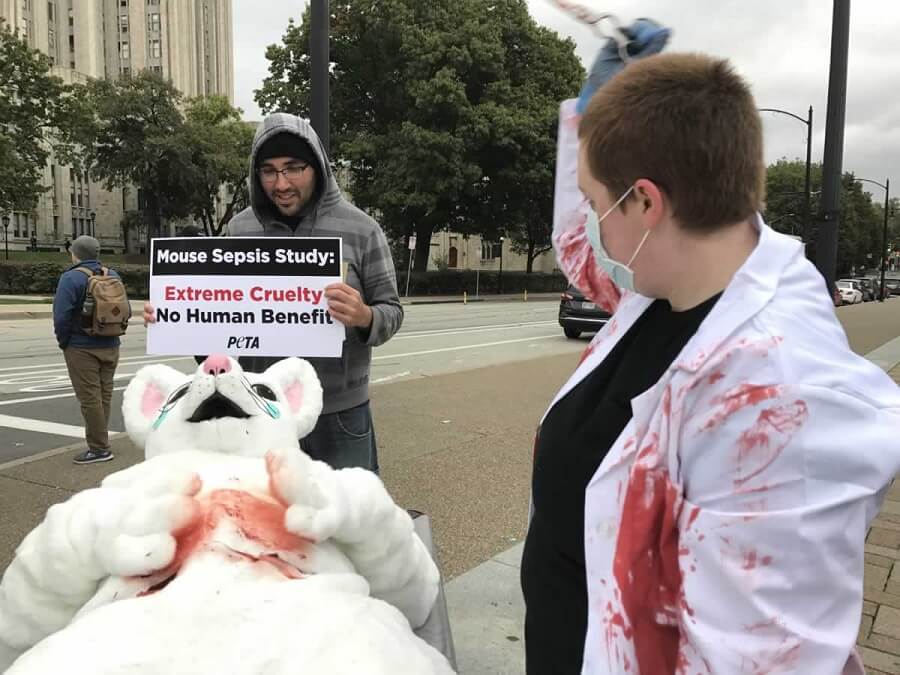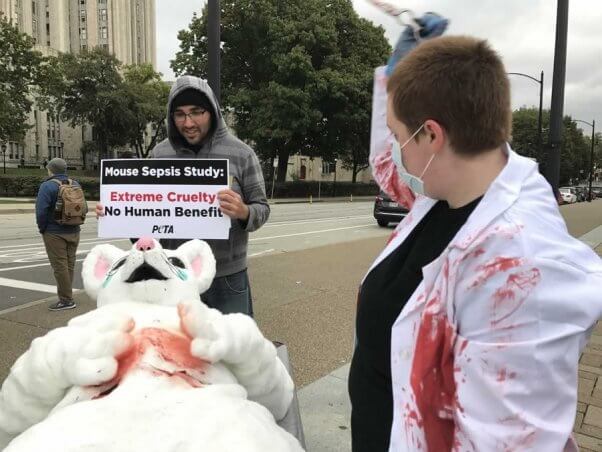 Another problem that PETA protesters tackled is the Los Angeles Animal Services department's repeated failure to actually provide animal services. During a crowded public event at Grand Central Market, PETA's "cat" and "dog" asked L.A. Mayor Eric Garcetti to throw L.A. animals a bone and work to fix the department.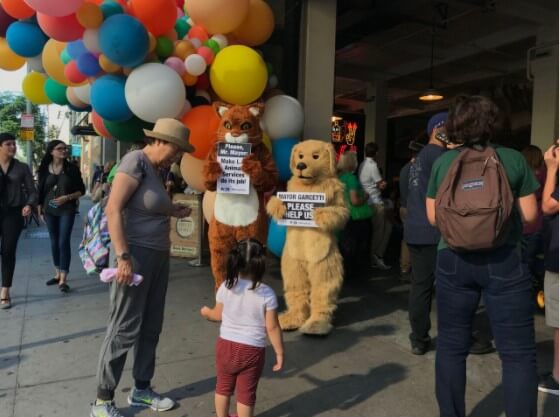 Over on the Hollywood Walk of Fame, undead PETA supporters dined on a helpless victim who—just like animals—didn't want to become lunch. As they munched on organs, she told onlookers that the best way not to be confused with a zombie is to go vegan.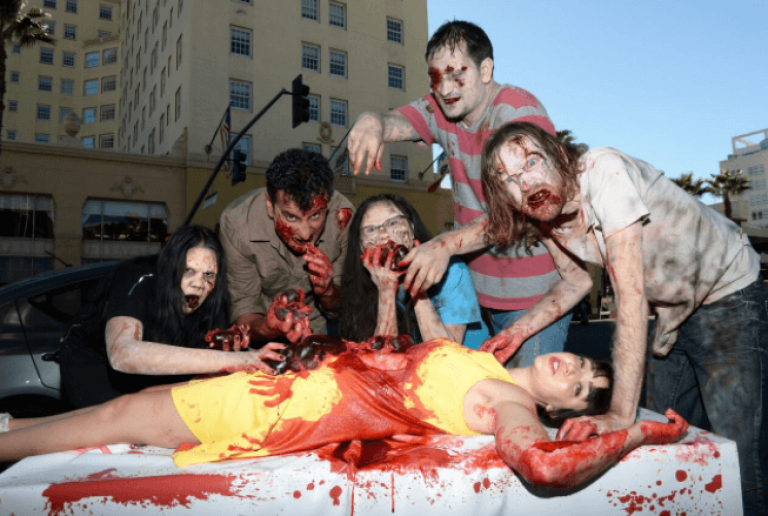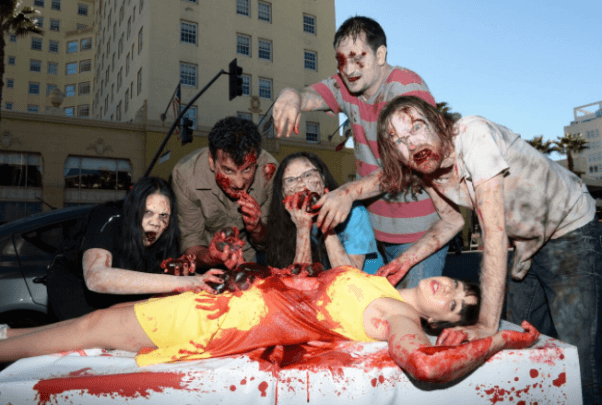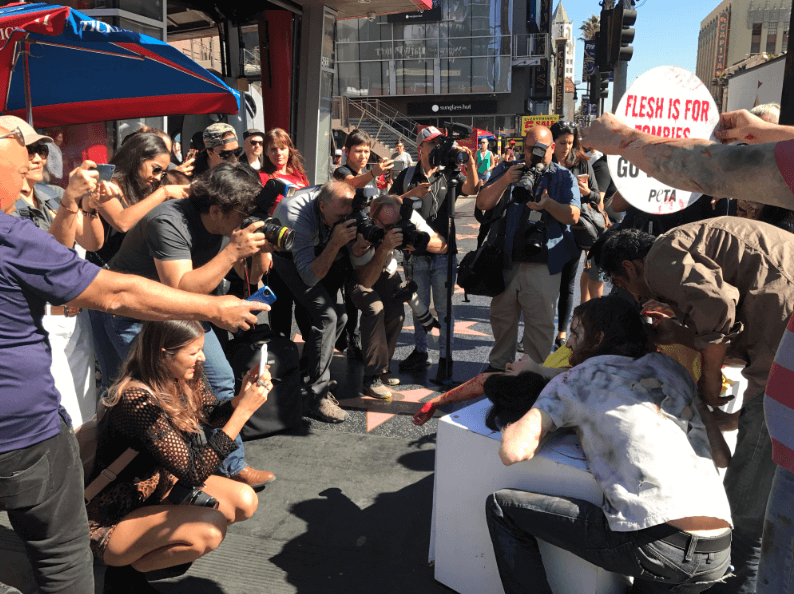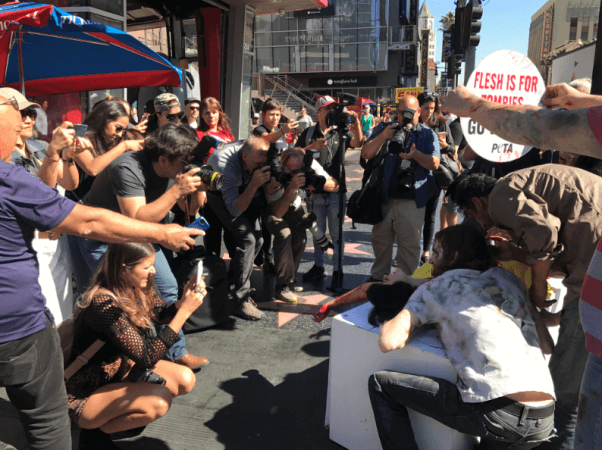 Our zombie friends at PETA Asia were having their own apocalypse in Bangkok.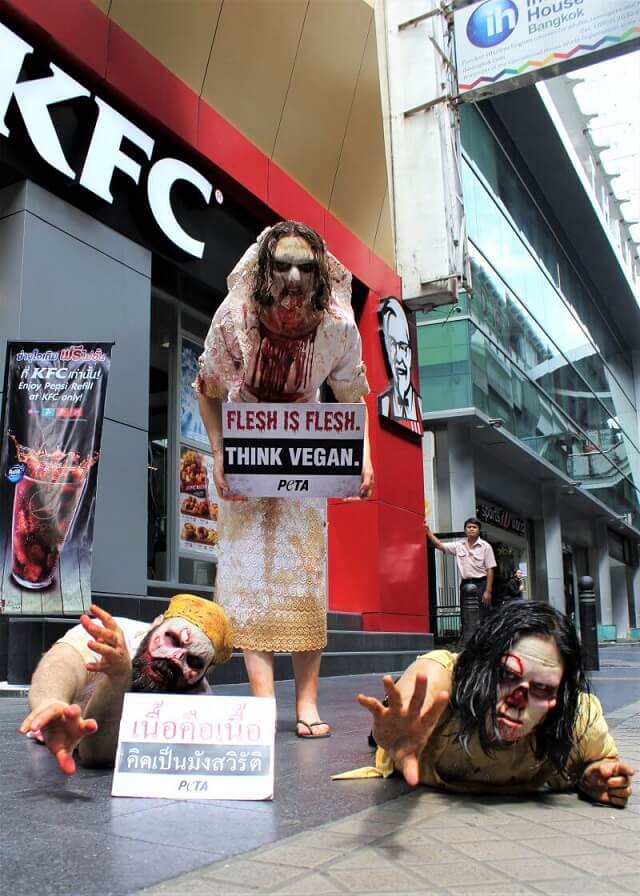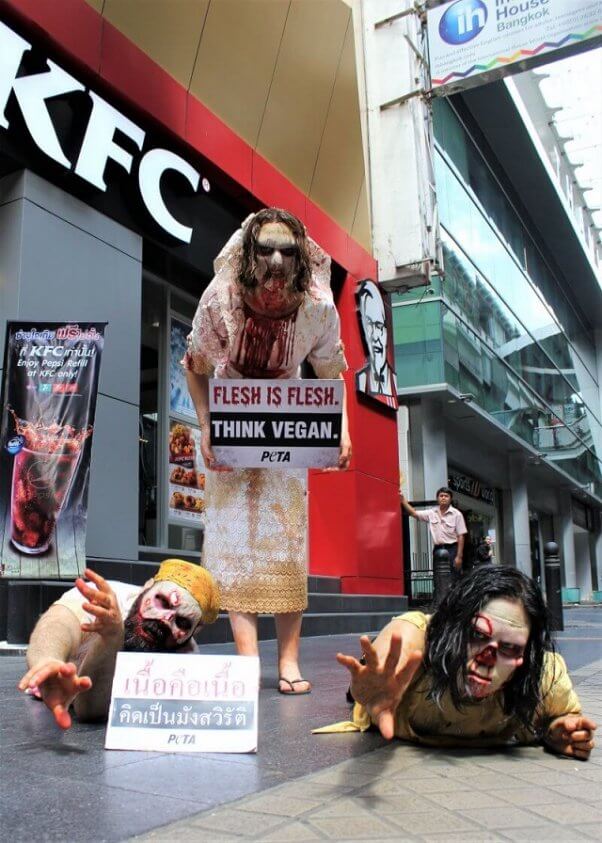 Across the pond in the United Kingdom, PETA U.K.'s giant live-plucked "goose" asked shoppers in three bustling cities to ditch down: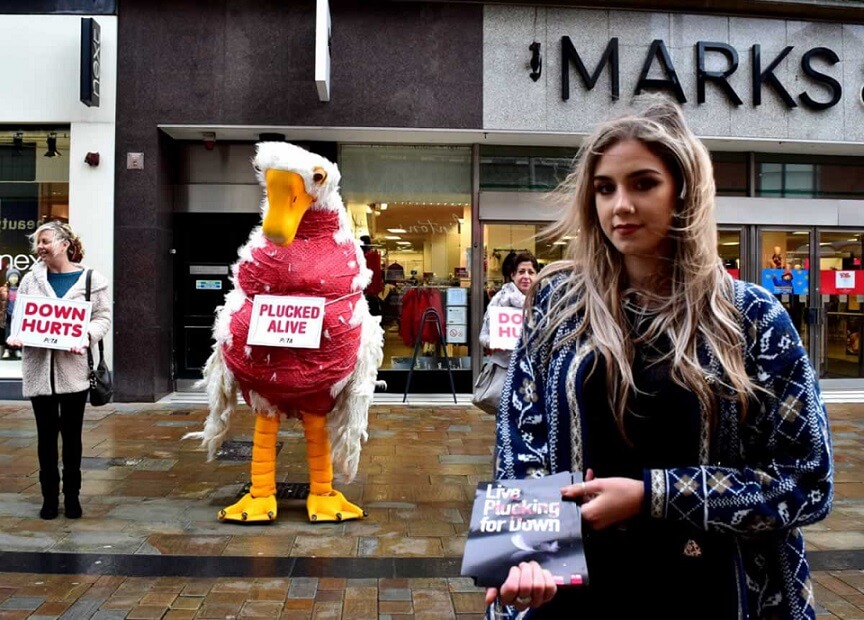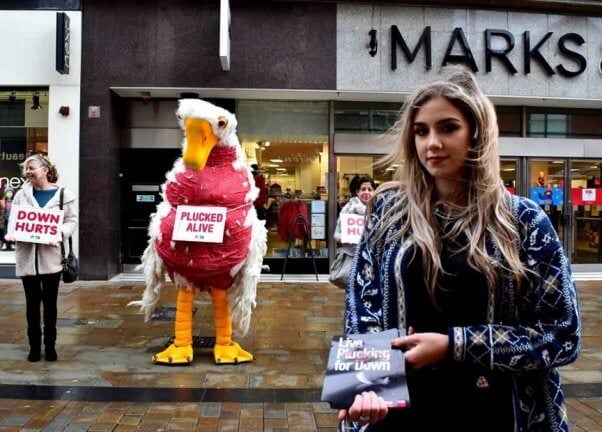 PETA Germany joined hundreds of animal advocates in Zurich in an empowering march against fur.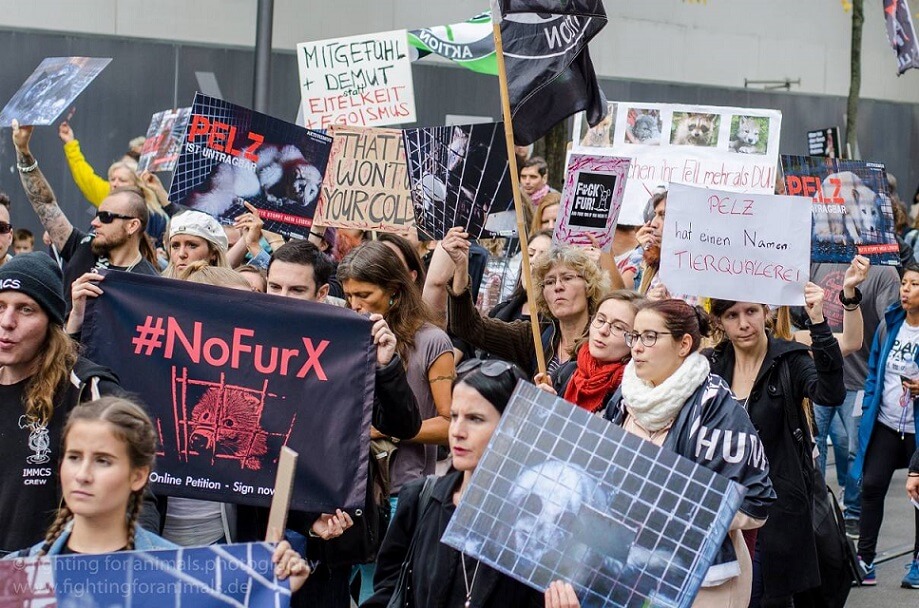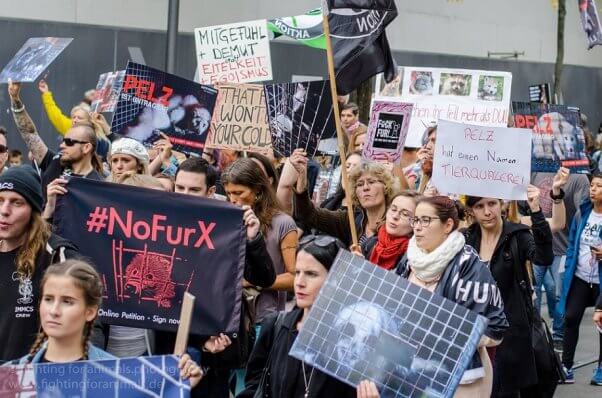 And then they marched into the middle of traffic, forcing drivers to stop and consider the fate of animals who are killed in experiments and for their fur and flesh.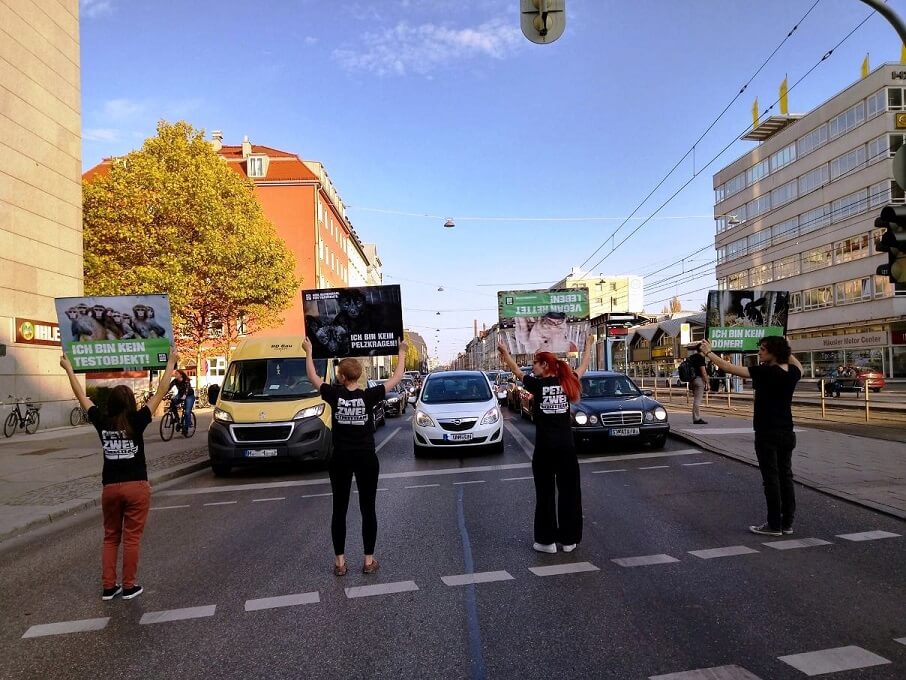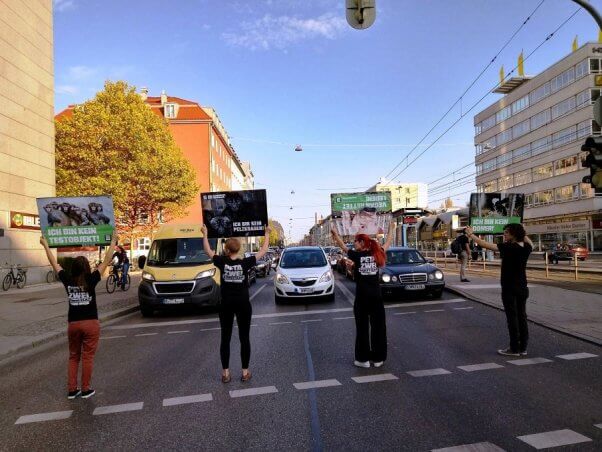 More PETA Germany members joined in, getting shoved into tiny wire cages and entangled in rough fishing nets.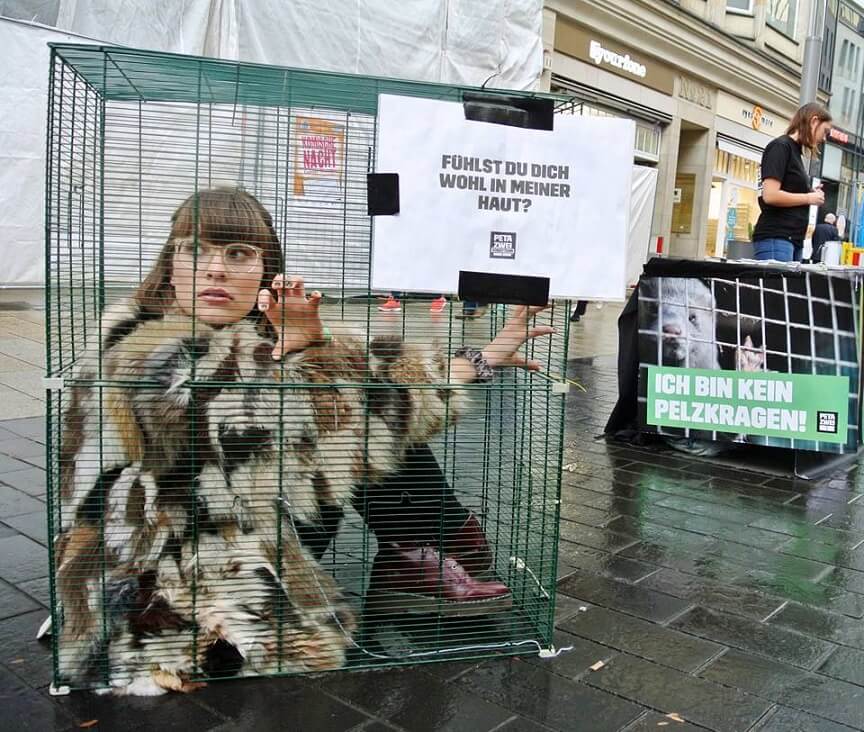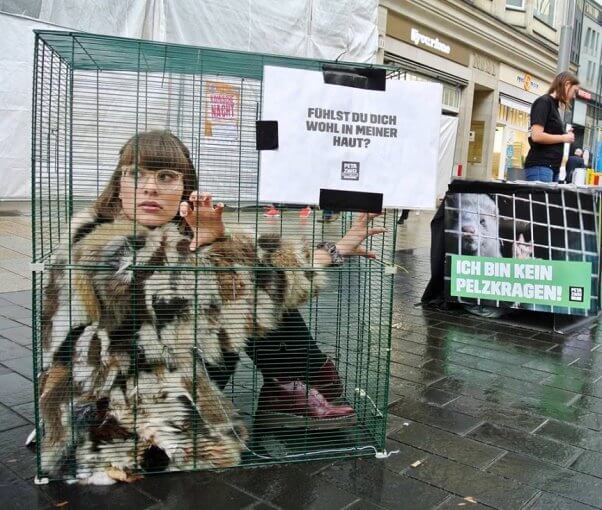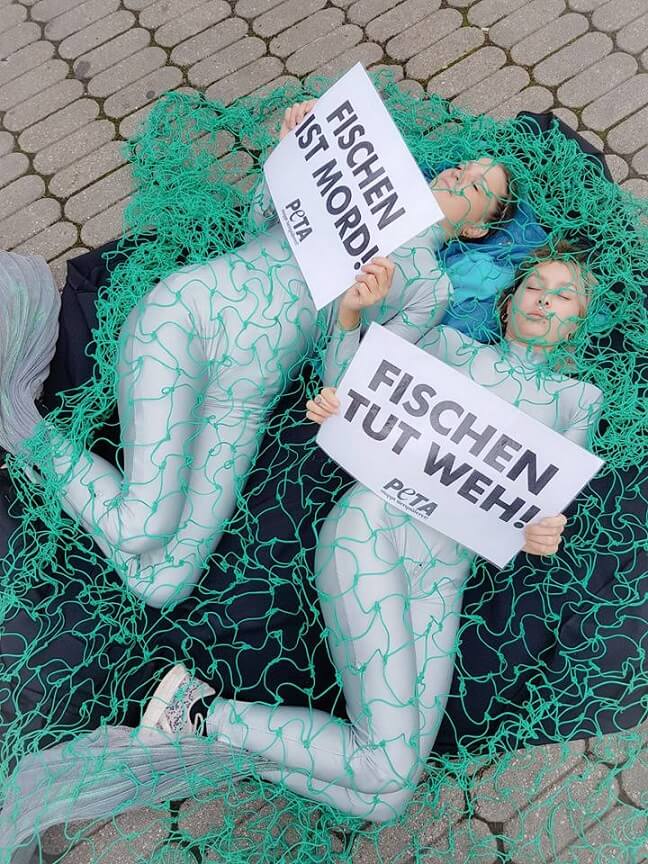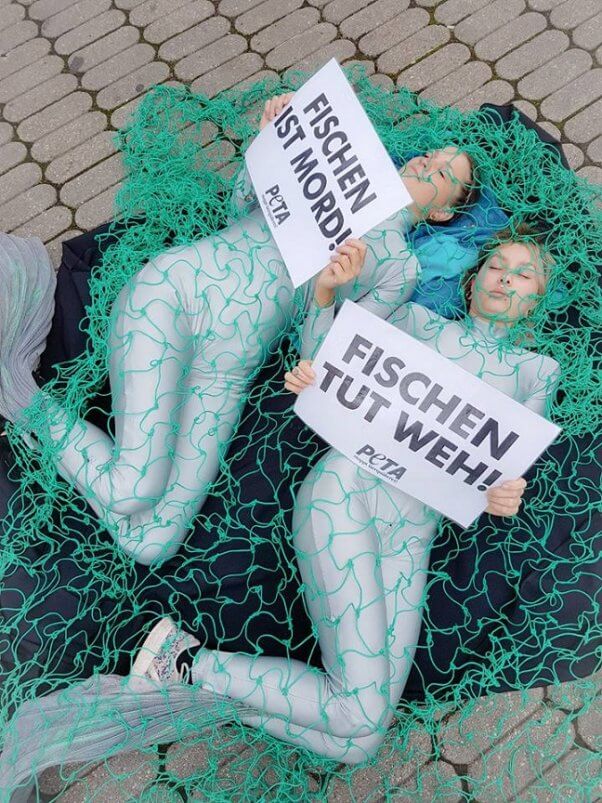 From Seattle to Switzerland, our voices are being heard. And animal abusers are getting the message loud and clear: We will never be silent.
Click the button below to sign up for PETA's quick and easy mobile alerts to make your voice heard for animals no matter where in the world you are.