On Thursday, more than 50 animal rights activists gathered in New York City to demand increased enforcement of horse-carriage laws.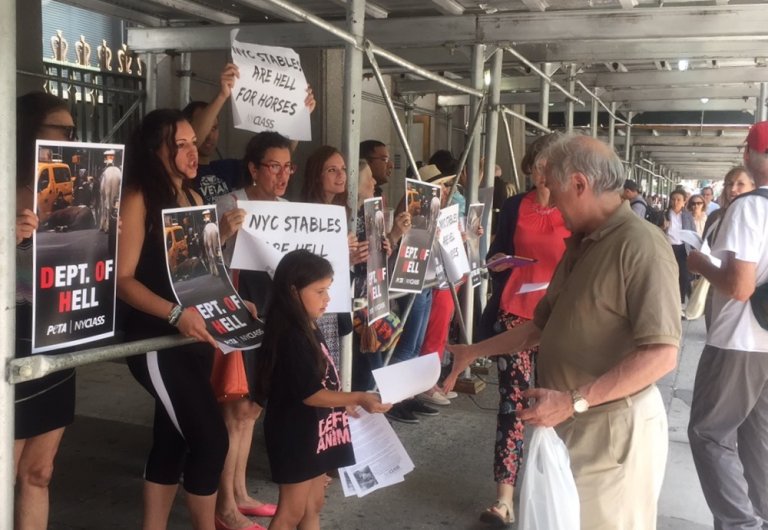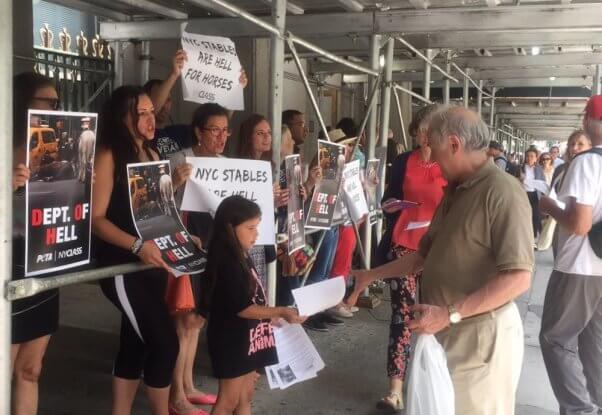 PETA members joined local anti-carriage group NYCLASS during the demonstration, which was organized in response to several recent incidents as well as the city's continued lackadaisical approach to enforcing industry regulations.
NOW: 50+ New Yorkers are outside @HealthNYGov demanding that the agency step-up enforcement of horse carriage regulations. @peta @nyclass pic.twitter.com/KpseJCS0A1

— Ashley Byrne (@ashlovesmongo) June 29, 2017
In May, a horse named Goldie—who was forced to pull carriages through chaotic New York City—escaped and ran amok, creating panic among pedestrians and drivers.
A few months prior, a horse named Max collapsed while pulling a carriage through Central Park. Less than a week later, his owner forced him to return to lugging tourists around the city, saying that he had simply "tripped" and that this "happens all the time with horses."
Central Park carriage horse collapses in street, prompting NYCLASS to demand investigation https://t.co/lylaOwz3dP pic.twitter.com/TRC6a6sY4B

— New York Daily News (@NYDailyNews) February 27, 2017
Although these incidents put both the horses and New York City drivers and pedestrians in harm's way, the city continually refuses to penalize horse owners and carriage drivers.
Most horses aren't afforded any protection under the federal Animal Welfare Act, so responsibility for ensuring their well-being falls to local animal control officials. But as we've seen, state anti-cruelty laws offer few safeguards to protect horses, and many humane agencies don't have the resources or the time to monitor horse-drawn carriages on a regular basis. Consequently, animals can easily be overworked when profit-driven operators fail to follow regulations.
What You Can Do
Be a friend to horses who suffer for human entertainment: Say no to horse-drawn carriage rides. Whether you're a local or a tourist, New York City is a vast landscape offering many interesting and fun things to do. Check out these 10 cruelty-free activities that you can enjoy the next time you find yourself in Central Park: