At least 12 greyhounds used for racing in Florida tested positive for benzoylecgonine—a metabolite of cocaine—in March and April, according to Mail Online.
Greyhound trainer has his racing license suspended after 12 of his dogs test positive for COCAINE https://t.co/GRd1jBGL94

— Daily Mail US (@DailyMail) July 1, 2017
Sources indicate that trainer Charles McClellan had his license suspended on June 9 after the state's Department of Business and Professional Regulation determined that he "is a threat to animals in his control, custody and care." A formal hearing has been scheduled for August 23.
Carey Theil, executive director of GREY2K USA—a greyhound-protection organization—believes that "[t]his is the largest greyhound drug case in American history."
According to The New York Times, this isn't the first time this year that greyhounds have tested positive for cocaine in Florida. The state revoked the license of a St. Petersburg–based trainer in May after dogs in his care also tested positive for cocaine.
Cocaine found in 5 greyhounds following Florida races https://t.co/VEKWPQvUAi

— WSVN 7 News (@wsvn) May 4, 2017
Greyhound Racing: Death in the Fast Lane
The greyhound-racing industry treats dogs like machines. For the few minutes that they spend on a track during a race, they'll spend many hours a day confined to a cramped cage or kennel. Countless numbers of greyhounds die each year before they ever touch a racetrack. Dogs start racing at 18 months old, and many don't make it to the nominal "retirement" age of 4 or 5.
ICYMI: Greyhound racing in NSW will be illegal as of 7/17! It should be banned everywhere. https://t.co/opGNpuyM25 pic.twitter.com/oa5fbVsNNU

— PETA (@peta) July 11, 2016
Sickness and injuries claim the lives of many greyhounds forced to race. Examples of these causes of death include crushed skulls, electrocution, broken bones, and other severe injuries that lead to euthanasia. Dogs have also died after being forced to race in extreme conditions—ranging from subzero temperatures to sweltering heat of more than 100 degrees. As in this instance, dogs have been drugged in an attempt to enhance their race performance, which has also caused numerous greyhound deaths. Other dogs die during transport from one racetrack to another.
Conditions for the animals "at home" often aren't much better. They may spend up to 20 hours a day in cages and are kept constantly muzzled. Many dogs have crate and muzzle sores and suffer from infestations of internal and external parasites.
Some "retired" greyhounds are put up for adoption, others are sent to breeding farms or end up in laboratories, and the fate of some is unknown. The National Greyhound Association, which registers all greyhounds for racing, doesn't keep track of the dogs after they leave the track.
What You Can Do
Help inform racing supporters by leafleting at a local track. Even if your state has banned greyhound racing, it could have breeding kennels that supply dogs to other states. Write letters to the editors of your local newspapers explaining why it's vital that we put an end to this cruel "sport."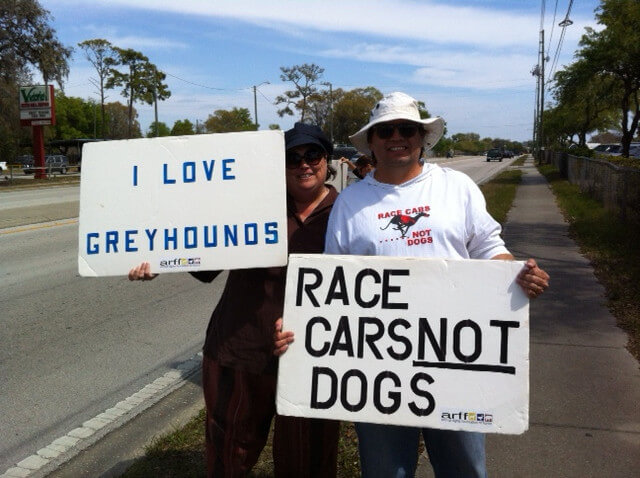 Click here to learn more about the cruel greyhound-racing industry, and click the button below to learn how to become an animal rights activist in your local community.