Last week, a horse named Max collapsed while pulling a carriage through Central Park—and his owner has already forced him to return to lugging tourists around New York City. Local anti-carriage group NYCLASS has called for a thorough investigation.
Central Park carriage horse collapses in street, prompting NYCLASS to demand investigation https://t.co/lylaOwz3dP pic.twitter.com/TRC6a6sY4B

— New York Daily News (@NYDailyNews) February 27, 2017
Chris Emanus, the man driving the carriage that Max was pulling when he collapsed, told the Daily News that the horse simply "tripped" and that this "happens all the time with horses."
A bystander reported seeing Max fall to the ground near Tavern on the Green around 10 a.m. on February 21. The bystander, who also took photos of the incident, said the horse was breathing heavily before he collapsed.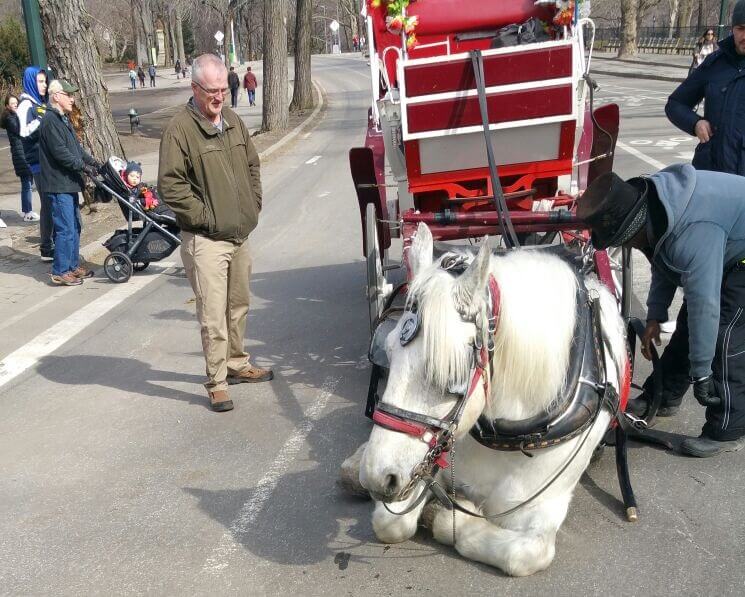 provided by NYCLASS
While Emanus claims that Max is fine and that he likely tripped because of new shoes and a crack in the pavement, it's clear that making animals pull heavy loads such as carriages is cruel and can lead to avoidable accidents and suffering.
Horses who are forced to pull carriages toil in all weather extremes, dodge traffic, and pound the pavement all day long. They may develop respiratory ailments from inhaling exhaust fumes, and they often suffer from debilitating leg conditions as a result of walking on hard surfaces for long periods. Many drop dead from heatstroke while working in scorching summer heat and humidity.
Both animals and humans have been seriously hurt—and even killed—when horses, who are sensitive and skittish by nature, have become spooked and run amok. There have also been countless incidents in which carriages have been hit by motor vehicles with impatient or careless drivers. Accidents have occurred in nearly every city where carriage rides are allowed.
Most horses are afforded no protection under the federal Animal Welfare Act, so responsibility for ensuring their well-being falls to local animal-control officials. But state anti-cruelty laws offer few safeguards to protect horses, and many humane agencies don't have the resources or the time to monitor horse-drawn carriages on a regular basis. Consequently, animals can easily be overworked when profit-driven operators fail to follow regulations.
What You Can Do
Be a friend to Max and other animals who suffer for human entertainment: Say no to horse-drawn carriage rides.
Whether you're a local or a tourist, Central Park is a vast landscape offering many interesting and fun things to do! Check out these 10 cruelty-free activities that you can enjoy the next time you find yourself in the park: