The East coast—where PETA's Sam Simon Center headquarters is located—is under a deep freeze with no relief in sight, which means extra hardship for chained dogs and other animals who are forced to live outdoors. PETA's fieldworkers are racing to bring these animals lifesaving shelter, nourishment, and hope.
On Friday night, two of PETA's fieldworkers responded to a call on our after-hours emergency pager about a young dog named Justice two hours away from PETA's headquarters. This sweet dog had spent his puppyhood outdoors on a chain. His collar had not been loosened since at least December—when he was just three months old—and it had become embedded into his neck as he grew, leaving a deep, infected wound. Our shelter workers rescued the dog and rushed him to an emergency veterinary clinic where he underwent treatment for his neck wound. He is recuperating in a foster home and will soon be available for adoption to a loving home where he will never be chained or neglected again.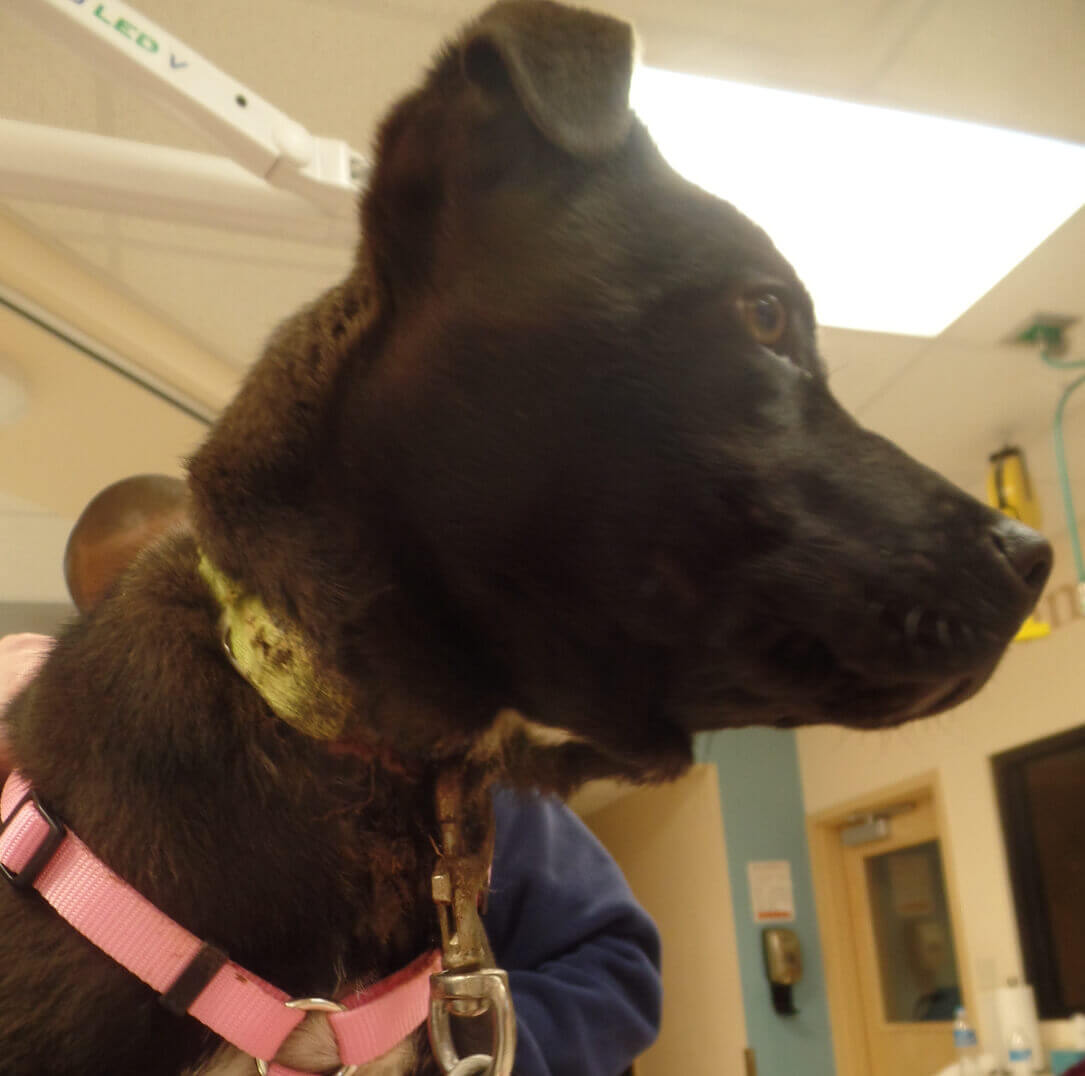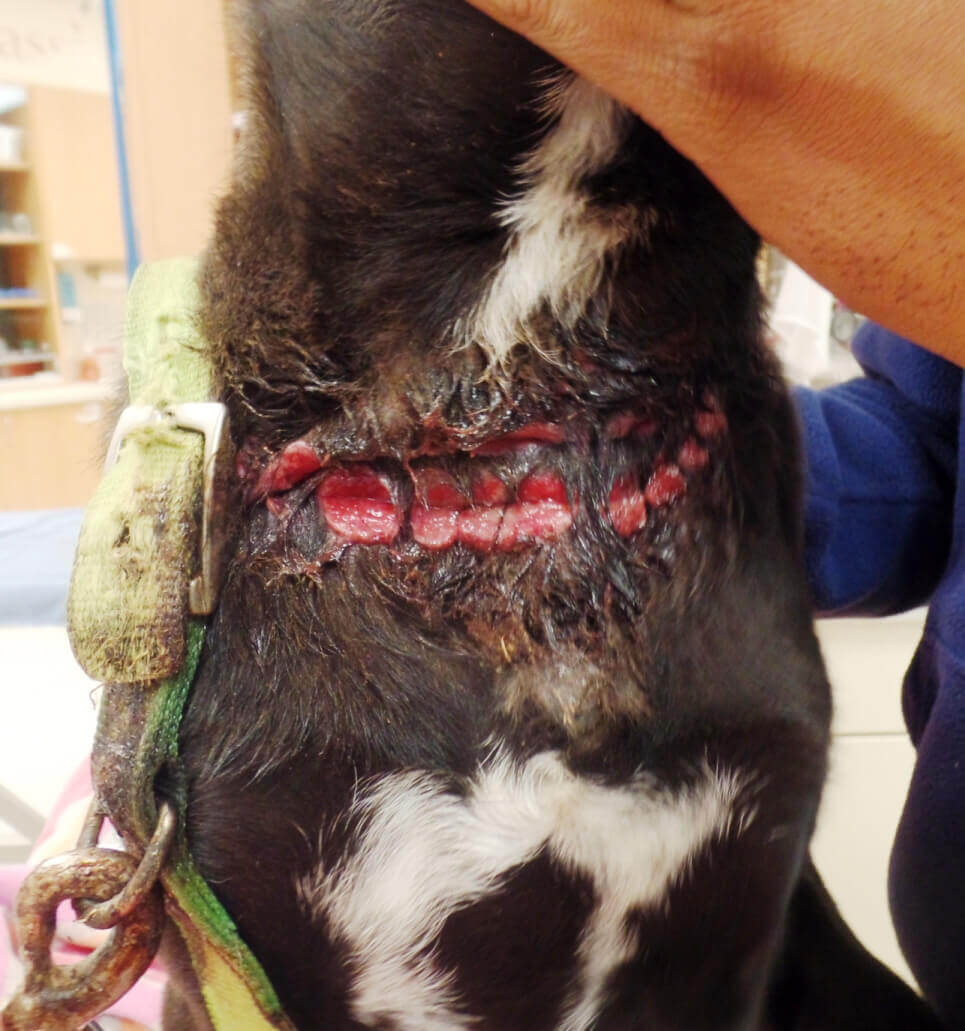 Even in these dangerously cold temperatures, many dogs who are forced to live outdoors have inadequate shelter from the elements—or none at all. On Friday, our fieldworkers delivered four straw-filled doghouses to dogs who had only drafty plastic barrels or no shelter whatsoever. Helping freezing dogs takes heart and muscle: At one stop, our fieldworkers had to lift a 75-pound doghouse over the top of a dog's pen in order to get the lifesaving shelter to the cold dog. Our fieldworkers also raked and removed trash and broken glass from chained and penned dogs' living areas, de-iced water buckets (dehydration is a deadly threat if dogs' water sources freeze), provided nourishing meals (which are especially vital for dogs left outdoors in cold weather, since they must burn more calories trying to maintain their body temperature), and handed out toys and treats to help make the long, cold hours outdoors a bit more bearable. Yaya was very grateful for a dry place to curl up in and a treat to chew on: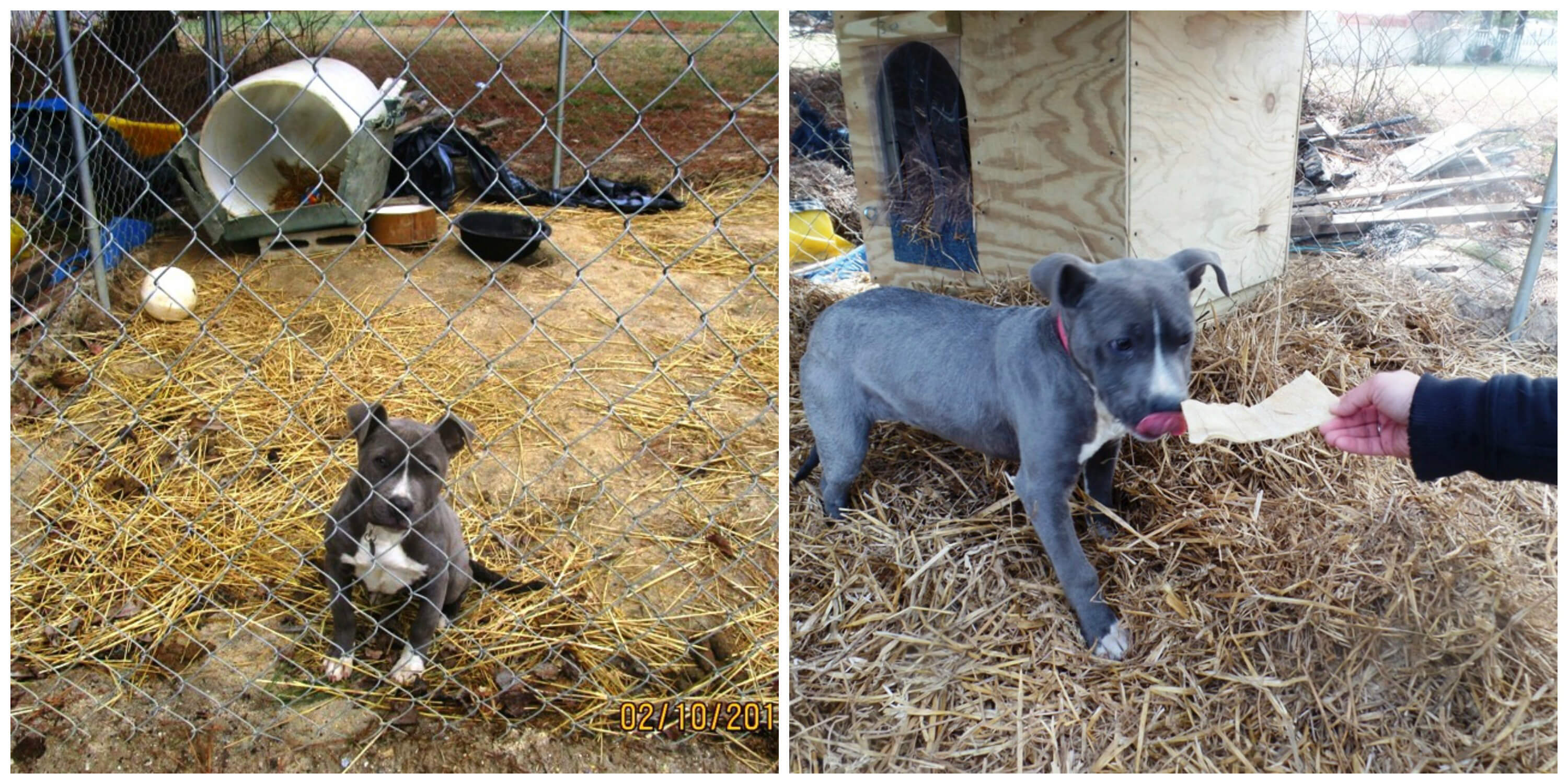 The cold didn't slow down operations at our mobile spay/neuter clinics one bit. On Friday, our veterinarians spayed or neutered 59 dogs and cats, preventing countless animals from being born only to end up freezing on the streets or chained in a cold, lonely backyard. We gave this little gal named Remy a ride to and from her free spay appointment because her impoverished guardian had no way to do so—a service we provide to indigent citizens every single week.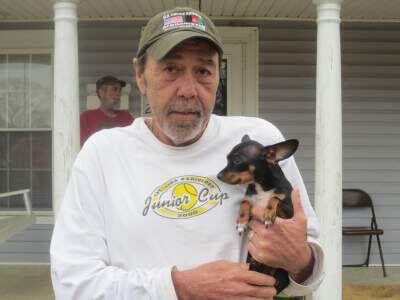 Also on Friday, we transported a mother cat and one of her kittens whom we have been advertising for adoption for several weeks to their new home, tended to badly neglected rabbits who had sores on their feet from being forced to stand on a wire-floored cage, helped a bird who was kept in a small and filthy cage, and helped many other animals.
Through cold, snow, heat and even hurricanes, PETA's rescue team is there for animals who have no other hope. Please be on the lookout for animals in your own community who are suffering outdoors in the cold and report any neglect to authorities right away. If they are unresponsive, contact PETA.