Update: Based on PETA complaints documenting abuse and neglect of animals in the University of Texas Medical Branch at Galveston's laboratories, the U.S. Department of Agriculture has taken the rare step of fining the facility $9,143 for egregious violations of the federal Animal Welfare Act—including failing to supply veterinary care to a sheep who had been used in experimental back surgery and could not stand up, failing to supply adequate veterinary care to a goat who died on an operating table, and failing to supply post-procedural pain relief to three sheep used in experimental surgeries.
What do you do when a judge rules that your experiments on animals violated state law and you're in jeopardy of losing government funding for the cruel project? Well, if you're the University of Wisconsin–Madison (UW), you try to hide the painful and illegal decompression experiments on sheepby disguising them as another project in order to keep the gravy train flowing. In the U.S. Navy–funded experiment, sheep were confined to high-pressure hyperbaric chambers and forced to endure crippling joint pain, seizures, nausea, paralysis, vomiting, burning, deep chest pain and in some cases, death.
PETA has obtained internal documents from UW showing that school lawyers, administration, and faculty met and discussed rewriting the project description "to avoid the legal problems that the previous study caused."  Even though the experiment still risked killing sheep by decompression in violation of the law, members of the UW animal experimentation oversight committee considered reapproving the project and actually directed the experimenter to rewrite the description to eliminate the terms "decompression" and "death." Other documents PETA obtained suggest that UW knew that these experiments were illegal for more than two decades. Thankfully, the project was ultimately not reapproved, and it remains on ice to this day. PETA has turned over all its findings to the special prosecutor who is considering filing charges against UW in this case.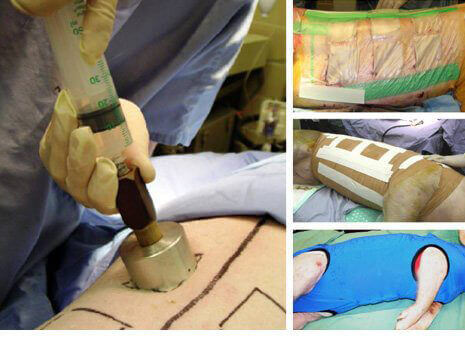 Burn experiments on pigs at UTMB
 
In another ongoing case, the Texas attorney general has ordered the University of Texas Medical Branch (UTMB) to surrender to PETA numerous documents related to experiments at the school, including studies in which Bunsen burners and hot metal rods are used to inflict third-degree burns on animals (some of whom suffered burns on up to 40 percent of their bodies). UTMB had repeatedly denied PETA the documents, trying to evade public-records laws. PETA has already filed a complaint with the U.S. Department of Agriculture about the abuses and will use the documents to further expose how animals are forced to suffer in laboratories at UTMB.
You can help by sending an e-mail to UTMB's president, asking him to investigate the school's laboratories and dismiss employees who are abusing animals.  
Written by Michelle Sherrow