Update: Documents obtained by PETA through the Freedom of Information Act reveal new details behind the serious violations of federal law committed by the University of Texas Medical Branch (UTMB) in Galveston, which resulted in a fine of $33,000.
In one incident, five guinea pigs suffocated when UTMB employees stacked cages on top of each other before transferring them from one room to another. The only ventilation for each enclosure was at the top of the cage.
In two different studies, experimenters deviated from the protocol that had been approved by the oversight body—in the first one, nine guinea pigs died, and in the other, 10 died. Employees also failed to take proper precautions in moving a sheep from one enclosure to another—the animal sustained a leg fracture and was euthanized.
In December 2012, following complaints filed by PETA, the U.S. Department of Agriculture fined UTMB $9,143 for the school's failure to give post-operative pain relief or adequate veterinary care to a sheep who was unable to stand after being used in an invasive experimental surgery. The school was also fined for failing to supply proper veterinary care to a goat who died while under anesthesia. The newly obtained citations report reveals that animals at UTMB continue to suffer as a result of neglect, incompetence, and a culture of disregard.
Posted April 25, 2017:
Documents just released by the U.S. Department of Agriculture (USDA) reveal that a monkey at the University of Texas Medical Branch (UTMB) in Galveston escaped from a cage that wasn't properly secured and was injured so badly that euthanasia was necessary. In addition, another monkey lost or pulled out the hair from 20 percent of his body, exhibited stereotypical behavior throughout 2016, and has had stress-induced soft stools since 2015.
Surely, staff and experimenters at UTMB can see that a monkey is being driven mad and that cage doors aren't closed. But newly released USDA documents show that they apparently either don't look or don't care. Stereotypical behavior such as constant pacing is a sign of severe psychological distress, yet in more than a year, the university has not developed a plan to alleviate the trauma, as required by law.
In 2011, PETA released photos and documents showing that animals at UTMB were denied adequate pain relief after being used in burn studies. In November 2016, the university paid a $33,000 fine for violations of animal-care regulations. Six years of animal suffering and disregard for the law are enough. UTMB needs to get out of the animal-exploitation business now.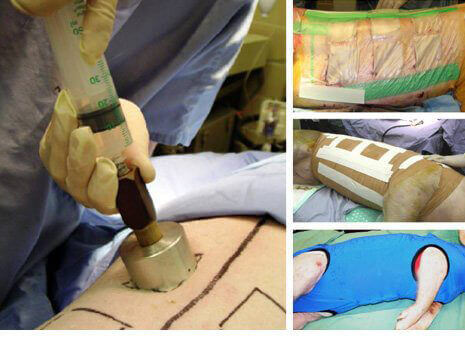 Secondary Update: Based on PETA complaints documenting abuse and neglect of animals in the University of Texas Medical Branch at Galveston's laboratories, the U.S. Department of Agriculture has taken the rare step of fining the facility $9,143 for egregious violations of the federal Animal Welfare Act—including failing to supply veterinary care to a sheep who had been used in experimental back surgery and could not stand up, failing to supply adequate veterinary care to a goat who died on an operating table, and failing to supply post-procedural pain relief to three sheep used in experimental surgeries.
Initial Update: After reviewing our evidence, the U.S. Department of Agriculture inspected UTMB's laboratories and confirmed our findings of multiple Animal Welfare Act violations.
Originally posted on January 5, 2011: 
A whistleblower at the University of Texas Medical Branch at Galveston (UTMB) has contacted PETA to report horrifying—and potentially illegal—abuses of dogs, sheep, monkeys, mice, and other animals who were tormented for experiments in the school's laboratories.
The insider reported that as a result of experiments in which dogs were cut open and had tubes surgically implanted in their colons, one dog died during surgery and another suffered in pain and died when staff members didn't provide post-operative painkillers. UTMB experimenters also induced spinal cord and nerve damage in sheep, and in one instance, a sheep apparently couldn't stand for three days following surgery and was given no pain relief. Mice apparently died from dehydration, and a monkey was locked in a room all by himself, even though monkeys require social contact with other members of their species to maintain sanity and physical health.
In other procedures conducted in this hellhole, experimenter Daniel Traber subjected sheep, pigs, and mice to third-degree burns on up to 40 percent of their bodies by searing off their skin with a Bunsen burner or a scorching-hot metal rod and forced the animals to inhale smoke.
PETA has filed a formal complaint with the U.S. Department of Agriculture calling for an immediate investigation into these disturbing allegations.