One of the perks of working in PETA's offices is that we get to share our work space with the dogs who go to work with their guardians. As enjoyable as it is for us, though, the dogs are the ones who benefit the most because they aren't left home alone all day. Here are the stories of three of the dogs who help make working at PETA a little bit more fun.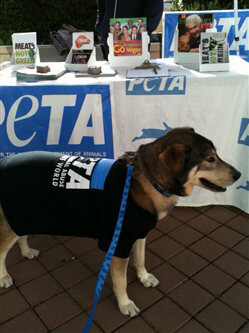 Chance was adopted from a local animal shelter four years ago and now has a full-time job overseeing PETA's office in Oakland, California. He loves getting to see his canine best friend, Monster, and greets everyone with a hearty "Arooorooroo!" His favorite part of the job is helping with outreach events, at which he attracts people to the PETA booth by looking irresistible in his PETA doggie T-shirt.
A PETA Community Animal Project staffer found Sophie chained to a car with no food or water when she was about 6 months old. She was living in a mound of trash, and her rescuer at first mistook her for an old tire until she saw the dog's frightened little eyes. Now 10 years old, Sophie accompanies PETA Senior Vice President Lisa Lange to PETA's Los Angeles office, which has helped bring Sophie out of her shell and provided her with things to think about and watch and the opportunity to learn that not all humans are cruel.
When Maguire was a puppy, his family moved and left him at an animal shelter. He was shy and depressed and, since he'd been largely confined to a basement, was not very comfortable with the outside world. A PETA Foundation staffer who volunteered at the shelter adopted Maguire, and when she took him home at 10 months old, he didn't even know how to play with toys. Now 12 years old, Maguire has been part of PETA's Norfolk office crew for years.
If you can't take your pup to work, be sure to go home at lunchtime or hire a dog walker or neighbor to let your dog out. No one wants to stare at the walls for eight hours or more, let alone "hold it" for an entire workday. One way to minimize the loneliness of these pack animals is to have more than one dog so that they can keep each other company.