PETA Senior Vice President of Communications Lisa Lange reflects on the monumental achievements for animals that she's seen in her nearly 20 years at PETA and the events—intentional and serendipitous—that led her to devote her life to protecting animals.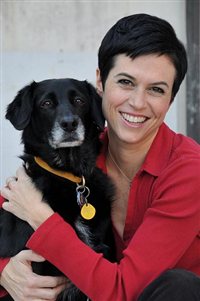 Lelah Foster/Los Angeles
How did you first become involved in animal rights?
I got a PETA magazine in the mail and read about all the atrocious things happening to animals and started to change my lifestyle. A couple of years later, I was helping to protest the largest pigeon slaughter in the country in Hegins, Pennsylvania, with hundreds of other activists. It was like a clay shoot but with real animals. The birds were stuffed into wooden boxes and were sprung into the air a few at a time. Drunk men would shoot the birds from sunup to sundown. They would twist the heads off injured birds or bash their bodies into trash cans. I was arrested for running across the field and creating a distraction while other people freed the birds from the boxes. I was put in a cell with PETA President Ingrid E. Newkirk. Rather than pay bail money to the city that sponsored the hunt, we spent 12 days in jail. That's where she hired me—in our jail block. Eventually, we got the pigeon shoot stopped.
What was the most unforgettable PETA protest you ever participated in?
There have been a lot of them, but I loved the Wendy's demonstration with James Cromwell where he and some of us staffers did a sit-in at a Wendy's restaurant. We won that campaign and got Wendy's to improve animal welfare and have been pushing them to build on those improvements ever since.
Is there one PETA victory you are most proud of?
The Professional Laboratory and Research Services, Inc. victory is pretty major. We got that awful animal testing facility shut down and got four workers indicted on felony cruelty-to-animals charges. There are so many, though—back in the day, bringing GM to its knees was pretty fantastic. They were the last company to stop doing crash tests on animals, and when they fell, those horrid tests were history. I love all the victories these days where the mere threat of PETA protests does the trick, like with Lipton tea. I love that our reputation as being smart and strong precedes us and that people just don't want to tangle with us.
*****
Are you the next Lisa Lange? Get involved now by e-mailing the Action Team.
Written by Michelle Sherrow