A monkey named Odd was living anything but a normal life. Day after day, he sat tethered to a bamboo pole, all by himself. The metal ring around his neck was so tight that it had become painfully and deeply embedded in his skin. His wound was infected, and he was desperately lonely.
Thailand's coconut industry had exploited Odd for years, forcing him to race up and down trees, picking coconuts all day long. Then, when his miserable conditions drove him to behave aggressively, they cast him aside like an old bicycle, chaining him to a tree and leaving him in total isolation. His situation looked hopeless—until PETA Asia and Wildlife Friends Foundation Thailand teamed up to rescue him.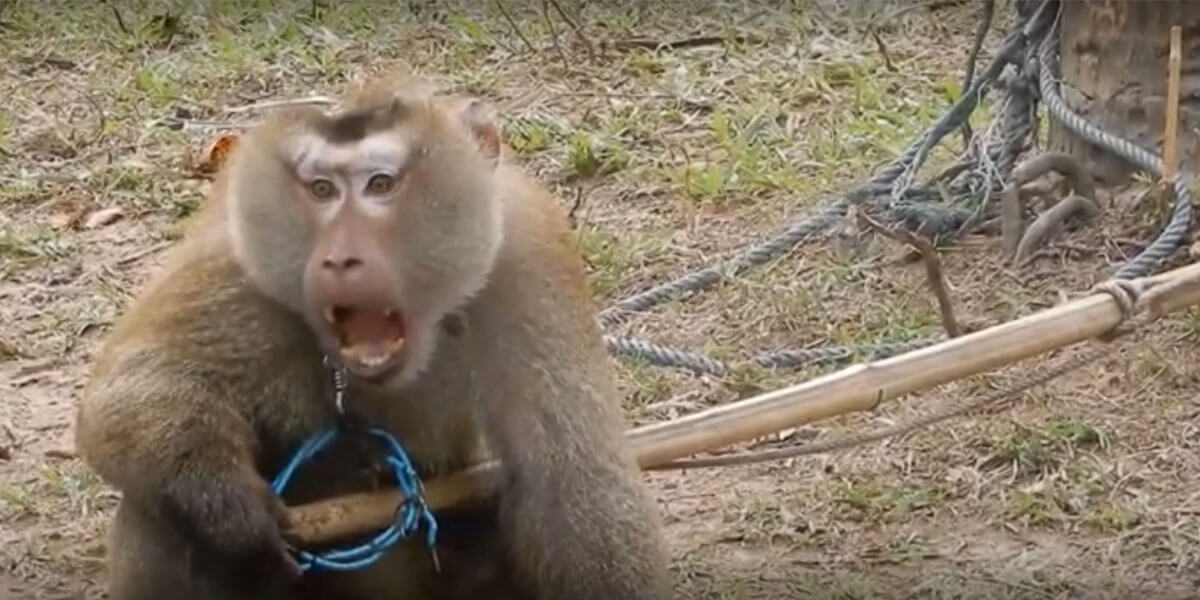 Odd's rescue came just in time. Years of abuse in the coconut industry had caused the now 12-year-old macaque to become withdrawn as well as aggressive, but with time and care, he can heal. In their natural habitats, monkeys run, climb, socialize, and bond by spending hours carefully grooming each other. That's the kind of life Odd always should have had—and soon, he will.
After freeing him from the bamboo pole and painful metal collar, the rescue team whisked Odd to a clinic, where he received veterinary care for his wound and treatment for a lung infection he had developed as a result of his previous living conditions. He's now recovering in a comfortable outdoor enclosure paid for by PETA. At his soon-to-be home—a PETA-funded outdoor enclosure at Wildlife Friends Foundation Thailand, he'll have the opportunity to bond with other monkeys, roam, play, swim, and finally just be a monkey, instead of being treated like a coconut-picking machine.
PETA Asia's investigations into multiple coconut farms in Thailand blew the lid off the industry's rampant abuse: Coconut farms force monkeys to climb up and down trees to collect heavy coconuts, keep them tethered on barren patches of dirt for extended periods, and sometimes even order the captive animals to perform demeaning tricks in front of visitors as a way to profit from them even more.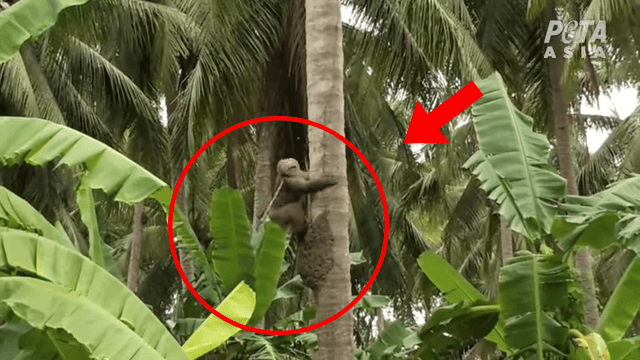 Odd will finally have the chance to explore and build meaningful relationships, but countless others are still bound by the Thai coconut industry's chains. Monkeys don't want to be restrained, punished, and forced to pick coconuts all day long. These nurturing, empathetic animals have their own interests and want families and friendships—they aren't ours to use.
PETA is persistently working to help monkeys like Odd who are still suffering in Thailand's coconut industry—and one way we're doing that is by persuading major grocery retailers to stop selling coconut products obtained through forced monkey labor, as Albertsons and Target have already done.
Please join PETA in calling on grocery chains Publix and Tony's Fresh Market to cut ties with companies that exploit monkeys: